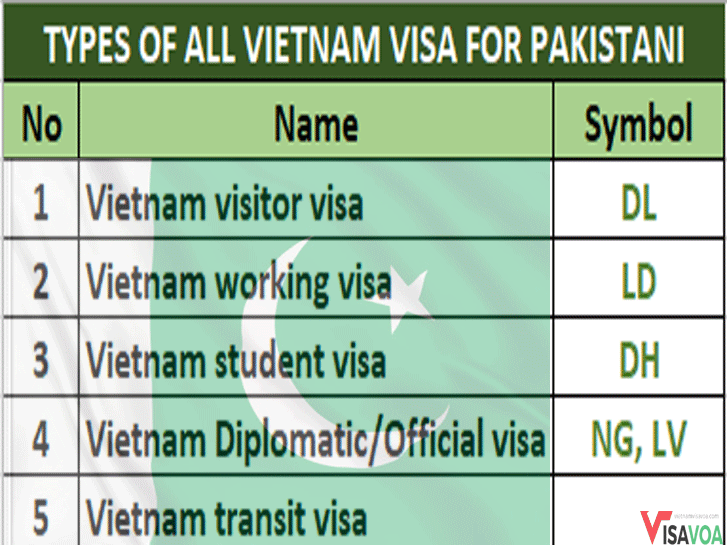 Vietnam visa type for Pakistani passport holders
There are many types of Vietnam visa that the Pakistani passport holders can obtain for departure to Vietnam. Depending on the purpose of your trip, you may determine which type of visa you should apply for. Here is the list of popular visas you can refer before your flight to Vietnam.

Vietnam visitor visa
Vietnam tourist visa is one of the most popular types of visa and citizens from all nationalities can obtain this visa easily. There are 02 types of tourist visas the applicants can choose: single entry and multiple entries. If you are granted single entry visa, your visa will automatically get expired after you leave Vietnam. However, once you travel frequently with a multiple entry visa, you do not need to apply for a new visa each time you travel to Vietnam.
Vietnam working visa
The working visa allows foreigners to enter Vietnam for working purpose. The maximum validity of Vietnam working visa for Pakistani citizens is 3 months. However, there is a considerable difference is visa fee depending on how long your staying period is. According to the Vietnam Immigration Regulation, working visa is only issued once Pakistani passport holder has a company to sponsor. Along with working visa, a work permit is also required for you to legally work in Vietnam when working here more than 3 months.
Vietnam Student visa
The Pakistani passport holders may apply for a student visa if having admission evidence of a school in Vietnam. In some case, a student visa is arranged after Vietnam arrival so you can enter Vietnam with a tourist visa, enroll in a course of study, language course for example, then change the status of your visa with immigration.
Vietnam Diplomatic and Official visas
The Pakistani who visit Vietnam on government or diplomatic business can obtain these visa. There is not any visa fee for them. When applying for Diplomatic and Official visas, applicants must submit an official letter from agencies of local government, foreign embassies or relevant organizations in that country.
Vietnam Transit visa
The maximum duration for Vietnam transit visa is 05 days. However, Vietnam Immigration Department only grants transit visa for groups accompanied by a tour guide. The Pakistani group must have a specific itinerary and a guarantee from a travel agency organizing that tour.
In case you need any supports to obtain Vietnam visa for Pakistani, don't hesitate to contact us via: