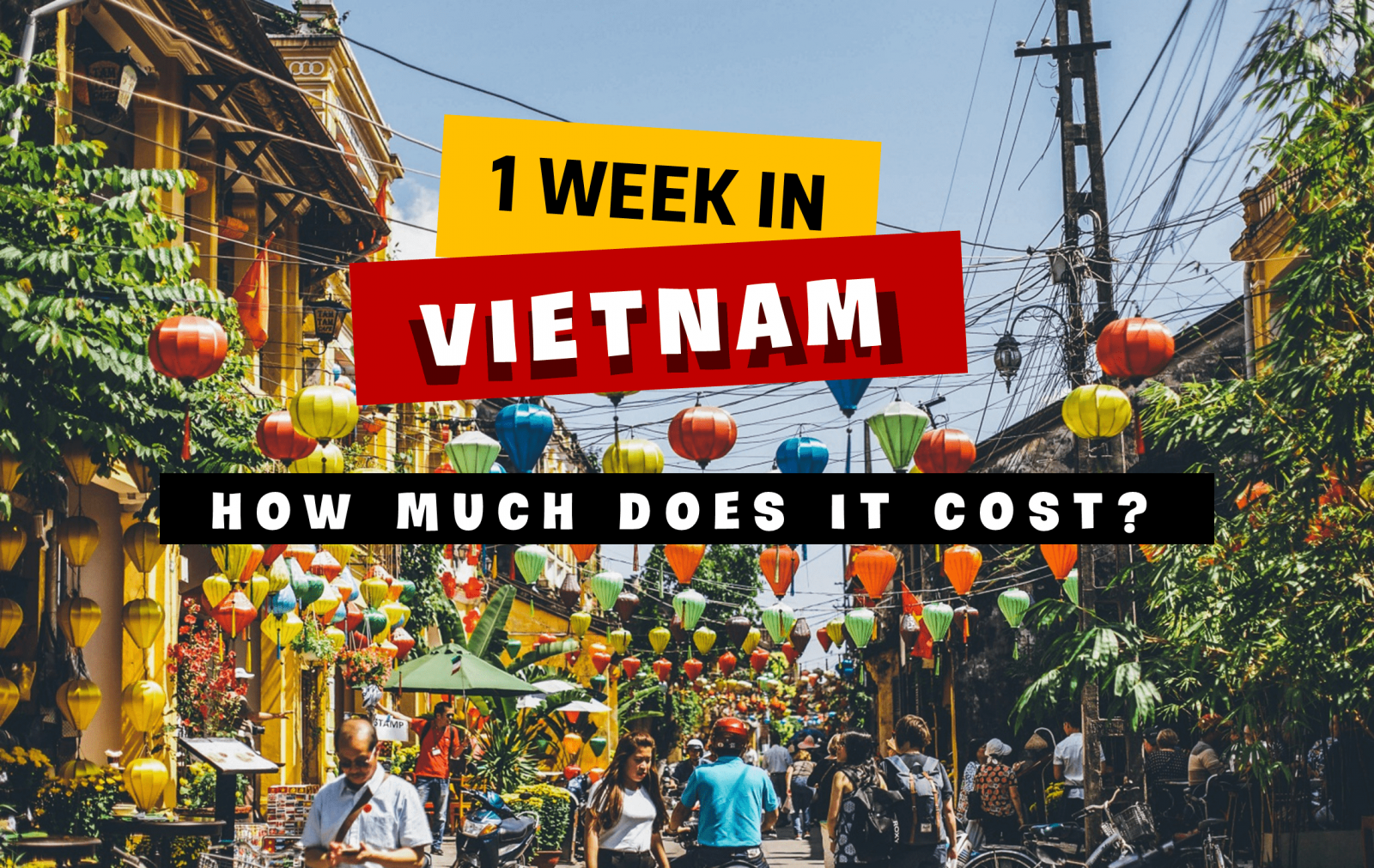 How much does it cost to travel to Vietnam for 1 week?
How much does it cost for one week vacation in Vietnam? It is perhaps one of the most essential concern of most first-time travelers. However, in fact, the answer to this question is going to vary greatly based on your travel style.
You want to enjoy your trip with a taste of luxury or you're just a budget backpacker wishing to discover yourself? Don't need to worry no matter who you are, Vietnam is a great country that can happily accommodate and cover all budgets.
Here's a detailed breakdown on the weekly average expenses so that you can get best estimate for your own trip.
The official currency in Vietnam is Vietnamese Dong (VND), you can access Currency converter (

https://www.xe.com/currencyconverter/

) to update the most recent information about exchange rate.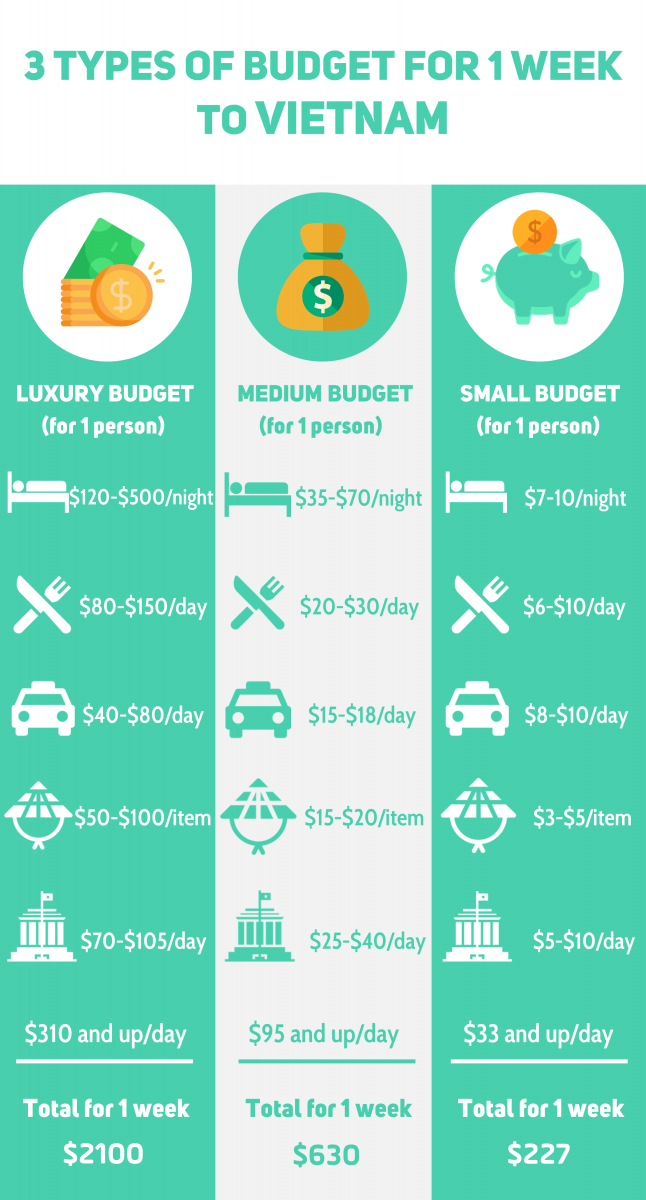 Cost for accommodation
There is an overwhelming amount of hotels, hostels and apartments in big cities serving your taste and expectation. To pamper yourself, you could spend your holiday in deluxe hotel with beautiful view and excellent service. The price of high-end 5-star hotels are between $120 and $500, most of them are well located inside the cities. This cost is the same to luxury resorts situated in tranquil area along the stunning beaches of coastal cities (Nha Trang, Phu Quoc).
To mid-travellers, you can easily choose a 3-star hotel or 4-star one with reasonable price: $35 - $70 and $70 - $100 per night, respectively. They are in the heart of the cities and easy to access hot spots within striking distance.
Besides, budget travelers will find decent backpacker dorms and guesthouses where rooms may start at around $10 a night and less (including a very light breakfast) and generally have 10 - 12 people per room. You should do on good research to avoid some dorms that are a bit dirty and not well located.
Some recommendations for hotel:
5-star hotels
Hanoi:
InterContinental Hanoi Landmark72 (from $190 per person/night)
Lottle Hotel Hanoi (from $165 per person/ngiht)
JW Marriott Hotel Hanoi (from $135)
Sofitel Legend Metropole Hanoi ($ 216)
Ho Chi Minh city
Park Hyatt Saigon Hotel ($307)
The Reverie Saigon ($260)
An Lam Saigon River Villas ($216)
Luxury resorts
Vinpearl Discovery 3 Phu Quoc ($257)
Fusion Resort Phu Quoc ($386)
InterContinental Nha Trang ($175)
Cost for food
Breakfast
A free breakfast is popularly served in most of hotels of Vietnam. In 4 and 5-star hotels, you can taste wonderful dishes of their rich buffet menus, from traditional Vietnamese flavors like "pho" to authentic European and Asian dishes. Also, 2 and 3-star ones offer basic complimentary breakfast for their customers fully.
If you want to explore and try out authentic flavor for typical breakfast in Vietnam, there's a ton of street food serving delicious meals with cheap price, around $1.5 to enjoy a breakfast like locals, such as: pho, banh cuon (steamed rice roll), xoi (sticky rice), banh mi (Vietnamese bread) and many more.
You also can choose a local restaurant or bakery café with $5-$7 per breakfast meal in relaxed and lovely setting. For more luxury experience, it costs from $15-$20 in high-end Vietnamese restaurants and top European ones for one meal in the morning.
Lunch/ Dinner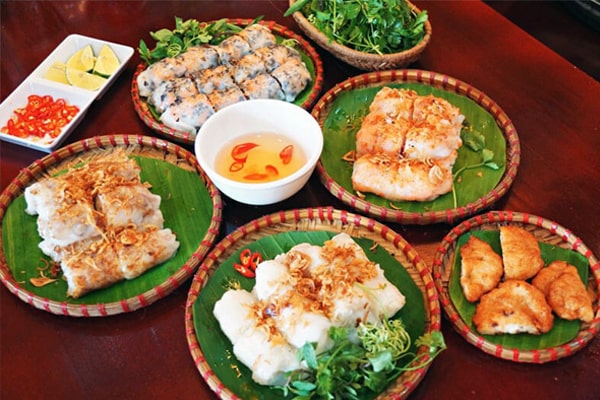 Many dishes in Vietnam are actually pretty reasonably priced while they are still quite decent and nutritious. Foreigner backpackers with tight budget generally have to spend, on average, just around $1.5 per lunch or dinner for various dishes along the street with open-air restaurants.
If you are looking fancy and top spots for your upscale dining, you may cost between $25 and $60 per meal. Their menus are certain of satisfying all tastes, from authentic traditional cuisine to stunning steaks, fresh seafood, or even superb dishes from fresh veggies.
You can also find nice restaurants that keep prices at the very reasonable level with nearly $5 or more for one meal (lunch or dinner).
Be careful with tourist areas where you find expensive menus while their dishes do not have something special, even less quality than other spots.
Apart from authentic Vietnamese restaurants, you can enjoy dishes originated from your home country in this land. From exquisite cuisine from Europe to unique and creative dishes from Halal restaurants, no matter where you come from, you definitely will find the familiar taste of home.
Cost for transportation
Finding a transportation mode to serve you to move around is not difficult because they are plenty and available in the country. For the most convenient, you can hire a private car with average cost $40-$80 per day. To be more economical, you can hire a bike easily due to its popularity with $7 per day.
In big cities, bike taxi booking apps are widely used thanks to its convenience and a large number of drivers. Some common apps in Hanoi and Ho Chi Minh are Grab, Bee, Fast go and GoViet (bike service only) you can use to get a car taxi or bike easily with average fare, around $15 (normaly 10.000VND per km) and $8 ( 5.000 VND / km) respectively for getting around in one day (depending on how far you want to get).
In order to cut your budget trip, you can plus a bit travel on buses that can reach far-flung corners of the cities with cheap fare (7000VND) per route.
Train
In Vietnam, trains is not popular mean of transport to getting around. It is suitable for those travelling from a city to another one in Vietnam. Generally, most tourist destinations can be reached by train system that is faster and more relaxing than a bus. The ticket price of some train routes within Vietnam:
• Hanoi – Danang: $17 - $47 (depending on your classes)
• Hanoi – Nha Trang: from $22
• Hanoi – Sai Gon: from $30
Flight
Naturally, flight ticket varies depending on the dates and the airlines. Vietnam has a numerous domestic and international airports serving lots of flights you are spoiled for choice, from top-shelf airlines like Qantas Airlines, Singapore Airlines, and Qatar Airways to budget airlines like Air Asia, Jetstar and Vietjet Air.
Flight ticket fare in peak seasons is more relatively expensive than that in off seasons. It is advisable that you should book early in order to hunt a cheap ticket for your trip.
Cost for shopping
The souvenir is an essential component of a tourist experience so as to remind of special moments in another country. For those who are financially comfortable, you can choose handicrafts, local art piece or Ao Dai with the price $50-$100. There are plenty of souvenirs at touristy spots so that you remember to research carefully before to get the real ones.
For mid-end travelers, grabbing paper and ceramic products will only cost you from $15-$20 per item. These things can be sought out at authentic local shops inside the cities.
To lower your Vietnam trip costs for shopping, you can also pay just around $5 for simple and small gifts like hand fan, tea or T-shirts.
Cost for attractions in Vietnam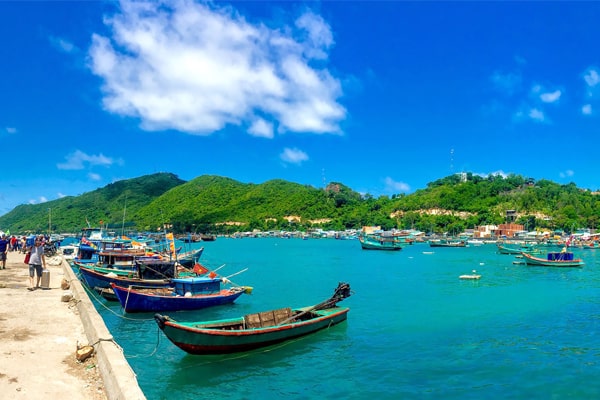 Many foreigner tourists choose to join a tour for the best first-time adventure in Vietnam. From the north to the sound, Vietnam boasts a great number of amazing landscapes raging from sandy beaches to pristine mountains and many more serving your every taste all year around.
You can have to pay $25-$40 per person on average for a group tour in one day. They generally have a fixed schedule including hot spots at the city you are in.
Besides, prices for private tours will be considerably higher than group ones. You will be able to find many choices to enjoy your day fully with $70-$150 tour one day depending on your destinations you choose.
In order not to ruin your travel budget, backpackers can discover some famous attractions ourselves. Attractions in Vietnam are not too expensive, even may spots are for free or very affordable.
In general, fee for seeing highlights of the country is regularly the most expensive ($10-$30):
• Halong Bay: $10
• Trang An (Ninh Binh): $10
• Sun World Ba Na Hill (Da Nang): $30 (including cable car ride)
• Vinpearland Nha Trang: $25
• Hoi An: $6
You can easily access popular spots inside the cities with the cheap fare that is less than $4.5:
• Museum: $2
• Historic sites like: Temple of Literature (Hanoi) $1.5, Hoa Lo Prison Memorial (Hanoi) $1.5
• Thang Long Water Puppet theater (Hanoi): $3 - $4
• Cu Chi tunnel (Ho Chi Minh): $4.4
Besides, you'll find that many temples museums and theme parks are free to enter in every part of the country, but donations are highly welcomed:
• Buddhist Temples
• Night market
• Park
There are a ton of popular tours in every part of Vietnam that could make you confused at times. For more detailed information about tours, their itineraries and costs, you can contact directly with our staffs via hotline: +84 969 255 515 for the best advice and up-to-date travel information.
These below are some popular tours in every part of Vietnam:
Hanoi city tours (~)
Halong Bay cruise tour (2N1D or 3N2D)
Hoi An boat tour
Sapa trekking tour
Ho Chi Minh city tour
Mekong tour (1D or 2D)
Recap
| | | | |
| --- | --- | --- | --- |
| | Luxury budget (for 1 person) | Medium Budget (for 1 person) | Small Budget (for 1 person) |
| Accommodation | $120 - $500/ night | $35 - $70/ ngiht | $7 - $10/ ngiht |
| Food | $80-$150/ day | $20 - $30/ day | $10 - $15/ day |
| Transportation | $40 - $80/ day | $15 - $18/ day | $8 - $10/ day |
| Shopping (optional) | $50 - $100/ item | $15 - $20/ item | $3 - $5/ item |
| Attractions | $70 - $105/ day | $25 - $40/ day | $5 - $10/ day |
| Total (for 1 day) | approximately $310 and up | approximately $95 and up | approximately $33 and up |
| Total (for 1 week) | approximately $2100 and up (including going on tour everyday and one souvenir item) | approximately $630 and up (including going on tour everyday and one souvenir item) | approximately $227 and up (including going on tour everyday and one souvenir item) |
Estimated total budget for 1 week in Vietnam
The above total cost shown are for one person and are estimated for those living in major cities like Hanoi, Danang and Ho Chi Minh.
This total price may be less than 70%-75% once you travel in group from two people or more.
Useful information and tips
Where can I exchange currency in Vietnam?
In common, in major cities like Hanoi and Ho Chi Minh, currencies can be exchanged in airport moneychangers, banks, hotels and jewelry shops. However, you still need to pay extra fee or charge commission rate (0.5% - 02%) to exchange your currency.
Are US dollars popular in Vietnam?
US dollars are not used widely in Vietnam, there are some places accept payment in dollars such as large restaurants, shops and hotels. It is highly advisable that you should use VND that gets you better value than dollars.
Using ATMs in Vietnam
You can easily find ATMs inside the cities to withdraw the cash (VND only). Fees in ATMs vary from bank to bank, they charge $2-$4 for every transaction. The amount of money allowed to withdraw per transaction are limited (in the range of $85 - $430)
Book flights and hotels
You should book a flight ticket to Vietnam as soon as possible to have the value price. Besides, if you plan to stay in one place during a week, let's try to negotiate with your host for a better cost.
Tipping in Vietnam
This is unnecessary in major hotels and restaurants because they usually are added in your bills. However, in other cases, small tips is a good thing to express your appreciation with waiters, hired drivers and guides.
Vietnam visa tips
Nowadays, you can obtain a Vietnam visa by using three different channels: Vietnamese Embassy/ Consulate, online E-visa system and
Visa on arrival
.
Among these options, getting a written approval letter prior to departure is widely used by many foreigners due to its convenience and hassle-free procedure compared to two other ones. Everything will be done online to save your time and money.
Specially, Vietnam visa upon arrival is only way available during weekends and public holidays. Even you can obtain a pre-approved letter within just 2-3 hours in emergency cases.