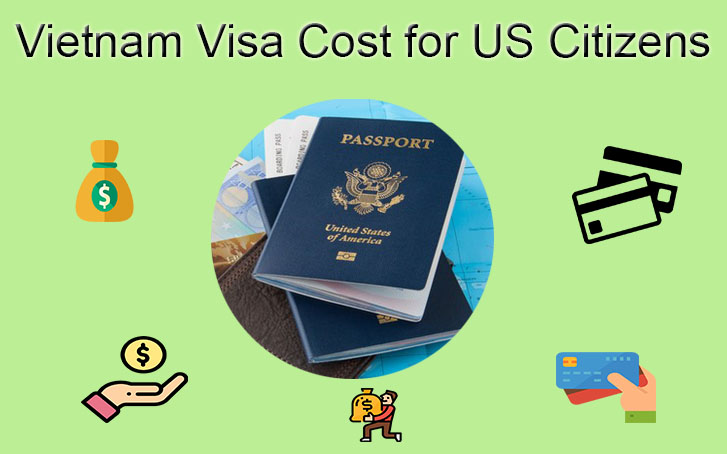 Vietnam Visa costs for US passport holders
Travelling to Vietnam might seem a bit complicated with various online resources saying different things. With vietnamvisavoa.Com, we bring out a comprehensive and detailed guide with all the information related to Vietnam visa cost of US citizens. Even though the visa application process is different, the visa processing fees and stamp fees are very much the same. We also bring out a detailed guideline about the Vietnam Visa costs for USA passport holders for 5 years.
Three official visa methods of applying Vietnam Visa for US Citizens
Visa on arrival: Visa on arrival can be issued by USA citizens to Vietnam after they show an approval letter at the immigration office at the airport. The approval letter has to be applied online prior to the travel and visa on arrival is only issued if the visitor is traveling through air route.
At the Embassy: The USA Citizens can apply visa for Business and Tourism purposes through the Vietnamese embassy located at Washington D. C. It will take around 5 working days for visa processing. The applicant is required to submit Original Passport, Passport-sized photographs, Applications form and Visa Fees.
Vietnam E-visa: The Vietnam E-visa can be applied by USA citizens to travel in Vietnam for a maximum of 30 days, and is available only for single entry. The visa will cost $25, and can be applied online to enter Vietnam through air, land or sea routes.
What is the Vietnam Visa on Arrival cost for US Citizens?
The visa on arrival cost mainly includes the Visa Service fee and the Stamping fee.
Visa Service Fee: This fee is paid during application form fill up by the applicant in order to issue an approval letter from the immigration office. The approval letter has to be shown at the airport to issue the visa on arrival.
Stamping Fee: This fee is paid to get a visa stamp on passport, to the immigration office at airport. The Stamping fee differs depending on the type of visa applied.
The overall fees of Vietnam Visa on arrival for USA citizens varies depending on the type of visa and the duration for which it has been issued, with the cost of stamping included.
| | | |
| --- | --- | --- |
| VISA TYPE | SERVICE FEE | STAMPING FEE |
| 1 month single entry | $18 | $25 |
| 1 month multiple entry | $22 | $50 |
| 3 month single entry | $30 | $25 |
| 3 month multiple entry | $50 | $50 |
| 6 month multiple entry | $50 | $95 |
| 1 year multiple entry | $50 | $135 |
Table 1: Vietnam tourist visa for US citizens
| | | |
| --- | --- | --- |
| VISA TYPE | SERVICE FEE | STAMPING FEE |
| 1 month single entry | $79 | $25 |
| 1 month multiple entry | $90 | $50 |
| 3 month single entry | $110 | $25 |
| 3 month multiple entry | $119 | $50 |
| 6 month multiple entry | $150 | $95 |
| 1 year multiple entry | $180 | $135 |
Table 2: Vietnam business visa for US citizens
How to pay for Vietnam Visa Service Fee?
The Vietnam Visa fee which you are required to pay during the application process includes only the service fees, which is paid for the arrangement of an approval letter, it does not include the stamping fee.
Pay online for VOA: PayPal, Credit /Debit Card, American Express, Western Union, Bank Transfer.
The visa service fee can be paid using Visa Card, MasterCard, Switch Cards or SoloCards through http://www.OnePay.com/, you will be required to fill up a form with your passport and Credit/Debit card details. After the payment is processed, you will be sent to the success page.
Pay through PayPal
While choosing the payment option, choose PayPal, and fill in your details. The site will redirect you to PayPal 's official page, where you can log in to your PayPal account to settle the payment.
Pay through Western Union
During the form fill up, choose the third option which is pay via Western Union. After the transaction occurs, you will be directed to transaction successful page. Within 1-2 hours of the transaction, an email will be sent to you with the transaction details. Visit www.WesternUnion.com, fill in the details sent in the email, thus confirming payment request.
Or you visit any Western Union agent location which is nearest to your place, to directly wire money to us through our Western Union account in the bellow
Account name: Nguyen Thi Thuy
ID number: 162883445
Address: 14/116 Nhan Hoa, Nhan Chinh, Thanh Xuan, Hanoi
Tel: +84974049392
Zip code: 70000 or Postal code: 848
Pay through Bank Transfer
While filling the online form, choose the fourth option which is Bank Transfer via EximBank. Fill the form with your passport details and submit. You will be directed to the transaction successful page, simultaneously you will receive an email with the details of transaction through EximBank.
Vietnam Visa fee at the Vietnam Embassy
The Vietnam Visa fee varies at different Vietnam embassies or consulates in US, you can see the list of tourist visa fee for your reference but keep in mind that the fees can be changed from time to time.
1 month single entry: $80
1 month multiple entry: $135
3 month single entry: $110
3 month multiple entry: $160
6 month multiple entry: $180
1 year multiple entry: $220
The fees paid at the Embassy are inclusive of visa processing time and stamping fee. Urgent or rush visa is available to apply from the Embassies with extra fee of 30usd per visa application.
Therefore, no additional fee is required to pay upon your arrival to Vietnam.
How is Vietnam E- Visa Fees for US Citizens?
The Vietnam E-visa will cost a flat $25 for a 30 days duration single entry in Vietnam. This fee is paid online in advance with valid credit/debit card through payment port of Vietnam Immigration Website.
How much does it cost for 5 year visa for USA Citizens?
If you or your parents are of Vietnamese origin, or if you are married to a Vietnamese citizen, you are eligible to apply for a five year visa. For this, you will have to exit Vietnam once every six months.
The visa fees will be around $150-160 ($30 extra for quick processing), but it may vary so carry extra cash. If your passport expires before the completion of five year period, you will have apply for a new visa with your renewed passport.
To apply for a 5 year visa to Vietnam, you will have to gather the relevant documents and fill up the application form.
Required documents are:
• Application form
• 2 passport sized photos (4*6 cm, straight face, white background, no sunglasses).
• Passport valid for atleast one year, and the current visa with validity of atleast seven days remaining.
• Original document stating that you were either born in Vietnam or the child or spouse of a Vietnamese national.
After submitting the application form with the required documents, visit the embassy or consulate to get your documents verified. It will cost you $50.
After your documents get verified by the embassy, go to Vietnam Office of External Relations to get the birth certificate authenticated and translated to Vietnamese language. It will take around a week for visa processing.