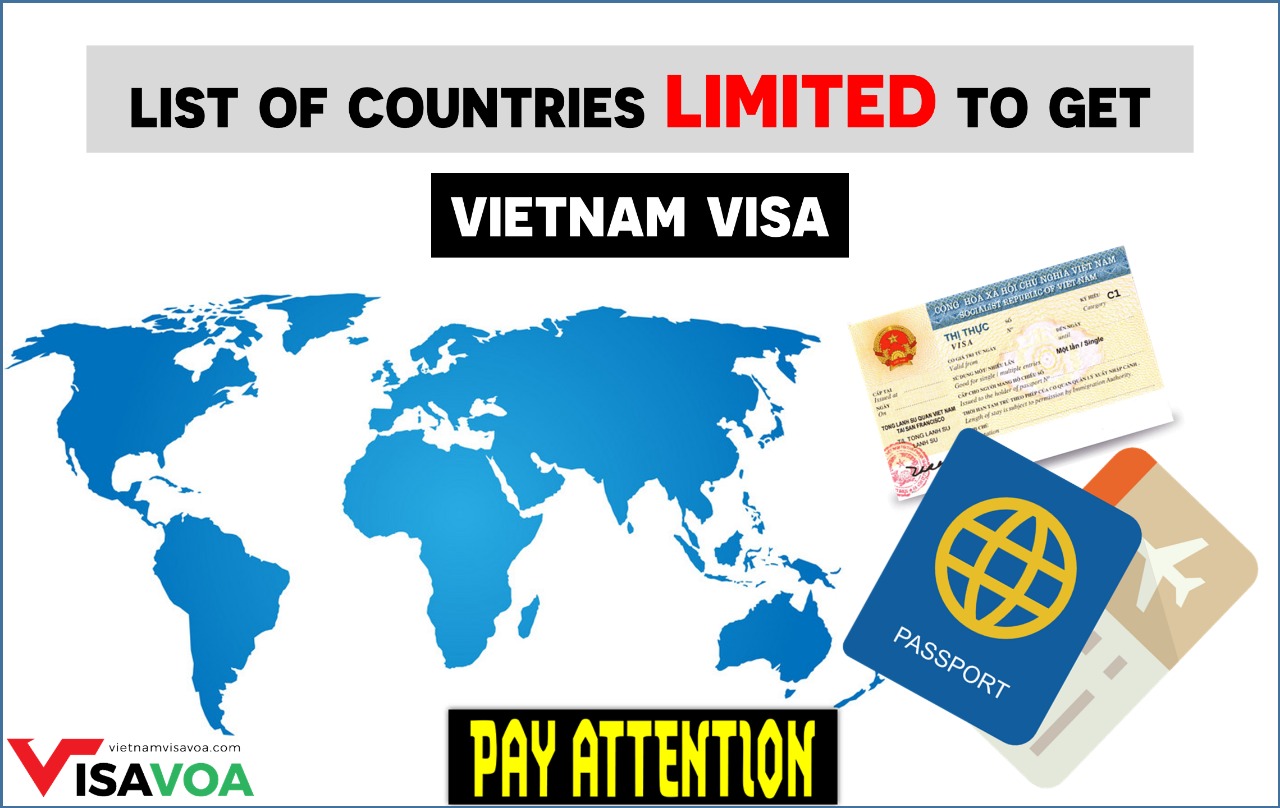 List of countries restricted to Vietnam visa
Vietnam visa policy is quite open and flexible, however, citizens from some countries are limited a visa to Vietnam at times because of security concerns or health issues.
In other word, nationals from those countries have difficulty in getting a Vietnam visa. The article will note the list of countries restricted a visa, as well provide the explicit guideline for obtaining a visa approval letter from Vietnam.
List of countries restricted to Vietnam visa
Africa countries
Algeria, Angola, Benin, Botswana, Burkina Faso, Burundi, Cabo Verde, Central Africa, Comoros, Côte d'Ivoire, Djibouti, Egypt, Equatorial Guinea, Eritrea, Ethiopia, Gabon, Gambia, Guinea, Guinea-Bissau, Kenya, Lesotho, Liberia, Madagascar, Morocco, Malawi, Mali, Mauritania, Mauritius, Namibia, Nigeria, Rwanda, Sao Tome and Principe, Ghana, Morocco, Kenya, Nigeria, South Africa, Algeria, Tunisia, Libya
Middle East countries
Iran, Iraq, Saudi Arabia, Jordan, Kuwait, Yemen, Oman, Palestine, Qatar, Syria, Turkey, Bahrain, United Arab Emirates
South Asian countries
Afghanistan, Bangladesh, India, Pakistan, Bhutan, Maldives, Nepal, Sri Lanka
Other countries
Albania, Ecuador, Tibet, Cuba
Requirements for countries limited to apply Vietnam visa
There are numerous sources of information about Vietnam visa requirements that can make you confused at times. Don't worry, you just need to get in hand those following requirements to smooth your process.
Before coming to Vietnam:
- A visa approval letter (without it, you are not allowed to board plane)
Upon landing (at Vietnam airports):
Then upon landing, officers will asked you to submit those following documents to collect a stamping visa at Vietnam airport:
- Passport (06 months validity from your entry date to Vietnam with 02 vacant pages minimum)
- 02 passport-size photo (click
here
to perfect your visa photo)
- Stamping fee
- Vietnamese visa application form (
this link
for those need a complete guideline for filling up visa application form)
About Vietnam visa approval letter
Obtaining a visa on arrival allows you to receive a visa letter granted and confirmed by Vietnam Immigration Department in case your request is approved. By presenting this approval letter at
international Vietnam airports
upon landing, foreigner visitors can pick up stamping visa on their passport. Then you are permitted to enter Vietnam legally.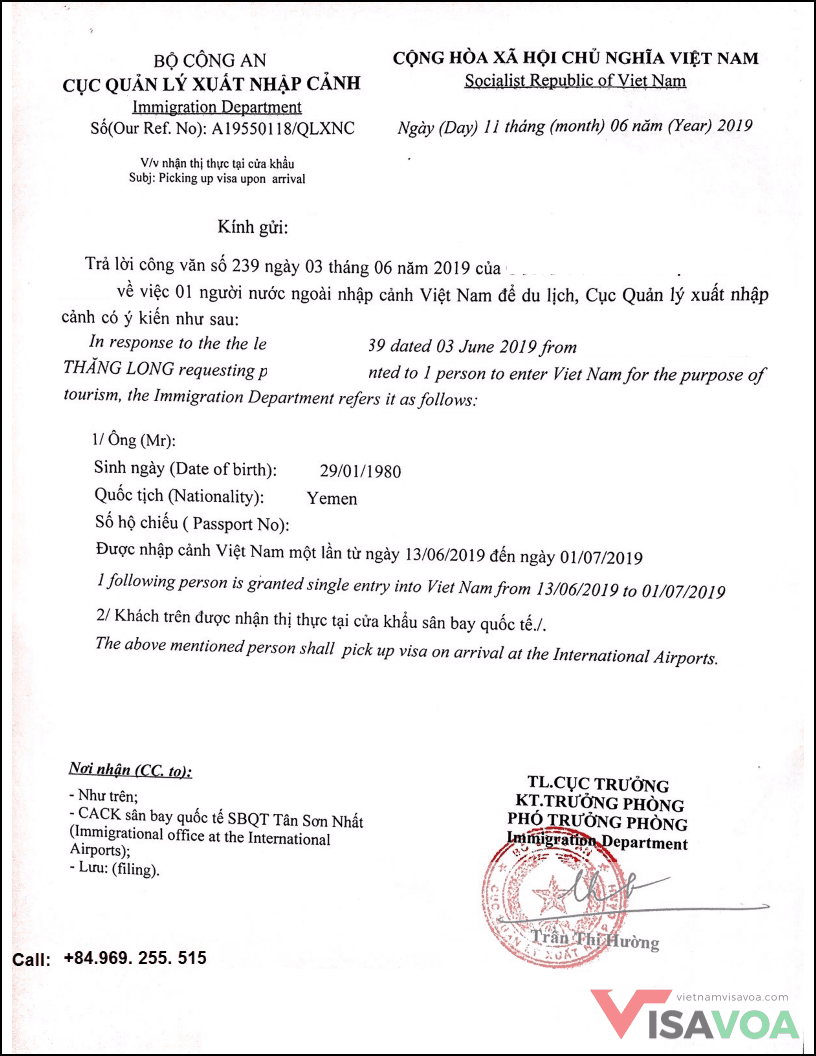 Vietnam visa approval letter
According the standard procedure at the airport, the details on your visa letter will be verified to confirm if they match that in your original passport and travel documents. Remember that only you fill up your information correctly as applying can you be granted entry upon arrival in Vietnam with the approval letter. It is impossible for you to check in the international flights to Vietnam without a valid pre-arranged visa.
Tourist visa:
In order apply a tourist visa, please send us these following documents:
- Your passport copy
- Visa pages
- Return flight ticket, hotel, and tour booking required in some cases.
Business visa:
A business visa is granted for foreigners to enter Vietnam due to commercial purposes. To attain this type of visa, you need to submit:
- Your passport copy
- Visa pages
- An invitation letter from a company in Vietnam that sponsors for you (noted that the company should be licensed and still be active)
Some necessary notices for citizens from countries limited to obtain Vietnam visa
Generally, there are some essential highlights nationals from limited countries should pay attention to avoid unnecessary trouble:
- An application request should be made at least one month in advance. Generally, normal processing takes 10 working days, it regularly takes a bit longer to restricted countries passport. So, planning to apply a Vietnam visa prior 30 days or more to be sure you have enough time to obtain it for your planned trip.
- It is highly advisable that you should NOT book a flight or hotel confirmation until your visa is issued, a flight and hotel reservation is recommended. Because in some unexpected reasons, your visa can be rejected.
- Commonly, to apply a Vietnam tourist visa, restricted passport holders need to make a flight and hotel reservation (even a tour package), that prove their purpose to Vietnam to Immigration Department. Besides, if you wish to obtain a business visa, a sponsoring company operating in Vietnam is compulsory.
- Your visa pages are pages inside your passport that present stamp visa you had from foreign countries you visited in the past. Those pages are called travel history that is also one of essential factors for Vietnam visa. A good travel history helps a lot to get a visa approval, especially if you visited some developed countries like as Japan, Korea or European countries.
If you want to apply a Vietnam visa or get some advice from our experienced staffs. Please feel free to comment your question in the below box. We are willing to answer all your inquiries as soon as possible.