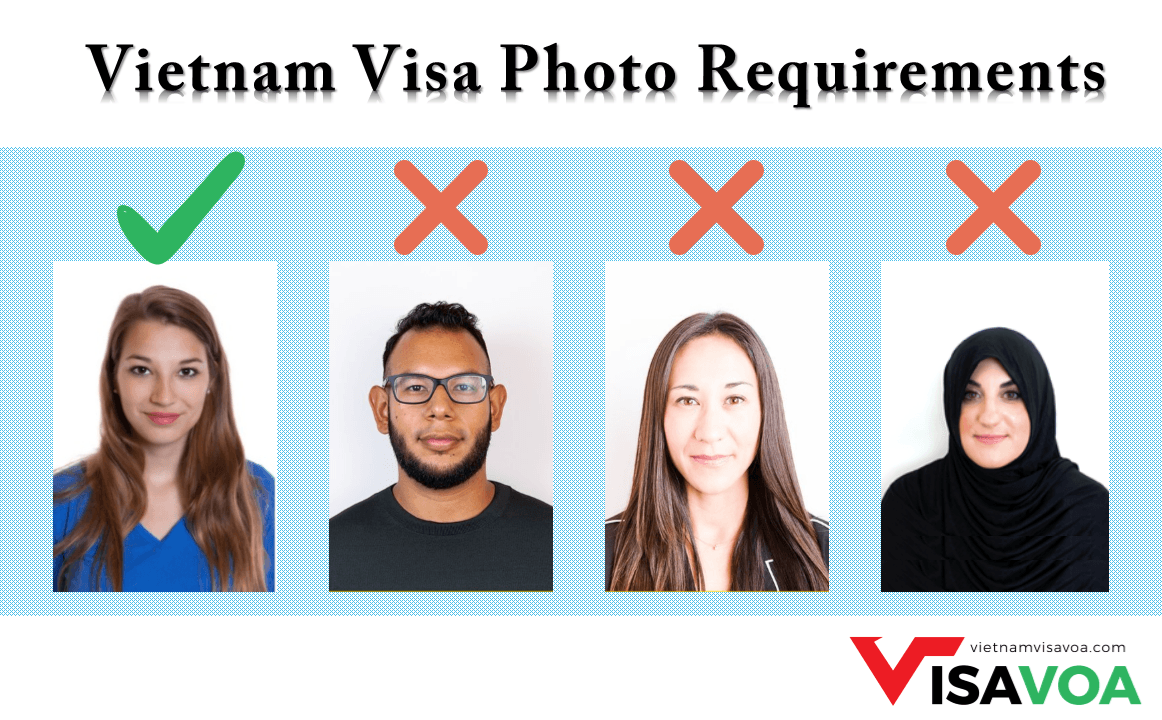 Vietnam Visa Photo Requirements
To apply any types of Vietnam visa, foreigners always are required to submit visa photos, along with the other documents. In general, the regulations for visa photo in Vietnam are quite simple. However, there are still some cases that your photo was rejected due to little mistakes, leading to slow down your vacation and waste money for a retake.
To avoid all these trouble, kindly check out the following requirements for Vietnam visa photo to make sure you have perfect visa snapshots.
Vietnam visa photo specifications
Every country has their own different visa photo specifications. You can easily search for many articles telling you about Vietnam visa requirements including passport-sized photos, but how is it? A below list comprising all detailed requirements about Vietnam visa photo you should pay attetntion in order to have correct pictures:
• Photo size: 04 x 06 cm.
• Needed number of photos: 02.
• Taken within the last 6 months of the application date.
• Background: white plain background and printed on high-quality photo paper. No shadows.
• Do not wear white clothes because it can blend with background.
• Facial expression should be neutral, without smiling or frowning, keep your face relaxed and mouth closed.
• Eyes must be visible, open and look directly at the camera.
• No any kind of glasses or hats allowed to wear.
• Any other accessories covering your ears or foreheads are strictly prohibited.
Photo requirements for children, infants and newborns
If you are planning to take the children on a family trip, keep in mind that not only do adults need visa photos done correctly, children require their own as well. Generally, requirements for children are the same to that of the adult. Listed below are some useful tricks you can try to take the right shot of your childrent:
• A child is the ONLY person presented in the photo. If the child is not able to sit up on his or her own, you can hold your child while the picture is taken, however remember that your hands must be hidden from view.
• Using a plain white sheet as background in case your child lie on the floor or stay a car seat.
• It may be accepted in case a child's head is slightly smaller in the picture than that of a mature person.
• Try as hard as you can to make sure a child's photo with eyes opened, mouth closed and be facing the camera.
Note:
• It is highly recommended that you should prepare 2 passport-sized photos in advance to save time for stamping a visa at Vietnam airports in case you apply visa on arrival.

• If you are so busy or you forget to have them prior to going on board, you are able to get their photos taken at Vietnam airport for $2 - $5 per each through a photo service.
Photo illustration and explanation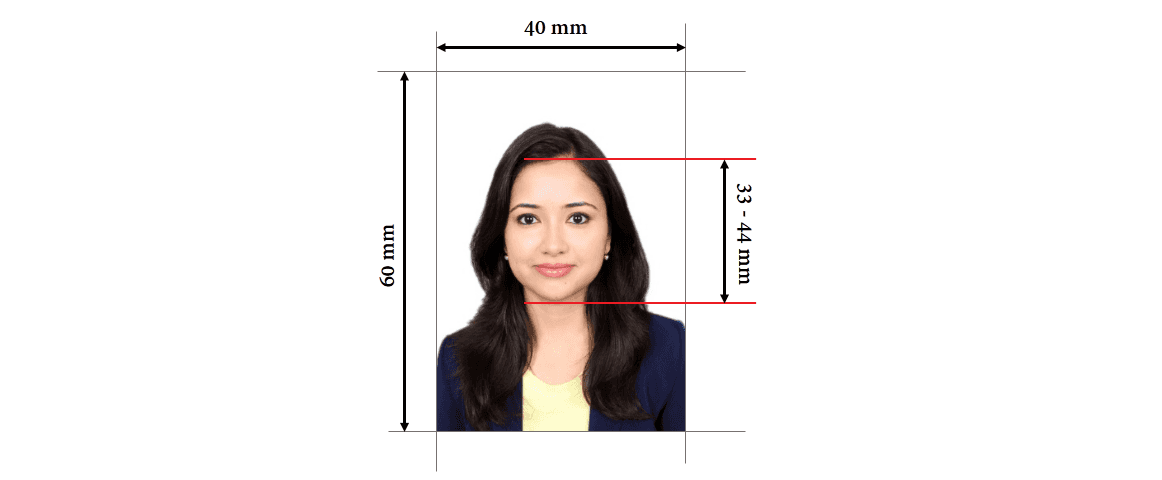 Photo size:
Sizing is not optional. Each photo is covered with size 04 x 06cm.
Background:
A white plain background is compulsory, any other colors or patterned, shadowed photo background won't be accepted. Although there is no specification to clothing, it is highly advisable that you should wear a dark colored shirt so as not to blend with the background.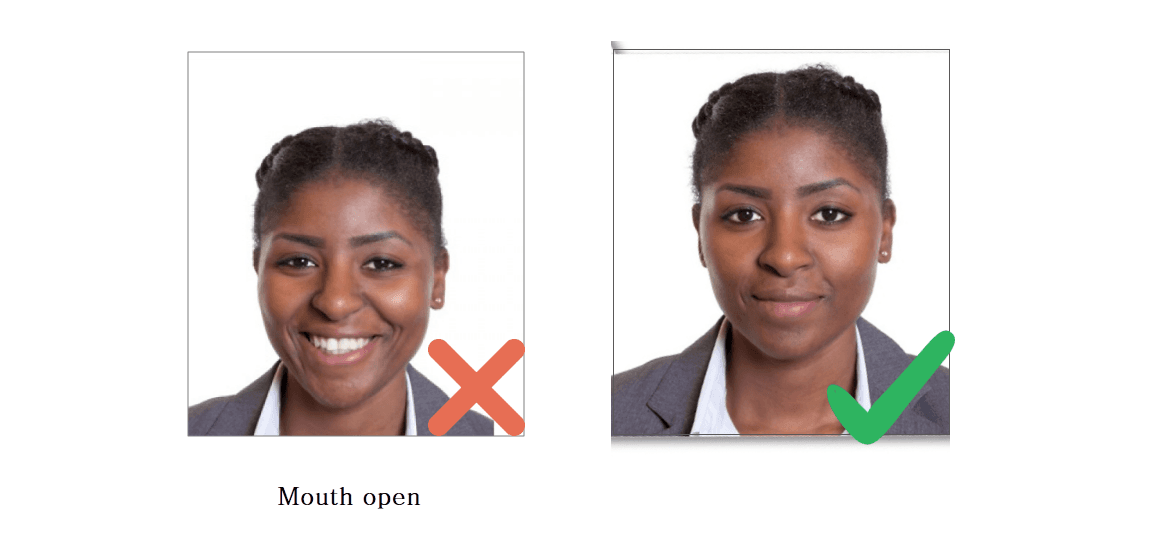 Facial expression:
It is inappropriate to have smiling or frowning face in visa photos as it makes more difficult to identify facial recognition. So, please to keep neutral facial expression without tensions or frowns.
Head position:
Keep your head straight on the camera, avoiding turning or being at an angle. Your head needs to be a middle point and to face the camera.
Eyes:
Your eyes need to fully open and look straight into the camera, and eyes covered by hairs or anything else is unacceptable.

Photo quality:
Please make sure that your face must be centered and clear in a snapshot. Besides, a photo printed is required to be on good quality, glossy paper and have no creases and layers.
Headwear and glasses:
Both these things are prohibited while the photo is taken. The same thing goes for any other accessories that cover your ears or forehead.
Wear a beard:
It can be optional, men may choose to wear a beard in a visa photo as long as it is their daily apperance.
Vietnam visa photo price
In case you need required photos for obtaining a visa run while you are in Vietnam, then you might go to passport photos studios near your living area. Cost for a set of two visa photos in Vietnam is relatively reasonable with mostly around $1.7 - $2.5. This is the most common way to have visa photo done within 20-30 minutes.
Besides, if you have your available photo file and you do not waste time on searching on somewhere for taking snapshots, using a passport photo online service is generally suitable though it is a bit more expensive. Charge for these average around $6 for two photos. All things you need to do is uploading your photo on their web and waiting photos delivered to your address you choose in advance.