How can you check Vietnam visa approval letter is genuine?
Most of foreign travelers must be required to obtain a Vietnam visa if they want to enter Vietnam. It is clear that applying for a visa is one of the most vital first steps for preparing to travel to Vietnam. However, there are more and more scammers who counterfeit a company or agent to provide the Vietnam visa on arrival for easy visa applicants in several cases. Therefore, Vietnam visa applicants are always confused whenever applying for a visa and don't know whether the Vietnam visa approval letter can be verified as genuine or fake.
Here are some recommendations for you:
Check the Vietnam visa approval letter carefully
By a method of intuitive sense, you can scan thoroughly format of pre-approval letter to make sure that it includes full signature and stamp, clarity of content. However, it is not official way to check whether the visa approval letter is genuine or not.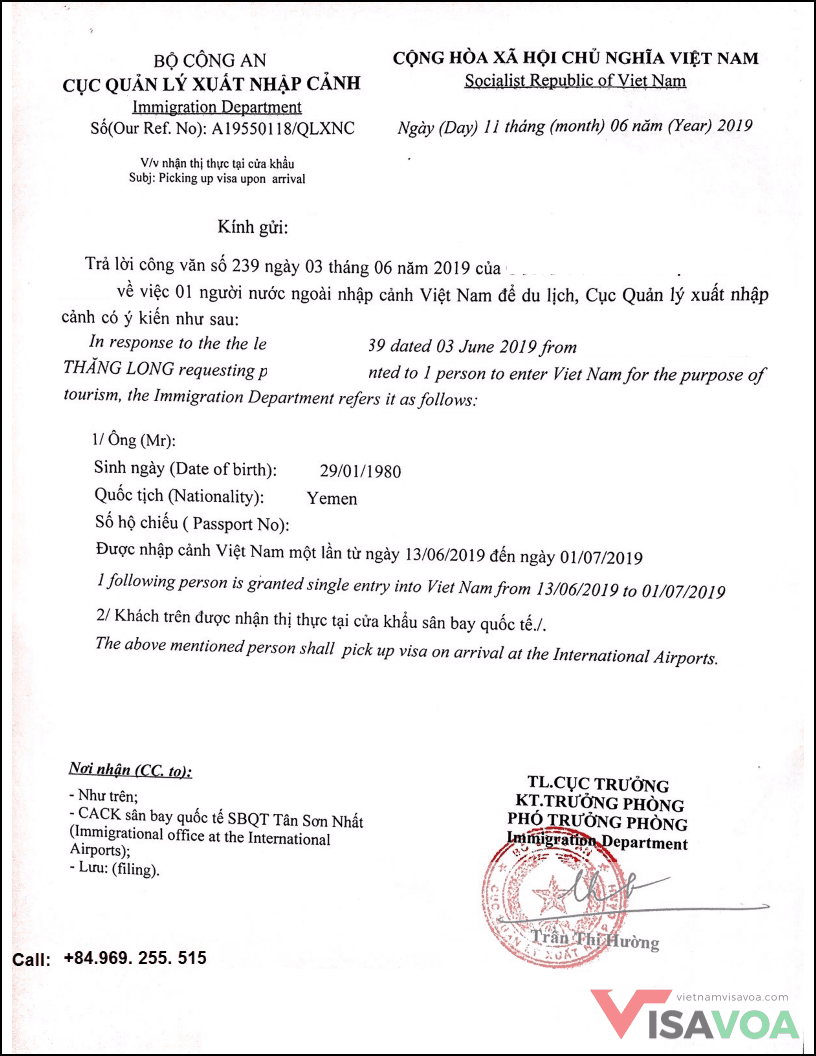 In fact, there is nowhere to check online if visa approval letter is genuine or fake before you are travelling to Vietnam. Just till you present the visa approval letter at VOA desk on arrival, Vietnam immigration officer will check it on their system to verify its authentication.
Notice: Sometimes, the Immigration Officers cannot find your record based on visa approval letter you show up and conclude that you are having a fake visa letter. As it happens, you should contact visa agent who issue the letter to double check. The reason is because your visa information probably fails to be transmitted to the Immigration System at the airport.
Choose a reliable visa agent to obtain a visa approval letter for Vietnam
The fake visa is due to the nature of counterfeiting agent: So how to check the credibility of the agent?
Read feedback from previous customers
Well known and highly recommended by some famous websites for travelers such as: TripAdvisor, Lonely Planet. Are there any complaint or poor marks for them there? A good reputation agent company would get good comments from visitors who has experience with them when working on visa process.
Check the website or Facebook's page
Firstly, web security would be top priority for a big company so you can see the link with: https:// … to supply the best way to protect their customers' personal information and convince them to use the services.
Secondly, check number of their followers. It is hard to trust them if they don't have lots of followers on social media.
Last but not least, the quality content on their websites should be observed. So how can we know if they are posting good quality content on their websites? A good visa agent would advise you clear information about the visa process and all the fees. What are the important things you have to prepare or what could make your visa application failed? These things should be clear for all clients before submitting necessary documents for visa agents.
Professional working style
You can evaluate a good visa agent via their working manner or attitude. It is importantly noted that a trustworthy visa agent has a support team who must have sufficient knowledge about getting Vietnam visa. Also, the team should have a great communication skill which smoothly guide you through visa application process. Whenever you contact an authentic visa company, this one is always available and responsive through multiple ways such as live chat, email, hotline or social network.
Contact Information
A legitimate visa agent has clear contact information to be easily noticed by you, including hotline, email and company address. Bear in mind that a company registered email should be used to communicate when you are working with a reliable visa agent.
There is no way to check if the visa approval letter is genuine unless you come to Vietnam. Make sure you choose a legitimate visa company to save your time and money, but still get the authentic approval letter. You can access the website: http://vietnamvisavoa.com as one of the most reliable visa agents in Vietnam or you can contact them via email: support@vietnamvisavoa.com or hotline +84 969 255 515 to receive the Vietnam visa support.