Vietnam private visa letter
What is a private visa approval letter?

Vietnam visa approval letter is a visa document which only contains your full names, visa and passport details such as passport number, date of birth, gender, type of visa, etc without sharing the other applicants.

A private visa letter is valid to get Vietnam visa on arrival at any international airports of Vietnam.
Further read: What is ietnam visa approval letter?


Why we offer a private visa approval letter?

While dealing with our clients for visa approval letter, we have learnt that some clients are taken aback when they see their private details shared with the others in the visa approval letter issued by the Vietnam Immigration.

It is explained that to save the visa processing time, the Immigration Department group together a certain number of applicants submitted at the same time in a visa approval letter, especially in high season. However, those clients are very worried about their information such as passport number, full name, date of birth are exposed to cybercriminals.

To keep our client information confidential and safe, we not only invest more money in website's security while applying visa online but also assist to issue a private or confidential visa approval letter to make sure that your information is protected at the highest level.

Along with this, we committed that your information shall not be disclosed with third or irrelevant party.


How do I get a private visa approval letter?

Vietnamvisavoa.com offers a free of charge to get a private visa approval letter. There is no difference in terms of how to obtain a private and group invitation letter. Just kindly follow some simple steps:

Step 1: Fill out your Vietnam visa application form online

Step 2: Process online payment for visa service fee

Step 3: Receive a private visa letter by email

Step 4: Get a print out of visa approval letter


How do a shared and private visa approval letter look like?

A shared visa letter: you will see your names with your other details disclosed together with a number of applicants.
Sample of Vietnm sharing visa letter
A private visa letter: only your name is indicated on the visa letter without sharing with the other's information.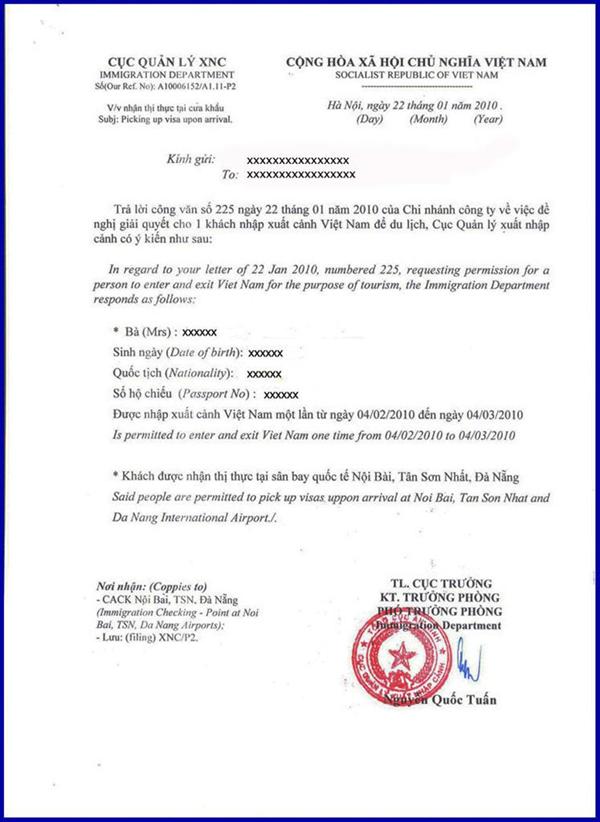 Sample of a Vietnam private visa letter
The cost and processing time of a private visa approval letter

You can be asked to pay some extra fee by some visa agency to enable to receive a private letter from the Immigration. With applying it through Vietnamvisavoa.com, we don't require you to pay any additional fee, other than our regular service fee as listed in our website.

To be assure that you will get what you need, please kindly send us a special order for a private visa letter to our visa consultants while filling out the visa application online.

There is no extra processing time to get a private visa letter, it takes the same time as it is processed with a sharing visa approval letter.


Frequently Asked question about a Vietnam private invitation letter

Can I process a private visa letter through my visa agency?

Yes sure, you just need to inform your visa agency if you remain your all details confidentially and require a private visa letter instead of a visa letter in bulk

Is it completely safe to apply the visa letter through Vietnamvisavoa?
You just feel safe and reliable to apply a visa approval letter our online application page or payment port. At the age of theft identity, we are highly aware of the importance of privacy and information security, therefore our team has taken all necessary measure to secure our website and protect our client's information.
---
We do hope that this writing is helpful to you. If so, I am very thankful if you share this article to social networks. Also, you can share with us your story about a Vietnam private visa letter which might be very useful to other travelers in the below comment

Vietnamvisavoa.com Team