VIETNAM BUSINESS VISA
Vietnam business visa (categorized under DN) is issued to the citizens of countries that are required to get a visa to enter Vietnam with the purpose of working with Vietnamese company, conducting commercial, trading and business activities.
02 legitimate ways to get a business visa
In term of the approach to get business visa, you can select one of two official and legitimate ways:
1) Get Vietnam visa on arrival
2) Apply for a visa through the Vietnam Embassy
For business purpose, most of travelers prefer to take the former way because this option is very fast and convenient, especially when they want their visa organized at the short notice. Check out urgent Vietnam visa
Documents required to apply for a Vietnam business visa
If you have

no company

in Vietnam to sponsor, you just need to submit the following documents:
1. Passport is valid at least 6 months commenced from your arrival date
2. At least 2 empty pages left on your passport for visa sticker and immigration stamp
If you have a company in Vietnam to sponsor you, there are addtional document to be submitted along as listed in the following:
1. Business license: Notarized Business Registration of the sponsor company in Vietnam
2. Introduction letter: A document written and signed from employer or sponsor, introducing the applicant and requesting a visa for the purpose of business
3. NA2: This is formal letter of Invitation, which is approved by Vietnamese immigration. This is arranged by the sponsor
4. NA16: Letter of introduction of the seal, signature of the authorized person at sponsor end.
How can you apply for Vietnam business visa?
Depending on the way you choose to apply for a business, you will follow different steps. We will guide you in the details for each of applying method as below:
Get Vietnam visa on arrival
In doing this option, you just need to follow the procedure in the following:
•Submit your visa application through this link or send us your passport copy to our email at support@vietnamvisavoa.com with your tentative entry/exit date.
• Pay visa service fee through a secure link
• Receive the visa approval letter via email 3-5 working days
• Present documents including Vietnam pre-approval letter, Vietnamese visa application form, 02 passport sized photos and stamping fee with your original passport at the Visa Counter to get visa stamped on your passport.
Apply for a business visa at the Embassy
You will set aside more time to make a visit the Vietnam Embassy in your country or the place where is nearest to you.
1. Visit Vietnam Embassy's website to download visa application form; or make appointment.
2. Travel to the Vietnam Embassy Office to submit your visa application and other supporting documents including your original passport
3. Wait for your visa to be returned. In case you don't have time to go there to pick up your visa and passport, just check with the Embassy if your visa can be delivered by post and courier.
How long does it take to get a Vietnam business visa?
► Vietnam Embassy: the Vietnam Embassy will handle business visa with processing time from 5-7 working days as long as all of required documents are well-provided. There is no express service available at the Embassy if you want to expedite visa processing.
► Vietnam on arrival:
Normally it takes 2 working days as the standard processing time. However, it varies according to the nationalities and type of visa.
One of the advantages of this method is that your visa can be quickly processed within several working hours. However, to save your trip and avoid any extra fee for rush processing, you should apply visa at least 2 weeks in advance prior to travel date.
How much does a Vietnam business visa cost?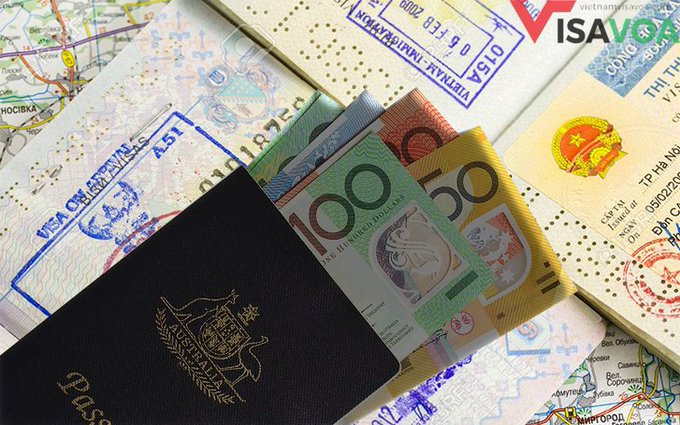 Business visa fee
To apply for visa on arrival, you would need to pay for 2 kinds of fees: service fee and stamping fee.
1. Service fee: This is paid when you submit the visa request so that Vietnamvisavoa.com could work with Vietnam Immigration on your behalf to get a Vietnam visa approval letter granted.
Visa service fee differs per nationality, the fees in the table below are for regular nationalities only:
Type of visa

Service fee

Single entry - 1 month

70 USD

Multiple entry -6 month

320 USD

Multiple entry - 1 month

75 USD

Single entry - 3 month

95 USD

Multiple entry - 3 month

110 USD
2. Stamping fee: This is paid in cash directly at Vietnam Airport in order to get Vietnam visa stamped on your passport.
What business visa let you do
Holding a business visa, you are allowed to enter Vietnam for:
• Take part in conference and meeting for business purpose
• Setting up industrial/business venture
• Performing sale/purchase/trade activities
• Attending technical/business meetings
• Participating in exhibitions, business/trade fair
Different type of business visa
When you are travelling to Vietnam for business purpose, there are some visa options to choose based on your duration and a number of entries.
For the length of stay:
Single entry is allowed to enter Vietnam only one time while your visa is still valid. A multiple entry visa will let you travel to Vietnam at a time as many times as you wish while valid. See more the details the

difference between single and multiple entry
Extension of business visa
In case the duration of stay cannot cover your business trip in Vietnam, you can do visa extension to prolong your visa validity. The expiry date of visa must be noted carefully. Within 3 to 5 days before your DN visa expires, you just need to contact with a local agency to extend Vietnamese business visa. Usually, the cost of visa extension is higher than that of getting a new visa.
Notes:
- If you acquire a business visa upon your arrival entry, you must get a visa approval letter in advance and travel Vietnam by airlines only. Entering by road or sea, you are required to pick up visa stamped on passport at the Vietnam Embassy or Consulate.
- A valid visa approval letter or visa sticker does not mean that you are guaranteed to enter Vietnam. A person can be denied to enter the country if the Vietnam Immigration Officers at the airport find any irrelevant information; fraud or deception related to your visa and other reasons that might be risky to the national security or Vietnamese citizens.
Further reading that you might be interested:

Vietnam working visa
Vietnam work visa is granted for foreigners who tend to work in Vietnam. To issue work visa, a work permit is required and sponsored by a company you are employed. LD visa is usually issued with single or multiple entry and its validity is up to 1 year. A temporary residence card is also granted to replace LD visa to allow to stay up 3 years.