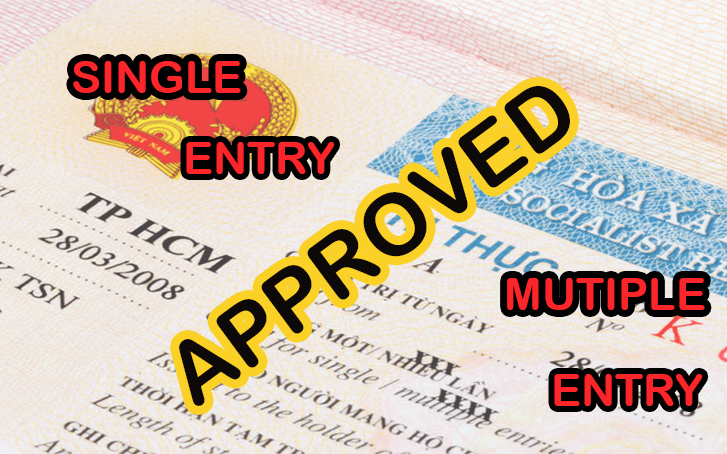 Single-entry and multiple-entry Vietnam visa
Vietnam visa allows you either a single or multiple entries to Vietnam and to stay in Vietnam for a period of time
A visa is a mandatory document foreigners need to obtain in order to visit Vietnam. Depending on a number of times to visit Vietnam, there are two types of visa: single-entry visa and multiple-entry visa. If you are wondering which one you should choose, this article will help you decide.
Distinguish single-entry and multiple-entry Vietnam visa
Single-entry visa is the sort of visa that allows you to enter and exit Vietnam once during your visa validity. It means that with this type of visa, you will have to apply for a new one if you leave Vietnam, even before the expiry date.
For instance, if you submit 1-month single-entry Vietnam visa, you are able to stay in Vietnam within 30 days since your register arrival date but once you exit the country, your visa is automatically expired.
Regarding multiple-entry Vietnam visa, applicants can arrive and leave Vietnam for several times as long as your visa is still valid. It means that you don't need to apply for a new visa when you re-enter the country during your visa validity.
For example, during the validity of your 3-month multiple visa, you are permitted to enter and exit Vietnam for multiple times within 90 days since the arrival date you registered.
The procedure to apply Vietnam visa
The most convenient way people often use nowadays is getting Vietnam visa on arrival. The procedure is straightforward with no original documents sent off.
Fill out the

online form

: you just need to provide your personal information as on passport, contact information and the trip's details (arrival/exit date, type of visa, etc.)

Confirm and make the payment. Refer the payment guidelines at this page.

Check email for Vietnam visa approval letter. The normal processing time is 2 working days.

Print the letter and arrive in Vietnam international airport to get the visa stamped.
There is another way to get Vietnam visa is submitting the visa at Vietnam Embassy in local area. Generally, applicants need to prepare a visa application form, original passport, passport-sized photos and visa fee to carry out the application process there. Nonetheless, it is highly recommended for you to contact the Embassy in advance to ask the detailed requirements so that you can minimize the time and cost to get the visa.
For advice on applying for a visa to Vietnam, don't hesitate to contact via the hotline + 84 969 255 515 or email support@vietnamvisavoa.com. We are always pleased to support you.