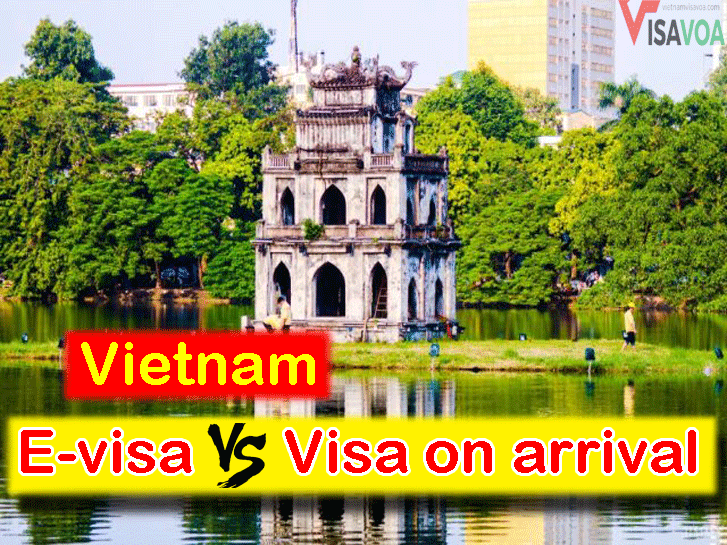 The differences between Vietnam E-visa and Vietnam visa on arrival
Besides the traditional way, applying for a visa at the Vietnam Embassy before your departure to Vietnam, still there are 2 other ways you can submit your visa application with Vietnam E-visa or obtaining visa on arrival. Although both of them are required in advance an online visa registration, they are absolutely different not only in term of price but also visa type and procedure.

The types of visa
Vietnam E-visa
Tourist visa is the only option for those who want to apply E-visa. And it just maintain validity for 30-day visa with single entry. E-visa is non-extendable.
Visa on arrival
You can apply for any type of visa except for diplomatic/ official visa if you apply for visa on arrival. Duration available for visa on arrival is 30 days, 90 days or 1 year (US passport holders only) with single entry to multiple entries depending on your nationality.
Eligibility and Entry Ports
E-visa
Until now, just 46 countries are eligible for it. You should check this list in advance to know whether or not you can apply for Vietnam E-visa. Applicants can come to Vietnam through 28 ports across Vietnam including 8 international airports, 13 land ports and 7 seaports.
Visa on arrival
All nationals are allowed to obtain visa on arrival provided that they enter the country by airlines via one of Vietnam International Airports namely Noi Bai, Tan Son Nhat, Cat Bi, Dong Hoi, Nha Trang, Da Nang, Lien Khuong, Can Tho, Phu Quoc.
Procedures
E-visa
When it comes to applying for Vietnam E-visa, you will directly carry on your submission via the Vietnamese Immigration Department's official website.
All you need is to implement 3 steps as follows:
Step 1: Fulfill the required information on this link https://evisa.xuatnhapcanh.gov.vn
Step 2: Pay visa fee via electronic payment gateway as prescribed by the Immigration Department.
Step 3: Wait 3 working days for your visa process. If being approved, your E-visa is sent by email. Print it then take it to Vietnam.
Visa on arrival
If you choose Vietnam visa on arrival, you will need the assistance of a visa agency in Vietnam. In this case, it is highly recommended for you to contact with Vietnamvisavoa.com
Vietnamvisavoa.com will take all the bureaucracy off your hands but you still need to make a move to get the process started.
Firstly, send your passport copy to email support@vietnamvisavoa.com or directly fill in this online form.
Secondly, you are required to make the payment for the visa service fee. There are many methods for you to pick such as using Paypal account, Western Union, or Bank transfer.
Thirdly, get your visa approval letter via email. This is the legal document issued by the Vietnamese Immigration Department permit applicants to collect visa stamp at Vietnam airport.
Finally, submit your visa approval letter and get your visa stamped at the airport then enter Vietnam.
Visa fee
Vietnam E-visa
It costs 25USD for every applicant no matter where they are from.
But bear in mind that, your E-visa fee is non-refundable if your application is refused.
Visa on arrival
Regarding the fee, you need to pay 2 separate fees including visa service fee and stamping fee.
The visa processing fee is paid for Vietnamvisavoa.com so that they can submit and get your visa approval letter. The amount of money is changeable depending on your type of visa, nationality and visa validity.
Your visa fee is refundable in case your visa application is rejected.
The stamping fee is paid in cash for Immigration official at the Airport to stamp your visa. You have to spend 25USD for a single entry visa (1 or 3 months), 50USD for a multiple entries visa (1 or 3 months) 95USD for 6-month multiple entries visa and 135USD for 1-year multiple entries visa.
Wish these above information would help you choose the way suits your need the most. Should you need further detail about Vietnam visa, kindly leave comment below or contact us via hotline +84 969 255 515 or email support@vietnamvisavoa.com.