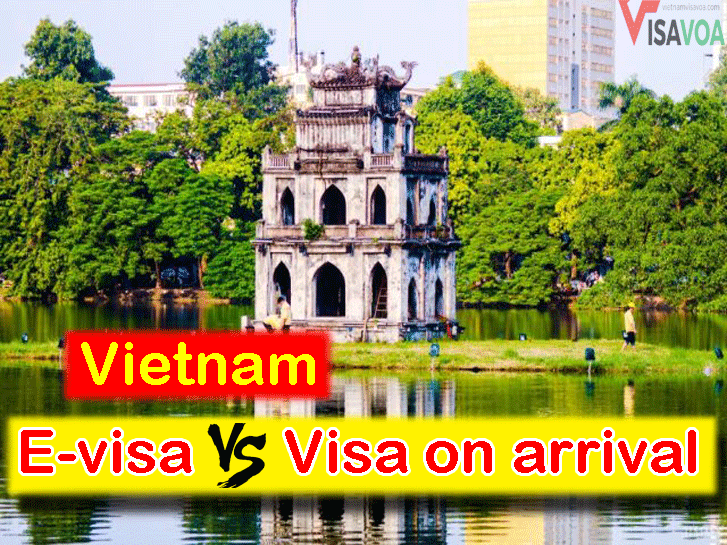 The differences between Vietnam E-visa and Vietnam visa on arrival
Currently there are two exiting types of visa: Vietnam visa on arrival and Vietnam E-visa. Both are widely known by most foreigner travelers when they are looking for a visa to enter Vietnam. And they can be completed online but there are considerable differences between them in terms of price, processing time, validiity. etc.
In this article we will compare the Vietnam visa on arrival to Vietnam E-visa. This will give you a solid understanding of both and help you to select the best way to get visa for Vietnam – one of the most fascinating destination in South East Asia.
Item

Vietnam visa on arrival

Vietnam E-visa

Introduced since

Early 2007

February 2017

Issued by

Vietnam Immigration Department

Vietnam Immigration Department

Eligibility

All nationals are allowed to obtain visa on arrival provided that they enter the country by air

Until now, just 81 countries are eligible for it.

What documents needed

• A passport copy

• 02 blank passport pages

• A credit/debit card to pay for visa fee

• A digital passport copy

• A digital scan of photo

• A credit/debit card to pay for visa fee

How to apply

•Step 1: Complete a visa application form online

•Step 2: Make payment for visa service fee

•Step 3: Receive a visa approval letter by email

•Step 4: Present the visa approval letter, vietnamese visa application form, photo, stamping fee and passport upon Vietnam airport to get visa stamped.

•Step 1: Fulfill the required information online

•Step 2: Pay visa fee via electronic payment gateway as prescribed by the Immigration Department.

•Step 3: After 3 working days,return the government e-visa website to download e-visa confirmation

Visa fee

There are two fees included: service fee and stamping fee.

• Visa service fee is refundable. Depending on nationality, visa type and processing time.

• Stamping fee (25usd for single entry and 50usd for multiple entry)

Only 25USD per person is paid online with credit/debit card. Non-refundable

Visa validity

From 1 to 3 month single/multiple entry

6 month and 1 year single/multiple entry (only for US citizen)

30 days with single entry

Processing time

2 working days for tourist visa

3-5 working days for business visa

(*) Urgent or emergency visa is available

3-5 working days

No urgency or emergency

Official website

No government website to apply for visa on arrival. The visa on arrival service is provided by private agency.

This is government website to apply for E-visa: https://evisa.xuatnhapcanh.gov.vn/trang-chu-ttdt

Entry change

You can flexibly switch into any arrival international airport among 8 ones as mentioned above

You have to enter through entry port you register on visa application form.

Support availability

Support 24/7 via email, livechat, hotline, whatsapp

No support available
To learn more about two types of visa, you can visit this link for Vietnam visa on arrival and this link for Vietnam E-visa
Which visa is the best for you? Visa on arrival or E-visa
It's hard to choose which one is the best as each has pros and cons. Depending on your travelling purpose and length of your trip. E-visa is simplier and cheaper but it is limited in the duration of stay, eligible countries and number of entry as well.
However, visa on arrival is the best option when ease and convenience is your objective especially for those who are in an emergency situation or traveling to Vietnam over the weekend. There is no doubt that visa on arrival is more flexible with duration up to 3 months and multiple entry.
For those who are entering Vietnam visa via sea or land port, e-visa is the best way for them when going to the Vienam Embassy is not an option.
Sample of visa approval letter (Vietnam visa on arrival)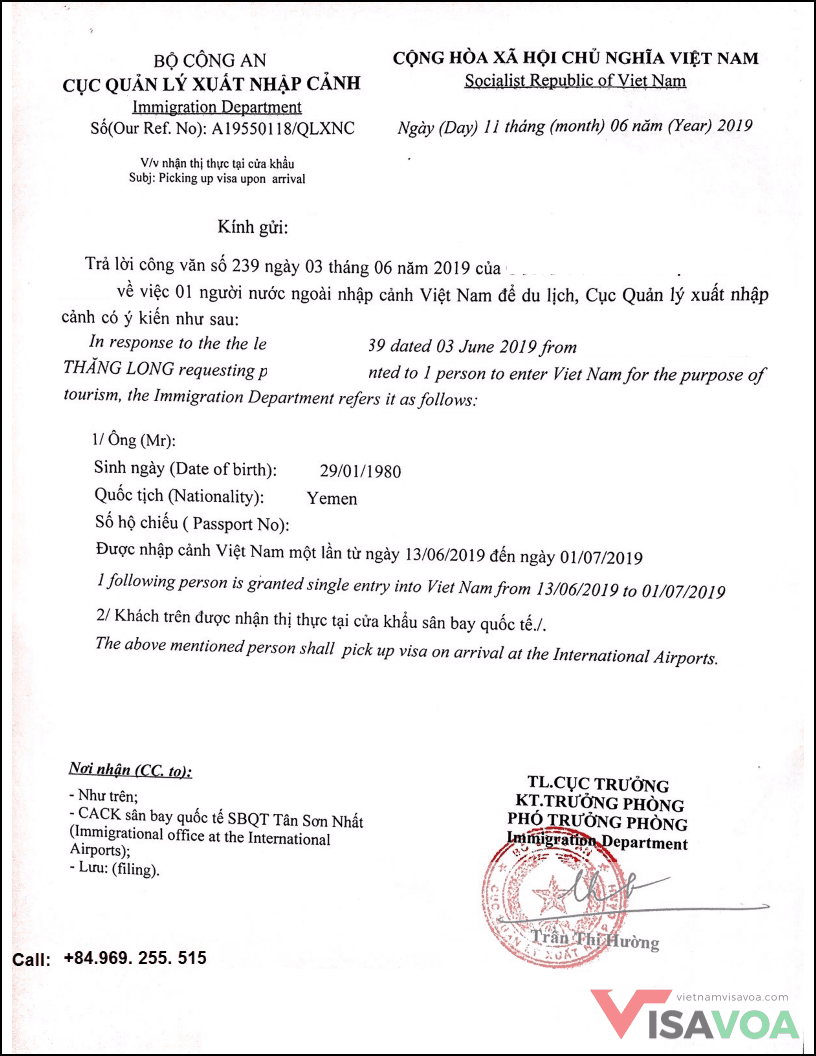 Sample of E-visa confirmation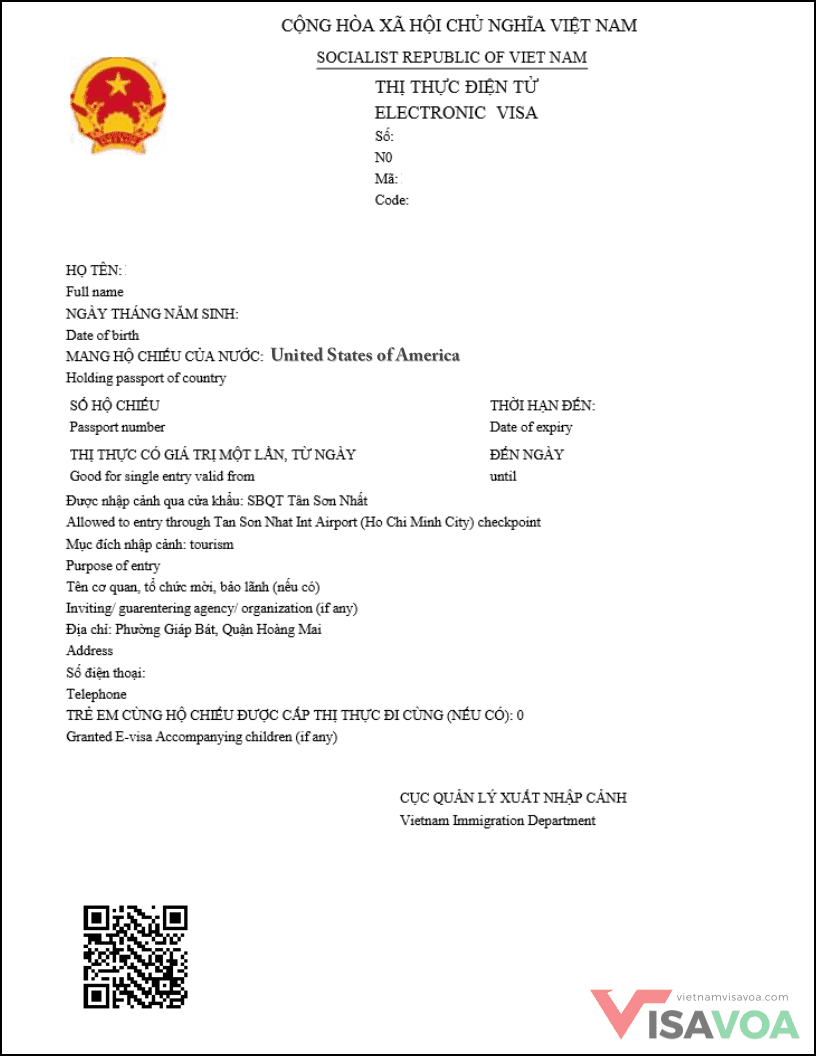 ---
We hope that our comparison between Vietnam E-visa and Visa on arrival is helpful for you to select the best way to obtain a Vietnam visa. If you need any further clarification do not hesitate to leave us a comment or question below or email us at support@vietnamvisavoa.com