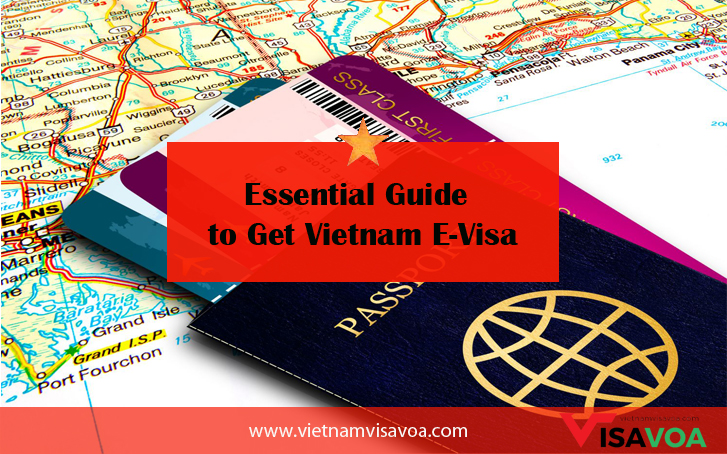 The official guide to get Vietnam E-visa (Updated 2019)
In February 2017, Vietnam Government officially launched the E-visa scheme in a bid to simplify and facilitate the Vietnam visa procedure.
Although this visa is just granted to a limited number of countries and valid for a short duration, generally it is still a free-hassle option for citizens offered with such e-visa privilege. In this article,I would like to provide you the official guide about getting an E-visa for Vietnam.
What is E-visa and its latest update (as of November 2019)?
Vietnam E-visa is short for Electronic visa simply applied online through the Vietnam Government's official website. It is legit and replaced for "sticker visa" though it is only valid for 30 days with single entry.
Recently in February 2019, the Immigration Department has announced to issue the Vietnam E-visa for 34 more nations, which increases the total number of applicable countries into 80 countries.
The longest duration of stay for E-visa has been still up 30 days for tourism purpose only
Which countries are eligible?
Citizens from 80 countries are eligible E-visa to Vietnam as enlisted in the followings:
Andorra

Argentina

Armenia

Australia

Austria

Azerbaijan

Belarus

Belgium

Bosnia and Herzegovina

Brazil

Brunei

Bulgaria

Canada

Chile

China Mainland

Colombia

Croatia

Cuba

Cyprus

Czech Republic

Denmark

Estonia

Fiji

Finland

France

Georgia

Germany

Greece

Hungary

Iceland

India

Ireland

Italy

Japan

Kazakhstan

Korea (South)

Latvia

Liechtenstein

Lithuania

Luxembourg

Macedonia

Malta

Marshall Islands

Mexico

Micronesia

Moldova

Monaco

Mongolia

Montenegro

Myanmar

Nauru

Netherland

New Zealand

Norway

Palau

Panama

Papua New Guinea

Peru

Philippines

Poland

Portugal

Qatar

Romania

Russia

Samoa

San Marino

Serbia

Slovakia

Slovenia

Solomon Islands

Spain

Sweden

Switzerland

Timor Leste

United Arab Emirates

United Kingdom

United States

Uruguay

Vanuatu

Venezuela

Hong Kong (China)

Macau (China)

Ireland
Type of Vietnam E-visa
When it comes to type of Vietnam e-visa, tourist visa is only option for those visiting Vietnam for tourism and recreational purpose. Its duration is not more than 30 days with single entry
For business visa and other purposes, applicants are required to get visa through visa on arrival or via the Vietnam embassy where they are living or residing in.
Procedures for E-visa
You have to follow 4 simple steps for Vietnam eVisa:
Step 1: Access home page then go to tab "E-visa" > "Personally apply for E-visa" then fill up all your details in given form correctly and upload you passport date page and photograph
Step 2: Verify your visa application and receive a verification code
Step 3: Pay 25USD of the visa fee with your valid international card
Step 4: Enter your verification code, email and date of birth to download your E-visa after 3 working days.
Sample of E-visa:
Document required to get Vietnam E-visa before flying to Vietnam
You are just permitted to grant E-visa once you arrive Vietnam if you register it online beforehand.
Documents are necessary to prepare as listed in the following:
A scanned copy of your passport to upload: your passport has at least 6 month validity since your arrival date to Vietnam
At least 02 blank passport pages: one for E-visa stamp and another for Immigration seal
A soft copy of your passport sized photo
Valid international credit card: used to pay fee for E-visa online (No American express is accepted)
Those documents should be in PNG or JPG format.
E-visa Vietnam visa photo requirements:
A scanned copy of your recent passport sized photograph
Vietnam visa photo size 4x6cm
See more details about Vietnam visa photo specifications
Vietnam E-visa fee and processing time
It costs only 25USD per person for E-visa which made one time online payment. This fee is non-refundable under any circumstance.
Although it takes normally 3 working days to receive your e-visa confirmation, you should start to submit your visa application one or two weeks in advance before your departure. In fact, there are several applications delayed to receive in a given time due to the public holiday; failures and outages on the Vietnam Immigration's E-visa System.
Vietnam Entry points eligible for E-visa
Now you are allowed to enter Vietnam with E-visa through:
08 international airports includes Tan Son Nhat International Airport (Ho Chi Minh), Noi Bai International Airport (Hanoi), Da Nang International Airport (Da Nang), Cam Ranh International Airport (Khanh Hoa), Can Tho International Airport (Can Tho), Phu Bai International Airport (Hue), Phu Quoc International Airport (Phu Quoc), Cat Bi International Airport (Hai Phong)
16 landports: Nam Can, Song Tien, Tinh Bien, Xa Ma, Mong Cai, Moc Bai,Lao Bao, Ha Tien, Huu Nghi, Cau Treo, Cha Lo, Bo Y , Lao Cai, La Lay, Na Meo, Tay Trang
09 seaports: Ho Chi Minh City Seapot, Quy Nhon Seaport, Nha Trang Seaport, Hai Phong Seaport, Hon Gai Seaport, Da Nang Seaport, Vung Tau Seaport, Chan May Seaport, Duong Dong Seaport.
What is difference between E-visa and Visa on Arrival?
It can be rest assured that you are probably confused between E-visa and Visa on arrival, here are some of basic differences you need to figure out:
| | | |
| --- | --- | --- |
| Name of visa | Vietnam E-visa | Vietnam visa on arrival |
| Total of stay | 1 month | 1 month, 3 months (6 month & 1 year for USA passport hol |
| Visa fee | 25usd | Visa service fee & Stamping fee |
| Can enter through | International airport, landport and seaport | Only international airports |
| Standard processing time | 03 working days (No urgency) | 02 working days (Urgency is available) |
| Purpose | Tourist only | Tourist, business and other purposes |
| Number of entry | Single only | Single/multiple |
Brief comparison between Vietnam Evisa and Visa on arrival

According to the above comparison, E-visa is very the best choice for travelers who are staying to explore Vietnam within 30 days and can flexibly enter via the variety of entry ports while visa on arrival is better for those who wish to stay more than 30 days with either single or multiple entries.
Key notes must be kept in mind
Not every nationals are eligible to E-visa program. As of November 2019, only 80 countries are officially granted with the electronic visa.
E-visa fee is fixed and non-refundable at the cost of 25 USD. No fee is refunded in case your visa is rejected.
Applicants must enter through the entry port they registered in the online visa application form.
A group of applicants cannot be shared with the same application form. Each applicant shall fill out on a separate form.
Once you submit or your E-visa is approved, you will not be allowed to change any of your details such as birth of date, full name, passport number, etc. In this case, you have to apply again your visa application.
You are permitted to get 30 day visa with single entry for tourism purpose when applying E-visa.
No expediting or urgent service is applicable to E-visa in term of processing time.
Important Warning: E-visa scams
Some commercial websites have been generated to look like official e-visa website of the Vietnam Immigration Department, please be aware of those unless you are willing to pay some extra service fee. Here is the list included but not limited:
https://www.vietnam-evisa.org
https://www.evisa.com.vn
There is only one official website from the Vietnam Immigration Department to provide E-visa which is https://evisa.xuatnhapcanh.gov.vn/trang-chu-ttdt
Need the support for your E-visa application!
Please call to the Immigration's landline at +84 24 3825 7941 or track on your E-visa status
In case you want to avoid any hassle and time consumption, you can consider to authorize Vietnamvisavoa to acquire E-visa on behalf you. We are always available to handle your inquiry at support@vietnamvisavoa.com or hotline + 84 969 255 515
Best alternative to those are not accepted for E-visa: Vietnam visa on arrival
You may wonder if you are not eligible for E-visa or want to stay more than 30 days, which is the another best option to apply visa then?
Good news is that you can switch into Visa on arrival – also regarded as simples and easiest method. To obtain visa on arrival, you can comfortably apply online at home or anywhere, especially at short notice.

Vietnam E-visa FAQs
What if my e-visa cannot be received in the given time?
Please access the Vietnam Immigration website to check your visa status to see how your visa application is processed . Otherwise you can visit E-visa support section to send your problem to the Immigration Department.
Can I apply Vietnam E-visa one day prior to my departure?
As stipulated by the Immigration Department, it takes 3 business days to process your e-visa application. Therefore, it is impossible for you to complete it in one day before travelling to Vietnam.
Can I apply multiple entry visa for E-visa?
Unfortunately, there is only single entry accepted for E-visa. Note that if you want to get multiple entry, you can take this with visa on arrival or apply through Vietnam Embassy.
How do I know my E-visa approved?
You need to return the Vietnam Immigration website after 3 working days since your visa application is submitted. Then, click on "Search" tab and enter your registration code to access and download your E-visa in PDF file. Do not forget to print it out in 02 copies before travelling to Vietnam.
What can I do if I make mistake in my visa application?
Once your visa application is submitted and processed, you cannot revise or change any of your information. It is very important to check carefully what you enter in each section of your visa application. If any mistake is found out later, you have to get a new visa application.
Can I extend my E-visa?
Yes, you can extend your E-visa when you are in Vietnam by contacting a local visa agency to handle it on behalf of you.
Can I list my children in my E-visa application?
In case, your children have their own passport, they need to separately apply and get their own visa. You are just able to list them on your visa application if your children are included on your passport.