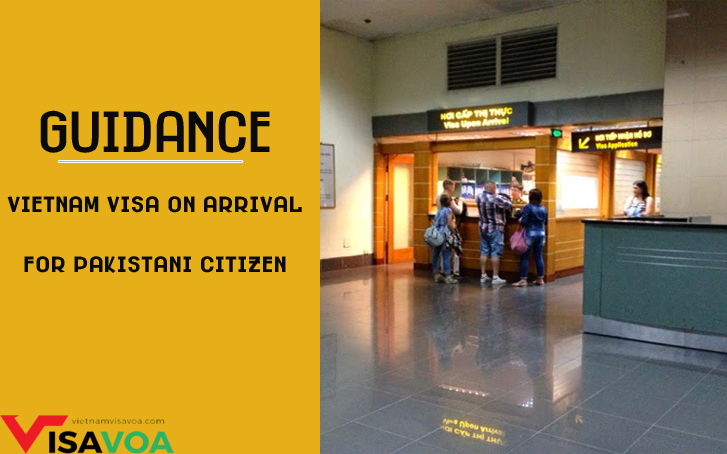 Vietnam Visa on Arrival for Pakistani citizens - Ultimate Guide 2020
Source: www.flyingtotheworld.com
Vietnam visa on arrival is now widely available to all most nationalities, including Pakistani. In this article, we would like to provide you comprehensive guidance on how Vietnam visa on arrival works for Pakistani passports and you are probably, surprised of how simple it is to obtain Vietnam visa at the airport.
Vietnam visa on arrival and its legal recognition
Vietnam visa on arrival
It means that your visa issued once you are landing in Vietnam airport upon arrival. By acquiring your Vietnam visa in this way, Pakistani passport holders have to obtain a legal document called Vietnam Visa Approval Letter - issued by the Immigration Department of Vietnam before their departure. Then, show up a copy of the visa approval letter to take visa a stamped visa on their passport at landing airport.
Its legal recognition
As long-year-experience visa provider, Vietnamvisavoa.com profoundly understand your concerns about visa legitimacy shown through a common question frequently asked such as "Is it Vietnam visa on arrival legit or scam?" Definitely Vietnam visa on arrival is 100% legit because it is officially recognized and approved by the Vietnam Government according to Circular No.190/2012/TT-BTC, Decree No.21/2001/ND-CP of May 2001, Joint Circular No.04/2002/TTLT/BCA-BNG, Ordinance No.24/2000/PL-UBTVQH10 of April 28, 2000.
Types of Vietnam visa on arrival for Pakistani

When it comes to Vietnam visa on arrival Pakistani passport holders are allowed to obtain both tourist and business visa.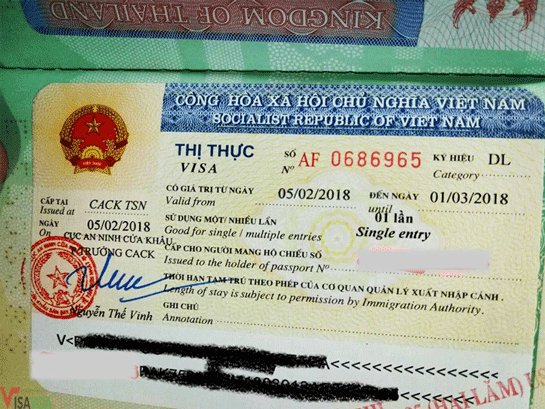 Vietnam tourist visa sticker
For a tourist visa, the maximum of staying for Pakistani citizen is 25 days and visa validity is started from entry date put on the visa application form, not registration or submission date. In case you have no exact date of arrival, you can choose a tentative one.
For a business visa, the longest duration for Pakistani passport holders is 3 months with single entry. Those who work for or sponsored by a company in Vietnam will get the visa processed according to their company's secure.
The requirements to apply Vietnam visa on arrival on Pakistani passport.

It can't be denied that Vietnam visa on arrival is too easy to apply. However, as Pakistani applicant, there are some requirements need to meet as bellows:
Traveling with original passport having at least 6-month validity since the entry date. If there is no page in your passport for Vietnam visa, you are granted with separate visa known as loose-leaf visa at Visa Desk upon arrival

Entering Vietnam by air because visa approval letter is only accepted at International Airport of Vietnam.

Having "Ok to Board" document to be shown at your airport if you fly with some airlines such as Malindo Airlines or Emirate Airlines.
Visa on arrival procedure for Pakistani national

Generally, Vietnam visa on arrival is just an alternative way to collect visa at arrival airport instead of collecting a real visa beforehand at the Vietnam Embassy. Still, in order to get the Vietnam visa by this way, you have to apply for visa approval letter in advance which shall be obtained through an authorized visa agent before your departure then get your visa stamped at Vietnam airport.
How to get Vietnam visa approval letter?
Bear in mind that without Vietnam visa approval letter, you are rejected to get on board from your airport, let alone denied to take a stamped visa when you are landing in Vietnam airport. So, make sure that you have this visa letter in hands, especially should receive it before you book flight or hotel for your Vietnam trip.
But Pakistani visitors do not need to worry about that visa letter. Just follow 2 simple steps as below and you will obtain it smoothly and quickly.
Step 1. Send your passport copy with your estimated entry date to our email support@vietnamvisavoa.com and pay for visa service fee
As Vietnam visa regulation related to Pakistani passport holder can be changed from time to time, instead of Vietnam visa application form on our website, you are highly recommended to send your Vietnam visa application through email. We guarantee that our support team quickly respond to your question/inquiry and put very close attention on your visa request.
Your payment is made through credit card, bank transfer or other methods as negotiated between two sides. A full refund is definitely made to you once your visa is denied by the Immigration Department.
Get a clear payment guideline for Vietnam visa service fee and Vietnam visa stamping fee
Step 2. Receive visa approval letter after 5-7 working days which is sent to your email with our detailed guidance on picking up Vietnam visa at the airport. In case, no Vietnam visa approval letter is received as confirmed, please contact us via email support@vietnamvisavoa.com or hotline +84 969 255 515.
After receiving the visa approval letter, you should take a look on your details to make sure that everything is correct.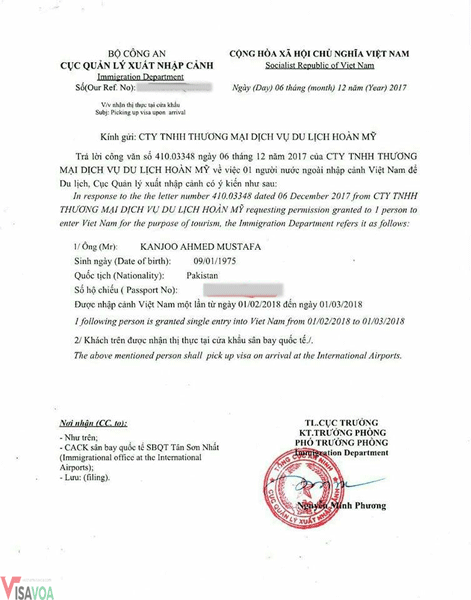 Vietnam visa approval letter
How to get Vietnam visa stamp at Vietnam airport?

Go straight to the Visa upon arrival/Landing visa area at the airport when you get off the airline. After that, submit all documents including visa approval letter, 02 passport-sized photos, completed Vietnamese visa application (attached together with visa approval letter by email to be downloaded), stamping fee and original passport at the Visa Desk.
You have to wait for a while till your name called out by officer; come and pay stamping fee in cash. Now you collect your passport back with a Vietnam visa sticker on your passport. Don't be so excited! Do check detail on your Vietnam visa page before leaving visa counter. Afterward, you just go to Immigration counter as other travelers.
If you would like to save your time at the airport or avoid any hassle, the Fast track service is our high recommendation. Our staff will help you to collect the visa stamp within few minutes.
Vietnam visa fee for Pakistani passport holders

Visa on arrival fee is classified into two types: Visa service fee and stamping fee. These two fees are compulsory and paid separately.
Visa service fee: is charged by Vietnamvisavoa.com to assist you to process Vietnam visa approval letter at Immigration Department of Vietnam. The service fee is offered with a better rate when applying for a group of applicants or as regular clients.
Stamping fee: is paid in cash at Vietnam airport, highly recommend paying in USD Dollars to avoid low exchange rate appointed by the Immigration Department. Stamping fee varies according to your duration of stay and there is no discount amount for stamping fee regardless of a number of groups.
Below is the table show of Vietnam tourist visa fee applied for Pakistani citizens. Use them to check how much you must spend for the visa expense when you would like to visit Vietnam. (For the business visa it's advisable to directly contact us to know the cost as visa costs will depend upon your sponsoring company in Vietnam.)

Vietnam tourist visa fee for Pakistani
* The fee is updated till December 2018.
Advantages of getting Vietnam visa on arrival over applying visa at Vietnam Embassy
No need to visit or to send off your original passport to the Vietnam Embassy.

Applying for the visa at anywhere and anytime without making an appointment with the

Vietnam Embassy in Islamabad

in advance

No need to submit a complicated load of documents except for your passport copy

The fee is clearly shown on website with no hidden or bribery fee.

Rush visa is available to apply in case you want to obtain the visa sooner. Being Pakistan passport holder, you can get the visa within 3 working days exept for Saturday, Sunday and national holiday.
We do hope that every concerns about Vietnam visa on arrival for Pakistani is clear now. Should you have any other questions or inquires about Vietnam visa on arrival for Pakistani, please leave the comment below or contact us via:
Website: Vietnamvisavoa.com
Email: support@vietnamvisavoa.com
Phone: +84 969 255 515