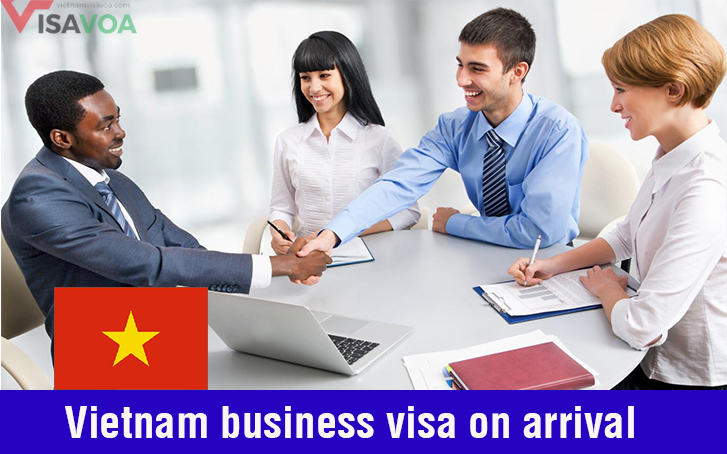 Get Vietnam business visa on arrival
Do you need  a business visa for Vietnam? but not be sure what rules and requirements are?  and what documents you need to provided?


Vietnam business visa on arrival is granted for those planning to travel to Vietnam by air with business purposes. Travelers would get the visa approval letter beforehand, and then get Vietnam visa stamped on their passports at the airport. Since its introduction in Vietnam, this visa has become commonly known for quick processing and convenience. This article will provide you with an overview of business visa on arrival.
Eligibility:

Be noted that only the following activities are permitted on business Vietnam visa:
Setting up industrial/business venture

Sale/purchase/trade

Attending technical/business meetings

Recruiting manpower

Participation in exhibitions, business/trade fairs

Expert/specialist in connection with an ongoing project

Conducting tours
Requirements for business Vietnam visa application
It is undeniable that applying for a business visa for Vietnam on arrival is very straightforward. All you have to submit are your passport copy and expected entry date.
Passport copy: Only first page of passport contains detailed personal information is requested to submit. And make sure that your passport is still valid for at least 6 months since the arrival date in Vietnam.
Entry date: The visa validity starts from this entry date, not submission or actual arrival date. You are allowed to visit Vietnam any time during your period of visa validity but coming Vietnam before the entry date approved in visa approval letter and after the visa expiration date are not permitted.
The process of applying Vietnam business visa on arrival
The application would definitely get easier by following these simple steps.
Step 1: Fill out the visa application form
You can finally find the form by clicking the apply online button on the head of this page. Please make sure that all your personal details to be provided must be as exactly as written on your original passport, or your visa application might get rejected.
Step 2: Make the payment for service fee
Various payment methods are accepted through our website: PayPal, Credit Card, Western Union and Bank Transfer. Choose the one at your convenience and make payment for service fee online.
Step 3: Check your email to receive your visa approval letter
Generally after five working days, a business Vietnam visa approval letter would reach your mailbox. Once receiving the letter, please kindly check detail carefully to make sure that there is no errors print it out (colored version not required). In case you fail to have your letter printed out, keep it in your own Smartphone/mobile device to show it at the Landing Visa counter at Vietnam airport.
Step 4: Get Vietnam visa stamped on your passport at the airport
As landing at the airport, please head to the Visa on Arrival / Landing Visa counter and present all required documents (Vietnam visa approval letter, completed Vietnamese visa application form, 02 passport sized photos, you original passport), then make a payment for stamping fee in cash in USD to the Immigration Officer in order to collect your physical Vietnam visa sticker on your passport.
Vietnam business visa fee
To acquire Vietnam visa on arrival, applicant shall separately pay two kinds of visa fee.
The first is service fee, after filling out the application form via our website; you shall pay the service fee online for us in order to get your Vietnam visa request granted at Vietnam Immigration Department. This fee may vary depending on: your visa type, your request of processing time, your nationality.

The second is stamping fee which is paid directly at arrival Vietnam International airport in order to get your Vietnam visa stamped. You are advised to pay the exact amount of stamping fee in USD in cash.
It is advisable for you to check the visa fee in advace to know how much you must prepare to ensure that you will get the visa to Vietnam without any hassles.
Benefits of getting Vietnam visa on arrival
Reliable: The business visa approval letter is issued by Vietnam Immigration Office, so you should not be worried about its validity.
Time-saving: Business visa on arrival especially suits to those who could not make time to visit Vietnam Embassy/ Consulate for submitting Vietnam visa request
Cost effective: It is a big save of your money when you can complete visa application online at anytime from anywhere. Travelling to Vietnam Embassy will take you away from working day and travelling expense added aside.
Simple: Getting Vietnam business visa on arrival is rather simple, just take some minutes to fill out Vietnam visa application online and wait for 3- 5 working days to receive pre-visa approval letter via email.
Should you have any questions about business Vietnam business visa on arrival or need any assistance on Vietnam visa in general, do contact us at:
Vietnam visa VOA
Website:Vietnamvisavoa.com
Hotline: +84 969 255 515 (Wechat/Viber/Whatsapp)
Email: support@vietnamvisavoa.com