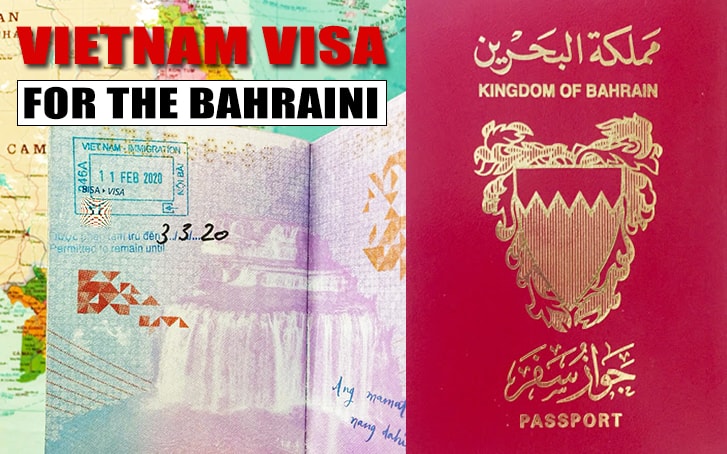 An official guide to Vietnam visa for bahraini Citizens
As one of the Southeast Asia's most popular tourist destination, it's no secret Vietnam is home to a tons of truly stunning places. The land is blend of natural beauty and natural complexities, of dynamic metropolis and hill-tribe villages that really make Vietnam become both compelling and unique. That's reason why there are a great number of travelers from all over the world coming to Vietnam yearly including Bahraini citizens.
In this scope of this article, we would like to cover all aspects of Vietnam visa for Bahraini citizens with the aim of providing accurate and updated information for Bahraini travelers with their trips to Vietnam in the future.
02 accessible ways to get Vietnam visa for Bahraini citizens
All Bahraini passport holders require a valid Vietnam visa to enter and exit the country. In view of the fact that Bahrain is not currently included on the Vietnam visa exemption list, Bahrain nationals have two official ways to obtain a visa for Vietnam: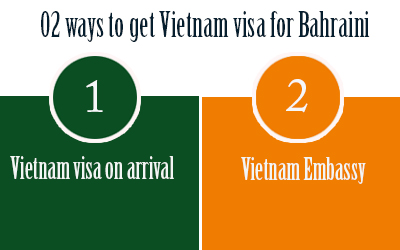 1. Get an approval letter of visa on arrival via a travel agency in Vietnam
2. Get a visa to Vietnam through the nearest Vietnamese Embassy
As there is no Vietnamese Embassy in the in Bahrain at the moment, visa upon arrival becomes the most effective way to obtain a visa to the country. With a secured online platform, your visa process will be completed easily and efficiently.
Vietnam visa for Bahraini citizens on arrival
How Vietnam visa on arrival work
Getting a Vietnam visa upon arrival to Vietnam means that you will be granted a valid visa invitation letter in advance before coming to Vietnam. This letter is mandatory document as it gives you a legal permission to board an aircraft at your originating airport and receive a visa sticker upon your arrival at Vietnam airports.
A sample of Vietnam visa letter for Bahraini citizens
How to apply with Vietnamvisavoa?
You just need to follow 4 following steps to obtain an approval of visa on arrival:
Step1: Complete your

visa application form

and submit to us or you can send a copy of your passport to our email address: support@vietnamvisavoa.com
Step 2: Make your visa service payment via a secure link sent to your email. Your visa application will be submitted to Vietnamese Immigration Department as long as your payment is successful
Step 3: A visa invitation letter will be sent to you via your email after some working days (normally, 2-3 days for tourist visa and 5-7 days for business one)
Step 4: Show your visa approval letter in paper at Visa Counter upon landing at Vietnamese airports, then get a visa sticker inside your passport to enter the country.
Document required
Before coming to Vietnam, you need to get a visa approval letter by providing Vietnamvisavoa with the following paperwork:
1) A copy of your passport (6 months validity beyond your actual entry date with at least 2 vacant pages)
2) Visa pages showing visa stamps of some countries that you visited before
3) Flight and hotel reservation
4) Other required documents (if any) depending on your visa types, please contact us to get the guideline
After landing at Vietnam airports, you reach to Visa Counter and present those below requirements to place a visa sticker on your passport:
1) Your valid visa approval letter
2) Your original passport
3) Two standard passport-type photographs (04cm x 06cm)
4) Stamping fee in cash (USD recommended): $25 or $50 depending upon your visa types
5) Vietnamese visa application form (you can complete it in advance or directly at Vietnam airports)
Visa fee
To obtain a Vietnam visa on arrival, you must pay 2 kinds of fee:
Visa service fee: This fee is paid online for visa agency that assists you to submit your visa application. It quite varies depending on your visa types and will be paid in prior to your visa submission.
Visa stamping fee: This charge will be paid in cash (US dollars) at Vietnam airports before you receive a visa sticker to allow you enter Vietnam. The charge depends upon the number of entries on your visa.
| | | |
| --- | --- | --- |
| VISA TYPE | SERVICE FEE (USD) | STAMPING FEE (USD) |
| Single entry (15-20 days) | $110 | $25 |
| Multiple entry (15-20 days) | $140 | $50 |
Stamping fee for Vietnam tourist visa
Important information
Vietnam visa on arrival is applicable for air travel ONLY. You cannot travel to the country by land or by sea with a visa approval letter.
Remember to print and bring your visa letter in paper to go to the airport. Without it, some airlines will not allow you to get on board.
It is highly advisable that you should bring the exact amount of stamping fee to avoid long waiting for change.
Complete your application form accurately to avoid denial of entry. This will help reduce chances of flight delays or even flight cancellation.
Vietnam visa from the Vietnam Embassy in Bahrain
As mentioned above, there is currently no Embassy or Consulate of Vietnam in Bahrain so you can check out the Vietnamese Embassy in Bahrain's neighboring countries such as: Kuwait, Saudi Arabia, Iran and Qatar for getting a visa.
Document required
Depending on Vietnamese Embassy that you choose to apply a visa and your entry purposes, requirements may be changeable. However, some basic required paperwork you need to prepare in advance are:
1) Valid passport with 6 months beyond your departure date
2) Two recent passport photos taken within the last 6 months
3) Return ticket
4) Flight and hotel reservation (not booking confirmation)
5) Visa fee (US dollars)
6) Vietnamese application form
7) Company invitation (if any)
Note:

Contact directly with Vietnamese Embassy officer to know whether you need any other requirements.
How to apply?
By using this traditional option, you need to contact in advance to know the required paperwork, then collect and submit them to Embassy of Vietnam in person. You will be guided all necessary steps to obtain a visa there.
Visa fee
The costs vary widely depending on the issuing Embassy or Consulate and other factors such as your nationality and visa types you get. You can contact and ask Embassy officer about the exact charge you must pay in total before starting your visa process.
Common types of Vietnam visa for Bahraini citizens
1. Tourist visa
This visa type is for Bahraini nationals who travel to Vietnam for tourism. This visa's holders will be allowed to stay Vietnam for a limited period of leisure travel within Vietnam (20 days maximum) without any business activities.
2. Business visa
This visa type designated for those coming Vietnam for commercial purposes such as: trade meetings, clients meetings, trade fairs and other business-related activities. 1 month or 3 months visa (single or multiple entry) are the available visa option for citizens from Bahrain at the moment.
3. Work visa
This kind of visa is granted for Bahraini citizens who come Vietnam to obtain their employment. To apply a work visa, a work permit sponsored by company in Vietnam is compulsory documents.
4. TT/VR visa
For Bahraini passport holders who are relatives (parents, spouse and children) of foreigners holding some visa Vietnam types (LV1, LV2, ĐT, NN1, NN2, DH, PV1, LĐ visas) and or Vietnamese nationals. The visa holders will be allowed to stay within the country every 3 months for each entry.
5. Investor visa
If you are planning to expand your business or establish your own company in Vietnam, an investor visa is needed. In particular, this visa type is issued to individuals.
Those who are company owners or are investors in a company based in Vietnam
Those who are lawyers working in Vietnam
With this kind of visa, you have a permission to stay in Vietnam for maximum of 12 months.
6. 5-year visa exemption
If you or your parents have Vietnamese origins, you can apply a 5-year visa exemption. You're also eligible if you're married a Vietnamese citizens. This visa type requires you to leave Vietnam every 180 days for each entry.
Vietnam tourist visa requirement for Bahrain
List of required documents that is quite easy for you to collect:
A copy of your passport
Some visa pages included visa stickers of some countries you visited before
Flight and hotel reservation
Note:

It is highly recommended that you just should have a flight or hotel confirmation until your visa is approved to avoid difficulty in case your visa is refused or not approved in time.
Vietnam business visa requirement for Bahrain
To apply a business visa, Bahraini citizens is required to find [have] a company in Vietnam that sponsor you first. Here are the list of essential documents required:
Business license: Notarized Business Registration of the sponsor company in Vietnam
Introduction letter: A document written and signed from employer or sponsor, introducing the applicant and requesting a visa for the purpose of business
NA2: This is formal letter of Invitation, which is approved by Vietnamese immigration. This is arranged by the sponsor.
NA16: Letter of introduction of the seal, signature of the authorized person at sponsor end.
A copy of passport: valid for 6 months on starting day of travel.
Frequently answered questions about Vietnam visa for Bahraini citizens
1. Do Bahraini need a visa to enter Vietnam?
YES, Bahraini passport holders do require a visa to enter Vietnam
2. Are Bahraini citizens eligible for Vietnam E-visa?
Nationals from Bahrain currently do not belong to list of countries that eligible for Vietnam E-visa. Instead, you can choose to apply a visa on arrival or visa at Vietnamese Embassy in some neighbor countries of Bahrain (no Embassy of Vietnam in Bahrain)
3. What if my Vietnam visa is rejected?
In case your visa is refused by the Vietnam Immigration due to any unexpected reason], we will announce you immediately and you will be received 100% refund of the visa service fee.
4. As Bahraini citizen, how long is my tourist visa valid for?
Nationals from Bahrain wishing to visit Vietnam on tourist visa are allowed to apply a visa for 15 days or 20 days maximum.
5. How does Vietnam visa approval letter look like?
This is a sample of an authentic visa approval letter granted by Vietnamese Immigration Department.
6. How can I get Vietnam visa in Bahrain?
Currently, there is no Embassy or Consulate of Vietnam in Bahrain and this country is not eligible for E-visa. To enter Vietnam, the best option for you is to obtain a visa upon arrival.
7. When is the best time to visit Vietnam?
It is quite hard to have an accurate answer since it really depends upon which region of Vietnam you plan to visit. Vietnam climate is divided into 3 main parts: the North, the Central and the South that bring different weather patterns, please check

this article

to choose the best time for your vacation.