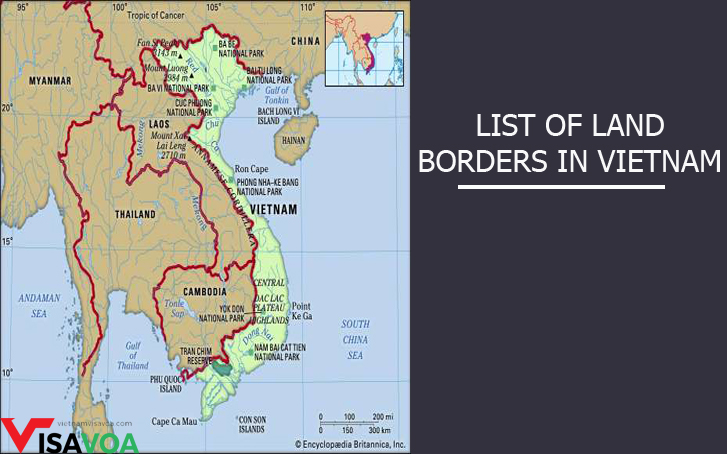 Vietnam land borders crossing to obtain Vietnam visa
Instead of obtaining Vietnam visa at the airport, visitors can get a visa at any landing borders in Vietnam. Since Vietnam shares its border with 3 countries: Cambodia, Laos, and China, you can easily get Vietnam visa at the border by land crossings from those countries.
Two main types of Vietnam border crossings include international border crossings and local ones. Local border crossings are open only for locals who will get a border pass to get through the immigration checkpoints in each side. International crossings are for foreigners who are required to possess a valid passport and visa.

Although border crossings allow you to enter Vietnam overland with little money spent on transport, on weekend or late hours, you are expected to pay some "coffee money" to Immigration officials if you want to get your visa smoothly and quickly. Make sure that you get the right length of stay on your visa.
In this article, we will provide you with a list of landing borders in Vietnam where you can obtain a visa.



Vietnam/ Cambodia Border



Bavet / Moc Bai

Bavet/ Moc Bai border is the popular place to get an instant visa on arrival from Saigon. Daily buses are available from Saigon to Moc Bai with a price of roughly $2 to $12. You can get visa on arrival at both Moc Bai (for those who want to enter Vietnam) and Bavet (for those who want to enter Cambodia).



Kaam Samnor / Vinh Xuong

From Chau Doc, Vietnam you will cross Ving Xuong border to get to Phnom Penh on the other side. This riverine crossing offers both slow and fast boat service. Hang Chau and Blue Cruiser are the two most popular boat operators.



Phnom Den / Tinh Bien

Tinh Bien is located in the middle of Ha Tien and Chau Doc. If you are not a fan of boats, heading to Tinh Bien is an alternative worth to consider. There are buses leaving Ha Tien to the border and the price is affordable. On the Cambodian side, transport is a bit expensive and you should be careful not to get ripped off.



Prek Chak / Xa Xia

It is possible for you to enter Vietnam from Cambidian side at Prek Chak/ Xa Xia checkpoint with a valid Vietnam visa in hand. You can also get Cambodia visa on arrival at this crossing. From Kep, the nearest town, you can take a motorbike to the border and it costs around $7.



Le Thanh / O Yadao crossing

For those who are up to a bit of adventure, crossing at Le Thanh/ O Yadao can be an interesting experience. From Pleiku, the nearest town in Vietnamese side, buses are only available to Duc Co which located 20 km away from Le Thanh crossing. From there you have to grab a xe-om to get to the border. In order to get to Cambodia side, it's another 70-km journey which costs around $15-$20 to rent a taxi.



Vietnam/ Laos Border



Sop Hun / Tay Trang

Son Hun/ Tay Trang is the latest border crossing opened to international tourists. The bus leaves Muang Khua (Laos) to Dien Bien Phu (Vietnam) at 7 a.m and costs around 50,000 kip. You are expected to pay "processing fee" for immigration staffs on Cambodia side. Visa on arrival is available for those who are going from Laos to Vietnam at Tay Trang Border.



Na Maew / Nam Xoi

From Hua Phan in Lao, you can easily catch a bus to the border and continue heading to Thanh Hoa in Vietnam. The journey is about 12 hours and costs around 21,000 kip.



Nam Phao / Cau Treo

It is convenient to get a bus to reach this border from the town of Lak Xao, then you can get to the other side within walking distance. This border crossing is so far the favorite choice for most travelers. From the border on the Vietnamese side, the nearest town, Vinh, is located 100 km away. And a Vietnamese visa need to be arranged in advance.



Dansavanh / Lao Bao

Danasavanh/ Lao Bao used to be the first and most popular border crossing that opens for international tourists. Those who want to go to Hue and continue exploring the Central of Vietnam often choose this checkpoint to enter Vietnam. Foreigner visitors can easily travel by buses to Hue form Savannakhet in Lao daily because they go on a regular basic.



Bo Y / Ngoc Hoi

To enter Vietnam from Bo Y, you need to hold a valid Vietnamese visa. This border crossing is somewhat interesting if not challenging for foreigners to experience. Mini-busses from Attapeu to Bo Y leave early in the morning to Ngoc Hoi on the other side of the border. The whole journey is over 130km in total and takes roughly 3 hours.



NamCan / Nam Khan

From Phonsavan to Vinh, this border also belongs to the favorite crossing choice of travelers. The distance between two towns is around 403 km, so you should expect at least 12 hours on the bus. Also, you can also come Lao on visa upon arrival that is available there.



Vietnam/ China Border



Dong Dang/Ping Xian

You can get to the border gate from Nanning and Ping Xian. After crossing the border, get a taxi to Lang Son where you can choose from buses to train to Hanoi.



Mong Cai / Dong Hung

Mong Cai border is located 176 km from Ha Long and 327 km from Hanoi. From Dong Hung on the Chinese side, you can get to the border within a short distance.



Lao Cai / Hekou border

From Kunning on the Chinese side, you can get to Lao Cai and eventually Sapa. This border gate doesn't offer visa on arrival. Citizens from Australia or some countries in Europe can buy one-month Chinese visa on the Vietnamese side. In any case, check your visa status before coming to the border.
---
Bottom line

To sum up, travelling by land Vietnam border is fun; nevertheless, travelers may have issue with Vietnam visa at the border. It is most recommended that if you travel by land to Vietnam, you should apply for your Vietnam visa at Vietnam Embassy/ Vietnam Consulate. You will be sure of being able to enter Vietnam with a Vietnam visa on your passport. And do remember that you are allowed to enter Vietnam by land borders through specific International borders only.

In case you are in Vietnam already and would like to make a Vietnam visa run by land border to Cambodia and to come back to Vietnam again, get detail instruction on Vietnam visa run at: https://vietnamvisavoa.com/en/vietnam-visa-run-at-moc-bai-border-a54

Still have any doubts on how Vietnam visa works when you travel by land to Vietnam, why not contacting our team at:

Website: Vietnamvisavoa.com
Email: support@vietnamvisavoa.com
Phone: +84 969 255 515 (Whatsapp/Viber/ Wechat)