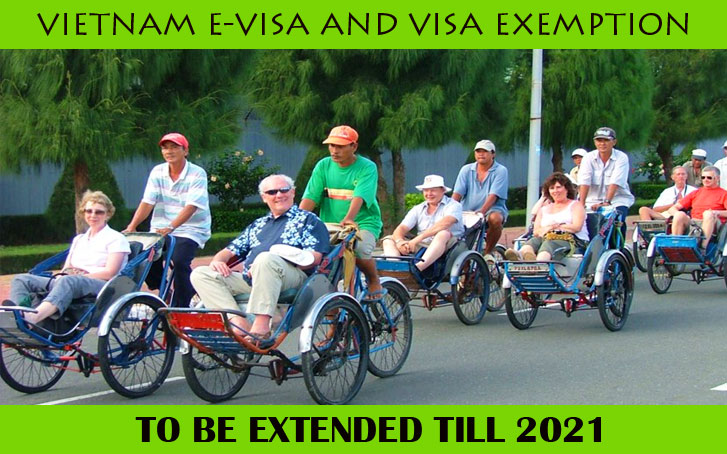 Vietnam E-visa and visa exemption to be extended till 2021
To attract foreign visitors to Vietnam, the Vietnamese government has introduced significant visa policies to help travelers easily enter Vietnam. The extension of E-visa and Vietnam visa exemption till 2021 expected to bring a huge profit for Vietnam's tourism industry as well as promote the image of Vietnam to friends on over the world.
The E-visa policy for foreigners entering Vietnam instead of ending in early 2019 will be extended for two years. Accordingly, citizens form 46 countries can enter Vietnam with E-visa until 2021.
From February 1st 2017, Vietnam began issuing electronic visas for citizens of 40 countries. Therefore, foreigners from these countries can apply for a 30 day, single entry visa for tourism-related activities. After one year of the pilot E-visa issuance program, visitors from 6 countries: Australia, India, Canada, the Netherlands, New Zealand and the U.A.E were added to the list.
According to Vietnam National Administration of Tourism, there are more than 241,000 foreigners have visit Vietnam with E-visas in this year.
After holding E-visa, foreign visitors can entry Vietnam at any of eight international airports. Additionally, they can also arrive at 13 international border gates by land, and at seven ports by sea across the country.
The e-visa extension is one of the strategies taken by the Vietnamese government to boost the national tourism industry.
In addition, the Vietnamese Prime Minister has agreed to continue visa exemptions for citizens of five European countries from July 1, 2015 with a term of three years instead of one year as before. Citizens from 5 countries including France, Germany, Italy, Spain and the U.K can stay in Vietnam for free visa for 15 days regardless of passport types and tourist purposes.
According to recent report, in 2015, there were 720,000 Western Europe visitors to Vietnam; however, this figure increased to 855,000 visitors in the following year and in 2017 Western tourists to Vietnam is 1.5 million.
Generally, the extension of E-visa and Vietnam visa exemption till 2021 is a great effort of Vietnamese government in development of tourism industry. Also, it is expected to bring numerous benefits for foreigners willing to visit Vietnam.