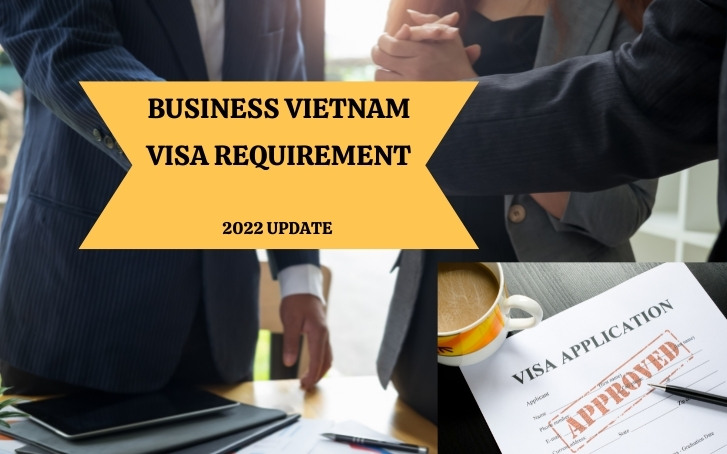 Vietnam business visa requirement 2022
Vietnam business visa 2022 update. What are requirements and how to get business Vietnam visa?
If you are coming to Vietnam on business purpose like:
• Taking part in conference and meeting for business purpose
• Setting up industrial/business venture
• Performing sale/purchase/trade activities
• Attending technical/business meetings
• Participating in exhibitions, business/trade fair
You need to apply for business Vietnam visa.
1. Business Vietnam visa before Covid and after Covid. What are difference?
Before Covid

After Covid

Requirement

Having sponsor company

No sponsor company: Can get visa on arrival, Vietnam E visa

Having sponsor company

No sponsor company: Vietnam E visa

Validity

1 month, 3 months, 6 months, 12 months

1 month, 3 months

Processing time

3-5 working days

5-7 working days

Fee

Depend upon how you collect Vietnam visa

Much higher, check case by cases
Vietnamese business visa is categorized as DN1 and DN2 visa, of which:
DN1 visa – to be granted to foreigners who work with other businesses and organizations with legal status in accordance with the laws of Vietnam.
DN2 visa – to be granted to foreigners who come to Vietnam to offer services, establish a commercial presence or perform other activities under international treaties to which Vietnam is a member.
2.Vietnam business visa requirements in 2022
Before Covid, you still can apply for a business Vietnam visa with support from visa agencies. After Covid, there is no such service. Except for Vietnam E visa, you must have sponsor company in Vietnam to sponsor you with getting Vietnam business visa approved.
Who will be your sponsor company?
It might be your business partner's company
The company that you work for
Note: Sponsor company must be a legitimate company located in Vietnam territory which perform business activities. We recommend you not to take rish by using a service to get your Vietnam business visa granted. Chance is that you may encounter certain hardships if a bogus company sponsors you and this is against Vietnamese law.
3. What are different ways to apply for Vietnam business visa?
You can apply for a business visa to Vietnam in one of the following ways:
At a Vietnam Embassy or Consulate in your country
Vietnam Visa On Arrival, at one of 8 international airports of Vietnam
Vietnam Evisa Online, through the Vietnam e-visa portal
Before getting into details of each method, please keep in mind that to get business visa at Vietnam Embassy/ Consulate or to get Vietnam business visa on arrival, you must obtain a Vietnam visa approval letter for business purpose granted by Vietnam Immigration Deparment in advance.
3.1. What to submit at Vietnam Immigration for business Vietnam visa application?
1. Business license: Notarized Business Registration of the sponsor company in Vietnam
2. Introduction letter: A document written and signed from employer or sponsor, introducing the applicant and requesting a visa for the purpose of business
3. NA2: This is formal letter of Invitation for business purpose signed by the sponsor company
4. NA16: Letter of introduction of the seal, signature of the authorized person at sponsor end.
5. Photo of foreigner's passport
Other documents such as: Company tax report within recent 3 months, images of the company's headquarter, working schedule of sponsored personel in Vietnam…
These days, the sponsor companies are required to present in person at Vietnam Immigration with business visa application.
Officer will check the file, if all documents meet requirement, applicants will receive an appointment form to return results from Immigration officer.
Processing time: This process will take around 5 – 7 working days since receipt of full required documents by the Immigration. There is no rush, urgent service for business Vietnam visa request at the moment.
If the application is approved, the Immigration Department of Vietnam will
issue the sponsorship letter/ Vietnam visa approval letter.
3.2. What do you do with this visa approval letter?
If you request Vietnam business visa on arrival
Simply print out the visa approval letter to check in your plane. Once you land in Vietnam Airport, you show this documemt once again along with your valid passport and pay for stamping fee in cash to collect Vietnam visa sticker on your passport.
In case you collect Vietnam visa at Vietnam Embassy
You must specify which Vietnam Embassy abroad to collect Vietnam visa. Accordingly, once your Vietnam visa request is approved by Vietnam Immigration, you will get a copy of:
• Vietnam visa approval letter/ Vietnam invitation letter for business purpopse
• A fax that is sent by Vietnam Immigration to specific Vietnam Embassy/ Consulate abroard with request to issue a Vietnam visa for you.
Get Business visa stamp at Vietnam Embassy/Consulate
You submit your documents include: Original passport, copy of Vietnam visa letter, the copy of the fax to the registered Embassy or Consulate of Vietnam by mail or in person and then pay for operation fee for Vietnam Embassy/ Consulate.
Once your Vietnam business visa is issued, it will be affixed on your passport and you will enter Vietnam with this visa.
3.3. Getting a Vietnam business evisa
Right now, citizens of 80 countries can get a Vietnam business evisa which is good for 30 days single entry and non extendable. In case you are staying in Vietnam for a short time and you urgently need to travel to Vietnam on business purspose, it is best to take Vietnam business e visa.
If you wish to stay in Vietnam for more than 01 month and have sponsor company in Vietnam to help you with submitting Vietnam visa request directly at Immigration. Then you will get Vietnam visa approval letter issued by Immigration Dept. of Vietnam.
Applying for a Vietnam Business evisa personally
To apply for a Business Vietnam Visa online is pretty simple. While submitting online Vietnam e visa application form at the Vietnam Immigration Portal, simply select "Business Activities" as the purpose of your trip to Vietnam and write down name of the sponsor company in Vietnam in the required field.
If your Vietnam Business e-visa application is approved, you just download the copy of Vietnam e visa and present it at check in counter from your departure airport for landing. Once again, when you are at entry point upon arrival, you show the e visa along with your passport to get entry stamp to Vietnam.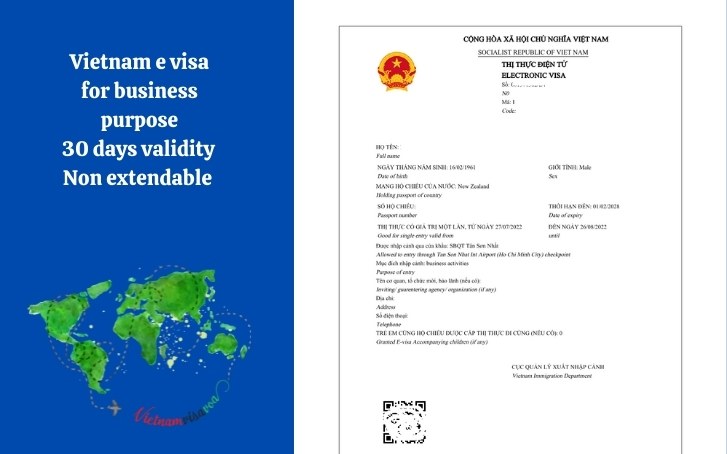 3.4. Notification about Vietnam e visa
Vietnam e visa processing time: 03 working days on normal basis as Immigration states on their website. In reality, many people have to wait longer 5-7 working days. If you need to get your Vietnam e visa urgently or need to expedite your Vietnam e visa request, contact us for urgent Vietnam e visa.
Mistake in E visa: Many people make mistake with their names, passport number, gender,..etc. while filling in Vietnam e visa form online by accident. Once you have made the payment for your Vietnam e visa request, there is no way to change it by yourself. You may need to wait for some days and Immigration will send you email so that you can log in and modify details.
Photos requirement: Remember to upload a clear copy of your passport bio page along with a right format of your portrait photo. Photos requirement is clearly noted on Vietnam Immigration portal website. We recommend you not to crop your portrait photo from the passport page or wear tanktop for your passport photo. Immigration may decline your Vietnam e visa orders because of such photos.
Extension on Vietnam e business visa: Currently, not possible to extend Vietnam e visa. In case you need to prolong your stay, you just leave Vietnam and get back with a new Vietnam evisa.
Applying Vietnam e visa through visa agency: If you are not fond of submitting form with exact details, you certaintly can ask a visa agent to arrange Vietnam visa service on your behalf. In case you wish to expedite your Vietnam e visa order, this can be done through visa agencies as well with extra fee.
Note: Extension of business visa
In case the duration of stay cannot cover your business trip in Vietnam, you can do visa extension to prolong your trip.7-10 working days before your DN visa expires, you ask your business partner in Vietnam to submit visa extension request at Immigration department of Vietnam. Usually, the cost of visa extension is higher than that of getting a new business visa.
Contact us:
Vietnamvisavoa Support Team for any assistance
Email: Support@vietnamvisavoa.com
Hotline: +84 969 255 515