10th World Rice Conference held in Hanoi, Vietnam
On 11th October, the Ministry of Industry and Trade of Vietnam and The Rice Trader magazine have organized the 10th World Rice Conference in Hanoi. This is the first time that the world's most prestigious international trade event in rice has been held in Vietnam.
The 10th World Rice Conference is one of the world's most crucial conferences on rice trade. The conference includes about 500-600 invited guests who are representatives of exporting - importing rice countries in the world, the big companies about exporting - importing rice, and international experts on rice production and trade, etc.
This is a great opportunity for Vietnam to introduce to international friends the image of Vietnamese rice, Vietnamese rice is increasingly improved in quality and meet all customer requirements. Furthermore, the conference found strategies for achieving higher added values for the global rice value chain and boosting the sustainable development of agriculture to ensure country's food security.
There will be participation of importing enterprises, distributor, corporations, foreign trade intermediaries in large consumer markets such as: China, Philippines, Indonesia, Malaysia, Singapore, Korea, Japan, Africa and Europe. This is also a chance for Vietnamese enterprises to connect, cooperate and trade with international companies.
"The rice farming area accounted for 60 percent of the cultivation land of annual crops and it is a source of livelihood for nearly 9 million farming households in Vietnam". Deputy Prime Minister Vuong Dinh Hue said.
In term of the development of export market for rice, Minister Tran Tuan Anh said that this has been clearly defined objectives and directions in the strategy development of Vietnamese rice export market over period of 2017 to 2020, oriented towards 2030 was promulgated by the Prime Minister in July 2017.
Therefore, the orientation set out with the following four specific objectives: Developing the rice export market to improve efficiency and promote rice exports; developing the rice export market to orient the planning and organization of domestic rice production; developing the rice export market in association with raising the competitiveness, building the export rice's brand; developing the rice export market in the direction of diversifying the market, reducing dependence on certain markets.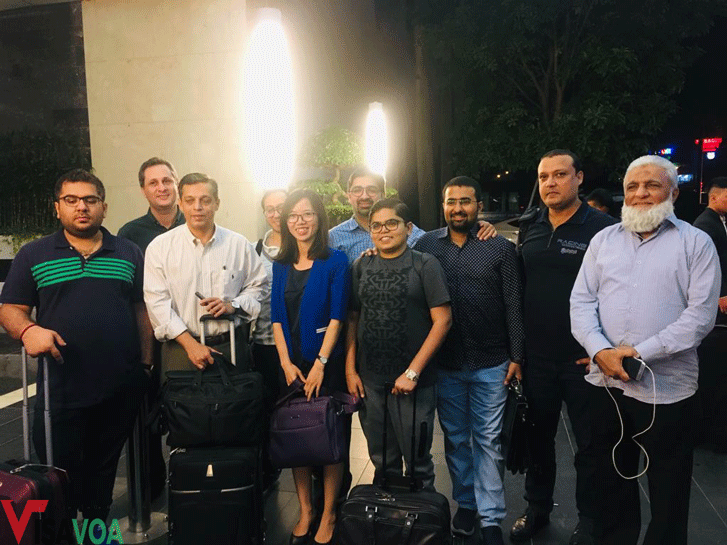 Pakistani delegation team at 10th Rice Trade Conference in Hanoi
At this conference, there is an attendance of a special delegation from Pakistan - one of the top five rice exporters in the world. Vietnamvisavoa.com is proud of having trust to provide visa services for the delegation and help them have unforgettable experiences in Vietnam.