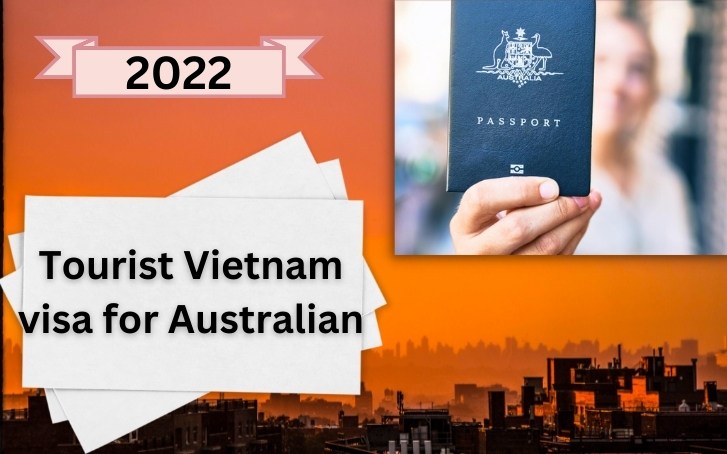 Tourist vietnam visa for Australian citizen (updated 2022)
Tourist vietnam visa for Australian citizen (updated 2022)

Do Australian passport holders need Vietnam visa when entering Vietnam? And how Australian apply for Vietnam visa?

Every Australian citizen who hold regular Australian passport must apply for a visa if they want to visit Vietnam. Currently, in 2022 there are 3 different ways
for Australian to get the visa to Vietnam, namely:

1. Vietnam E-visa
2. Vietnam visa on arrival
3. Vietnam visa at Embassy/ Consulate.

Let get into detail and check out the pros & cons of each method to choose the most suitable one for your upcoming trip in Vietnam.
Vietnam E-visa

What is Vietnam electronic visa, Vietnam Evisa?
Since 2017, Vietnam E-Visa has been launched with the aim of simplifying entry procedures and stimulating Vietnamese tourism.Vietnam E-visa is one of the types of visas issued by the Immigration Department of Vietnam to foreigners entering the country. Vietnam E-visa is valid for 30 days and good for single entry only.
So far Vietnam Government has approved Vietnam E-visa for citizens of 80 countries, including Australian. It means that Australian citizens can apply online for Vietnam evisa via the official website of Vietnamese Immigration Department.

Pros:
The visa fee is fixed for all nationalities (25USD)
You can apply online for it by yourself or ask a third visa agency to apply on your behalf.
You can enter Vietnam through 38 international ports (air, sea, and land)
Cons:
You only can apply for 1-month single-entry tourist visa.
The fee is non-refundable. If your visa request is refused, you won't receive your visa fee you paid.
Vietnam visa on arrival for Australian


This is also an online way to get Vietnam visa. Australian passport holders will work with a visa agent in Vietnam to get the visa approval letter issued by Vietnam Immigration Department. At the Vietnam international airport, you submit that letter along with Vietnamese visa application form, 2 photos of 4*6cm and pay for the stamping fee to get visa stamped on passport.

Before Covid, this visa option seems to be the fastest and simplest option for obtaining Vietnam visa. However, after Covid, getting Vietnam visa on arrival is no longer a preference as according to new regulation, applicants must book tour package with a travel agency in Vietnam in order to get Vietnam visa on arrival request approved by Vietnam Immigration. This option seems to be complicated as many people just love to travel by themselves. Also, processing time takes within 5-7 working days.

Pros:
Right now in 2022, we only recommend this service if you are booking tour package with travel agencies in Vietnam and your agencies will be willing to get visa approval letter for you.
Cons:
Vietnam visa on arrival is only granted for air travelers. If you travel by land or by sea, this visa option is not applicable.
Vietnam visa at Vietnam Embassy/Consulate in Australia
This is the traditional way to get the visa for every countries in general and Vietnam in particular. All the visa procedures and requirements are guided by the officials there.
Here is the information of official Vietnam Embassy/ Consulate in Australia:

Embassy of Vietnam in Canberra-Australia
Address: 6 Timbarra Cres., Malley Canberra, ACT 2606, Australia
Tel: (612) 6286 6059 /(612) 6290 1549
Consular: 6290 1556
Fax: (612) 6286 4534

Consulate General of Vietnam in Sydney – Australia
Address: Suite 205, level 2, Edgecliff Centre 203 – 233 New South Head Road, Edgecliff, NSW 2027 PO Box: 732, Edgecliff, N.S.W 2027
Tel: 02 93271912/ 0293272539
Fax: 02 93281653
Pros:
The visa is stamped on passport before your departure.
You can apply for all types of visa and enter Vietnam through all means (plane, ship, car, etc.)
Cons:
After Covid, Vietnam Embassy does not grant Vietnam visa by themselves but applicants are required to get a Vietnam visa approval letter granted by Vietnam Immigration Department in advance. Applicants hand in visa approval letter along with original passport at Vietnam Embassy in Australia to get Vietnam visa sticker on the passport. It is so time consuming to follow this process.

Best way to get Vietnam visa on Australian passport on tourism purpose in 2022?

As indicated above, you can clearly see that Vietnam e visa at the moment is by far the most fastest and simplest option for Australian to get visa for Vietnam.

Let's take a deep dive into the details of E-visa with us!


Requirement to get E-visa to Vietnam for Australian


You will go through an online application form when it comes to apply for E-visa. Before your application is lodged online via Vietnam government's evisa system, you are required to bring your attention to some significant documents and elements affecting your eligibility as listed in the followings:

- A scanned passport copy with at least 6 month validity counted from your arrival entry to Vietnam (used to upload to the Immigration site)

- A recently taken passport for online uploading

- A valid credit card to make payment for e-visa fee

- An email address to track and download your E-visa confirmation from the government evisa website.



How to apply Vietnam E-visa for Australian citizens
You can either submit your Vietnam e visa by yourself or get it done through another Vietnam visa agency.

1. Submit Vietnam evisa at the Vietnam Immigration Portal website (Nonrefundable option)

Step 1: Submit Vietnam E visa application form

Applicants access the official site of Vietnam Immigration Department https://E-visa.xuatnhapcanh.gov.vn/ to fill out a visa application with required information such as: Full name, nationality, DOB, entry/exit date, arrival point. Also, a digital passport scan (the bio page), a passport photo need to be uploaded. Once you complete this step, you will receive a verification code for updating your visa order status.

Step 2: Make payment for Visa order

You are going to pay 25USD/ person for Vietnam E visa service charge with your valid international card through a secured online payment gateway.

Step 3: Download a copy of your E-visa

Enter your verification code, email and date of birth to download your E-visa after 3 working days. In many cases, you must wait for 5-7 working days even longer time.

Step 4: Travel to Vietnam with Vietnam E-visa

Take with you a copy of Vietnam E-visa and your valid passport to travel to Vietnam. For E-visa holders entering Vietnam through the airport, you will skip over the visa-on-arrival section and move straight to the passport control line to get an entry stamp on your passport.
2. Get Vietnam e visa with our visa agency


If you want a free-hassle procedure and save up your time from filling up an application online, you can authorize this work to Vietnamvisavoa, we will take care of your visa application from the beginning to final steps of visa.

How much does Vietnam evisa for Australia citizens cost?


Depending on which the method you will opt for, the Vietnam e-visa cost can be slightly different. As officially announced from the Vietnamese government, you are expected to pay 25 USD online for the government fee when directly submitting an application via this official E-visa website.

If you process your evisa application through a service agency, you will pay two fees: visa service fee and government fee. The additional service fee that visa agency charges can be paid to benefit you by:

+ Assisting you to fill up and complete your visa application online on behalf of you

+ Reviewing and consulting your visa case to make sure that you are eligible and your visa application is approved

+ Directly dealing with the Immigration Department of Vietnam to submit your visa application and make sure that you will get your e-visa on time without any delay

+ Taking responsibility for any mistakes might occur by visa agencies when submitting your visa application

+ Ensuring your smooth entry upon arrival with e-visa issued with their services as provided

Furthermore, depend upon how rush you want to get your Vietnam e visa, extra fee for urgent service of Vietnam e visa will be charged. The sooner you want to get Vietnam e visa, the much higher fee you must pay for. To avoid hassle and expensive processing fee, we recommend applicants to submit within 10 working days in advance.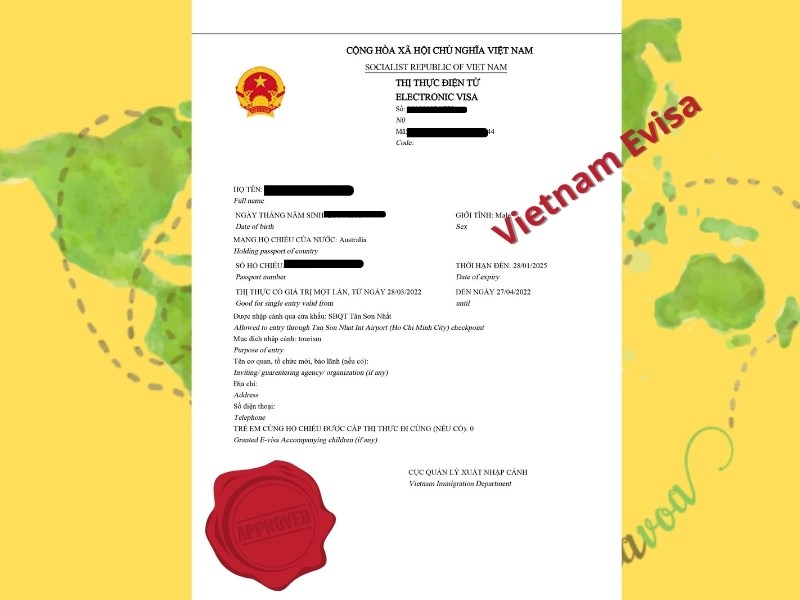 Important notice you should NOT miss out when you apply for Vietnam e visa:


► E-visa is only applicable to 30 days period visa with single entry. If you are planning up to stay more than 30 days, then you must leave Vietnam and enter again with another Vietnam evisa as currently, it is not possible to extend a tourist Vietnam visa within Vietnam.

► Passport must have at least 6 month validity left. Temporary passports are not accepted.

► Most of the time, you must enter exactly a Vietnam entry port as registered on your visa application. Your changing your entry port will lead to a rejection for checking in flight from departure.

► Kids who have their own passports are required to separately submit their evisa application. Kids who are under 14 year old sharing their parent's passport are included in their parent's evisa application.

► A ready Vietnam Evisa must be shown to your airline to check in at departure airport. Showing a proof of PROCESSING Vietnam e visa is no use.


What if you need to get a Vietnam visa urgently in just 3 days or even in some hours?
Contact us Vietnamvisavoa team with your flight schedule and your passport copy. Our experienced and dedicated consultants will figure out the best option for your specific case.

Get Vietnam visa urgently with Vietnamvisavoa.
Ring our phone at +84 969 255 515 (Whatsapp/ Viber/Wechat)
Email us at: support@vietnamvisavoa.com