Temporary residence registration for foreigners in Vietnam
Temporary residence registration in Vietnam is a must thing to do in order to reside in Vietnam

Many foreigners stay for quite a long time in Vietnam and do not register their stay until they are asked by police officer then pay expensive fine. These people again blame on the landlord and other agents for not reminding them to do temporary resident registration. According to Vietnamese law, foreigners must register their stay wherever they spend night(s) in Vietnam.
Gist:
Long-term residents will need to reregister regularly

Registration is usually done through the owner of the property, who is usually held responsibility in cases of noncompliance unless the expat is clearly at fault.

Temporary residence books are kept to make a record of the length of time an expat has spent at a particular property, but the regulations and costs vary between wards.

Failure to register accommodation can incur a fine between 500,000 to 5,000,000 VND

In extreme circumstances, this may be seen as a failure to comply with the terms of your visa, which can be cancelled

You may elect to pass the responsibility of maintaining your registration on to an agent
If you're staying in Vietnam for more than just a few nights, registering your residential address is an issue that you're going to have to pay attention to regularly.
According to Vietnamese immigration law, you're obliged to comply with the regulations related to your accommodation by observing the duration of residence as stated in your approved visa application. Your initial temporary residence registration should have occurred when you arrived at the border gate and presented your passport. During your period of residing in Vietnam, however, you do need to report your residential address to the ward/local authorities via any property owners or landlords who allow you to stay the night at their premises. The law states:
Foreigners who stay overnight at the private houses of citizens shall have to personally or through house owners make a temporary residence declaration with the police offices of wards or communes where they temporarily reside. The ward or commune police offices will then be required to transfer the contents of temporary residence declarations by foreigners to the immigration bodies under the public security offices of the provinces or centrally run cities.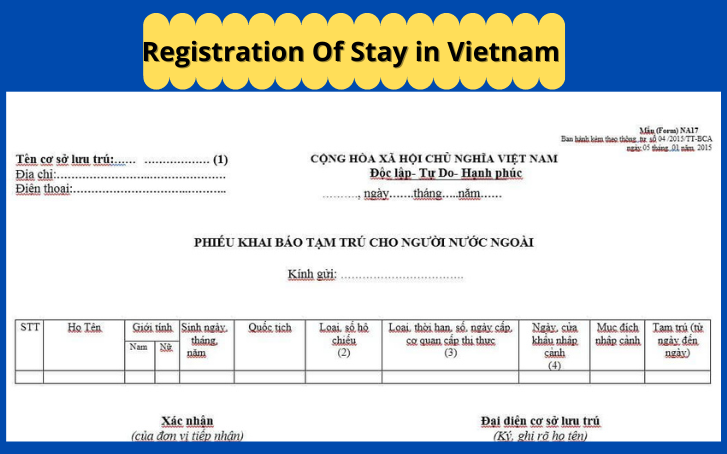 Laying Down the Law
According to Vietnamese law, there are a number of regulations that control and define the process of accommodation and registration of foreigners in Vietnam:
Regulation 24/1999/PL- UBTVQH10 on Entry, Exit, and Transit of Foreigners in Vietnam

Regulation 21/ NĐ_CP on the Process of Admitting Foreign Entry into Vietnam

Regulation 01/2012/TTLT/BCA-BNG updating the Process of Admitting Foreign Entry and Exit in Vietnam

Regulation 136/1999/QĐ- BTC on Fees Level for Entry, Exit, and Transit Process of Foreigners. \

Regulation 73/2010/NĐ-CP on Fine Levels for Violations against the Safety and Order of the City (of which the registration process for foreigners' accommodation is included in part 20).
Together, they spell out the facts and processes of registering your accommodation over the long term.
The property owner will be the one in charge of registering all tenants domiciled within the property with local police. For expats renting accommodation with Vietnamese owners, these owners are the ones responsible for taking care of the paperwork (and subsequently for the fines, in case of late or no registration, unless the expat was clearly at fault (e.g. denying passports and documents needed for registration, etc). In practice, however, the expat is sometimes regarded as being at fault even when culpability is not clear, leaving little option but to pay the fine. It's to your advantage, therefore, to proactively encourage your landlord to process your registration in a timely fashion.
For expats co-owning their properties with their Vietnamese spouses, they (or their Vietnamese spouses) are the ones responsible. Even when using an intermediary agent, all legal responsibilities lie with the expat (as there is no contract binding the agent and the government).
The level of local authority in charge of processing registration documents is the ward-level police department.
The required documents as stated by law and by the Central Police Department are:
Identity card / Passport / Permanent Residence Card
Temporary residence booklet with place of accommodation.
Typical residence book
The residence book is a document that may have no ideas to foreigners however, all occupants of residential properties in Vietnam have a permanent residence book of their own, which serves to associate them with the administrative ward – in the event they move home, they will register a new residency book with their new local police station.
A temporary residence book associates you with a local jurisdiction for the period of your stay. This has to be first acquired with your local police office on the ward level. This kind of booklet is most often used by accommodation service providers or people housing their visiting relatives. In the case of expats, this booklet could be kept by the landlord or by the tenant. It is essentially a list of all temporary tenants in the building and the time and length of their stays.
Document form HK01 (acquired at ward-level local police station)

Document form HK02 (acquired at ward-level local police station)
The exact procedure and paperwork required to register differs from district to district, and even from ward to ward within the same district
Translated into real world practice, this means that the majority of documents will differ from place to place – both the temporary residence booklet itself and the application forms, with the booklet having the most significant variations between different police offices. It also means that procedures will be carried out differently in different districts.
The expository article in Tuoitre News reported that in some areas, documents and registration booklets are given out freely, while fees are charged for these items in others. Extra paperwork not required by law can be demanded in some areas, and the length of renewal or giving notice can (and will) vary significantly from place to place.
The application itself can be notoriously cumbersome in some districts and wards. There have been many reports from residence owners who have had to visit the local police station more than a dozen times without actually accomplishing anything, and the process itself can sometimes take months to complete.
Failure to register your accommodation with the local police may incur a fine from as little as 500,000 VND to as much as 5,000,000 VND, with the possibility of your visa/residence card being confiscated and forced deportation if the violation is serious enough.
You can elect to register yourself at the local police station, or you can grant authority for an agent to do so for you – useful if you are staying in Vietnam long-term and frequently changing your place of accommodation. The fee for this service is usually around $100.
Hopefully, the above information is useful for your stay in Vietnam and it is most recommended that you ask the landlord, the household to take care of the whole process for registering your stay on the first days of your arrival.
Contact us at:
Phone: +84969255515
Email: support@vietnamvisavoa.com
For any further enquiries!
Have a nice stay in Vietnam!