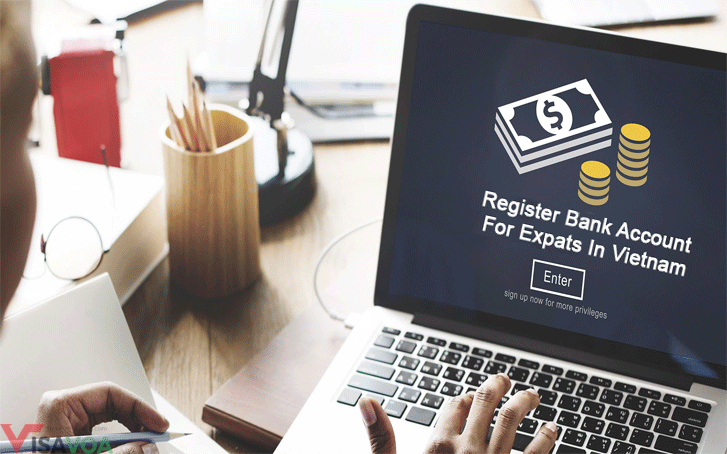 REGISTER BANK ACCOUNT FOR FOREIGNERS IN VIETNAM.
How does one open a bank account in Vietnam? Whether you're a traveler on a tourist visa or an expat living in Vietnam with a temporary resident card, opening a bank account is one of the essential things you need to figure out.

Here's a quick guide to help you open a Vietnam bank account.
DOCUMENTS YOU NEED TO OPEN A BANK ACCOUNT IN VIETNAM
1. Personal bank account
In case you just visit Vietnam for a month or less, it's possible to use your Visacard or Mastercard registered in your country. However, if you have planned to stay in Vietnam for a long time, your cards seem to be not an ideal choice because not everywhere accept payments by card and the fee for ATM's withdrawal is quite high to use for long term.
Being in this situation, you can consider opening a bank account to make ATM withdrawals and payments in Vietnam more conveniently. Generally, to register for personal bank account in Vietnam, you have to submit for the bank some following documents:
♦ Your original passport
♦ Your valid Vietnam visa or visa exemption
♦ An application form. You can come to the bank and get the form to fill in there.
♦ Minimum deposit. The deposit will depend on bank's regulation.
♦ Work permit and work contract in case you enter Vietnam with working visa.
♦ Residential address in Vietnam. Some banks may require you to provide proof of the address like renting contract but most will just ask you where they can contact you when needed.
In fact, not every foreigners have work permit or specific living address in Vietnam so Timo digital bank powered by VP Bank (Vietnam Prosperity Joint-Stock Commercial Bank) has provided a solution for that problem. You only need your passport and valid visa to get your Timo account with all basic transactions like doing money withdrawals, making online payments, send and receive money within Vietnam.
Note: However you can't wire money to foreign accounts with Timo.
Depending on your demands about services and currency, you can choose open account in either Vietnamese banks or foreign banks, branches of foreign banks in Vietnam
2. Business bank account (for foreign company)
You don't really need an account for doing business but it can bring you some appreciable benefits such as providing convenient payment method especially when your partners are far from you; legalizing with transactions having value more than 20 billion Vietnam dong according to regulations about account – tax; bringing a professional image for your company; etc.
There are 2 types of bank accounts that each business must register:
Investment capital account. This account is used for receiving and sending investment amount.
Transaction account. This account is used for conducting daily transaction in Vietnam.
To open account for foreign business in Vietnam, the procedures are a bit more complicate than submitting account for individuals. You will need to prepare a file of the following documents:
► Application form for opening bank account for foreign company in Vietnam. The form is variety among banks but in general, it consists of these below information:
♦ Transaction name of company (full name and abbreviation name); the address of head quarter of company; The transaction address of company; Company's phone number; Company's fax number (if have); Business sectors of company.
♦ Information about legal representative of company who registers as account holder
♦ Information of Chief Accountant or the person in charge of accounting work of the company as prescribed (if your company is in the situation required to have Chief Accountant according to present law)
♦ Signature sample of account holder, chief accountant or person in charge of accounting work (in the above case) and seal sample in transaction documents with banks or branches of banks (if have)
♦ Signature and full name of legal representative and stamp seal (if have) of company
►Documents proving that foreign company was establish in Vietnam including:
♦ Establishment decision of company
♦ Operation license of company
♦ Business registration certificate
► Documents proving for legal representative or authorized representative of company with his/her valid Identity Card/passport.
► In case your company is in the situation required to have Chief Accountant according to present law, you will need additional documents including:
♦ Authorization decision
♦ Identity Card/passport of chief accountant or person in charge of accounting work
WHICH BANK SHOULD YOU CHOOSE?
As of this time, there are 40 banks in Vietnam categorized into state owned, private and international ones. So, you need to wisely choose which bank you should open account with. The best idea is to opt for the banks that is nearest to your place because you might frequently visit it for changing pin number, withdrawing cash, reporting stolen or lost card, ect.
Below is a list of two Vietnamese banks and two international banks which regard possible banking options because of their popularity among expats living in Vietnam.
General information

Advantages

Disadvantages

VietinBank

Full name: Vietnam Joint Stock Commercial Bank for Industry and Trade

State-owned Vietnamese bank

The largest bank in Vietnam

Trading in multiple currencies, including USD and EUR

Accounts can be used as collateral for loans at Vietinbank

Account ownership is transferable

Deposits in VND are insured

The highest internal transaction fee

Vietcombank

The Joint Stock Commercial Bank for Foreign Trade of Vietnam

Wide network of branches and ATMs all over the country

Credit and debit card

Online banking

High and many types of fees

HSBC

One of 2 popular international banks with foreigners in Vietnam

Overdraft protection

Global debit card

Discounts from the HSBC Privilege Club

Trading in multiple currencies including USD, EUR, GBP, AUD, etc.

Online and phone banking

24/7 customer service hotline

ANZ bank

One of 2 popular international banks with foreigners in Vietnam

Easy transactions

Free checkbook

Multiple currencies accounts

ANZ Smart Account option

Not having many branches in Vietnam
WHAT BANKING FEES ARE INVOLVED?
When you have planned to open a bank account no matter where you are, it's important to read the terms and conditions carefully – especially the section on banking fees and charges. The banking costs in Vietnam always change depending on bank's regulations but here are the basic ones of some outstanding banks at this time in Vietnam for you to reference.
| | | | | | |
| --- | --- | --- | --- | --- | --- |
| | Transfer fees | ATM fees | Service fees | Internet banking | |
| Techcombank | 0đ | 1100 – 9900đ | 9900đ | 0đ | |
| VIB | 11000đ | 3300 – 11000đ | 9900đ | 0đ | |
| Maritime | 0 – 1100đ | 1100 – 3300đ | 10000đ | 11000đ | |
| Vietcombank | 11000đ | 1100 – 3300đ | 10000đ | 11000đ | |
| HSBC | 33000đ | 0 – 5000đ | 0đ | 0đ | Min balanced required |
| Sacombank | 15000 – 25000đ | 1000 – 3300đ | 5500 – 8000đ | 40000đ for 3 months | |
| Citibank | 0đ | 0đ | 165000đ | 0đ | Min balance required |
| Shinhan | 11000 – 16500đ | 3300đ | 11000đ | 0đ | Min balance required |
| VietinBank | 9900đ | 1100 – 3300đ | 4500 – 5500đ | 0đ | |
| UOB | 0 – 3000đ | 0đ | 0đ | 0đ | Min balance required |
| TP Bank | 0 – 10000đ / fast transfer 8000đ | 0đ | 5000đ | 0đ | |
| TIMO | 0đ | 0đ | 0đ | 0đ | |
Note: when you carry out any transactions, you have to keep the minimum balance required to maintain your account active.
HOW TO TRANSFER MONEY FROM VIETNAM TO FOREIGN ACCOUNT
Remitting money from Vietnam to abroad is not the matter as long as you can prove the source of money. It must be legal and belong to your possession.
♦ If the money have already in your account, that's legal incomes and you have right to decide about it.
♦ If you want to send in cash, you need to show related documents. For examples, that amount of money is from your salary, you need to submit your work permit, labor contract, pay slips and your passport; if it come from your business, you must have passport, work permit, business license, financial reports and tax reports; if this is the money you bring from your country, show the custom papers.
Once you satisfy these criteria, you can assign money to foreign countries easily via bank transfers, Western Union, Paypal or Moneygram.
Note: if you want to use bank transfer, you must notice about the currency accepted to deed in the bank you are using.
After reading this article, if you still have any questions, you can chat directly with us or send your request to email support@vietnamvisavoa.com. Vietnamvisavoa are always pleased to support you.