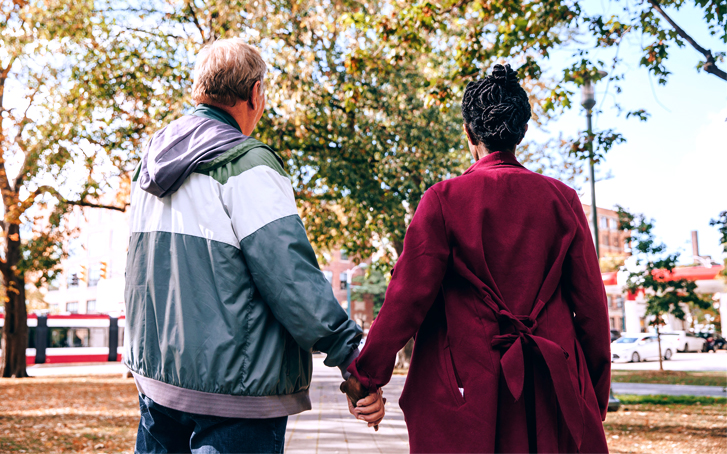 13 reasons to retire in Vietnam
Ranked as one of the world's safest nations, Vietnam is a truly desirable destination for expats looking to retire abroad to Southeast Asia.
It's no accident that Vietnam is trending retirement destination in Southeast Asia for many foreigner expatriates. If you are planning for your awesome new life chapter, don't miss this land with plenty of its economic benefits such as affordable cost of living and cheap other services. Also, tropical climate and diverse terrains make the country become travel hub with thousands of amazing destinations with tasty fresh food all year round in every corner of the country.
Check out this list of 13 reasons why you should consider retiring in Vietnam.
1. Low cost of living
One of the reasons why Vietnam has been chosen as a retirement destination by the foreigner seniors is its relatively low-cost of living. For accommodation, you can rent a decent apartment from 400-450 USD per month in the big cities like Ha Noi, Ho Chi Minh while it is much cheaper to spend at 200-250 USD in the surrounding areas. In term of transportation, the price is around 10.000 VND, depending on the type of taxi you take. Cost of electricity (average per month) is about 35 USD to 40 USD.
Besides, the other costs such as: groceries, entertainment, dining out, and miscellaneous expenses more are pretty reasonable. Grocery stores overflow with a ton of diverse ingredients for your home-cooked meal, around 60 USD to 90 USD per month. Even for those on a budget, a tasty meal from local street vendors is a good choice with only 1.5 to 2.5 USD. At the very least you can live on a shoestring budget and still enjoy life at the same time.
2. Diversified weather
It no longer spends full time to work from office, the life of retirement takes a chance for retirees to engage into the nature. Therefore, weather condition is essential to decide where you will spend your new lease on life.
Bestowed with diverse climate, the retirees can enjoy distinct seasons in the north with sunny summer days and rather cool winters that experience temperatures as low as 15°C. So, you should be prepared for heat and humidity in the summer by covering carefully when going out. A sweater and warmer clothing are needed in the winter in the northern parts and in the mountainous areas. Spring and autumn are the most comfortable seasons with around 22°C and 30°C respectively. If you want to escape the cold, the central and the south of Vietnam can be right up your street as the temperatures in this area do not vary too much in the whole year (around 27-32°C).
3. Beautiful landscape
The country is known for its charming beauty, offering an enormous expanses of sandy beaches, emerald water, waterfall, lush forest and yellow rice terraces. Retirees are likely to choose less bustling attractions to enjoy fresh atmosphere and immerse into the pristine nature, Vietnam wouldn't disappoint you by beautiful spots in some
coastal cities
like Vung Tau, Da Nang and
Nha Trang
. And many other places serve you favorable condition for some entertainment activities like: hiking or trekking in
Sapa
, bathing and kayaking in
Ha Long Bay
and more.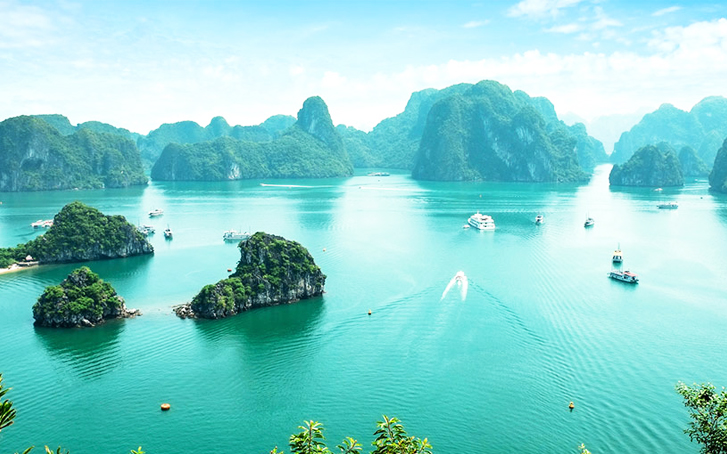 Halong bay - Vietnam
You can also visit handful of the historical sites which represents for the length of history and culture of Vietnam from north to south. Vietnamese ancient beauty reflected through those sites promise to attract your curiosity and concern. If you have interests in imperial architecture, the Temple of Literature (Hanoi) is a place you should not miss. Otherwise, you can visit French colonial ones mainly in Ho Chi Minh like Notre Dame Cathedral Saigon, Saigon Opera House, Hotel Majestic Saigon and much more.
4. Delicious cuisine (local and international food)
Pho - typical cuisine in Vietnam
Having a well-balanced diet is an important part of staying healthy as you get older.
Vietnamese cuisine surely leads the race for the healthiest food
as it contains many nutritious ingredients such as lots of herbs, spices and veggies, with minimal use of oil. Delicious Vietnamese food at reasonable prices can be found everywhere from roadside eateries to
local markets
or at humble-looking restaurants. Some famous Vietnamese dishes include:
bread, fresh spring rolls, noodle with grilled pork, sticky rice.
There is plenty of dishes to choose from Japanese, Korean, Indian, Chinese, Mexican cuisines – you name it- that definitely satisfy your cravings. For those tired of meat in the meal, a lot of restaurants cater tasty vegetarian options on their menus.
5. Accommodation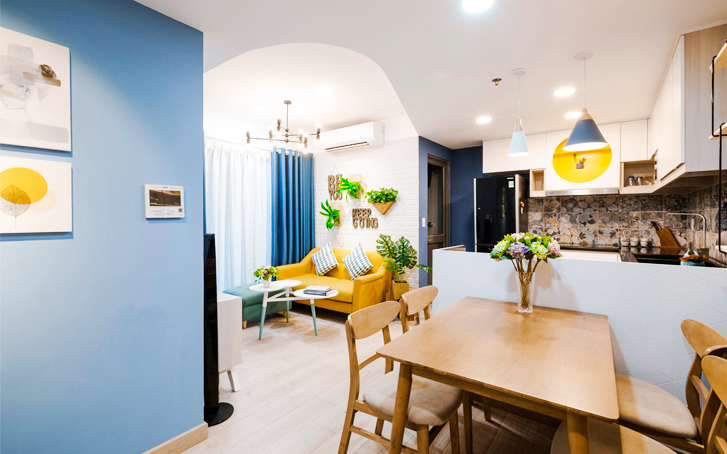 A convenient accommodation in Hanoi
Vietnam offers different types of accommodation that you can choose depending on your interest and budget. Renting an apartment in building is a popular choice in big cities like
Hanoi
and
Ho Chi Minh
.
Cost of an apartment can range from 450 – 1000 USD
depending on your locations and inclusions such as: cleaning service, wifi and basic furniture. Also, it gets easier to access amenities around apartment building like: supermarket, shopping mall, tennis yard and so on.
Besides, renting your own house is possible too, in particular for retirees who raise a pet to reduce loneliness. Houses can cost more expensive, around 800 USD per month including extra expenses for cleaning personnel and furniture repair.
If you dream of living somewhere quieter with tight budget, a house rental in the outskirts of large city is frequently chosen by several seniors. Housing prices vary from city to city, around 700 USD per month. These spots still remain the stores, services and health care options that make life in retirement easier.
6. Stable politic and safe country
Safety is likely to be another top consideration for retirees, then that is also a reason why Vietnam continues attracting a large number of foreigner seniors every year.
Regarded as a
peace-loving country
and recognized as
some of the most peaceful in Asia
according to the
Global Peace Index for 2019
(with an overall global ranking of 57), Vietnam become a safe destination for expatriates to reside. Indeed, the crime that exists generally does so in the form of petty ones like pick-pocketing, theft, but the levels of these crimes remain relatively low compared to other regions of the world. However, to keep your valuables safe you should noticed in the crowded areas such as marketplaces, night clubs and should not go around at late night.
Vietnam keeps condition stable and secure over the year. It can be seen that religious violence almost does not occur in the country as the largest percentage of Vietnamese identifies non-religious and they also respect others' belief. Also, guns and other firearms are strictly controlled by the government and police so you can go out without being worried about mass shootings like in some European countries. There doesn't seem to be riots and conflicts in every part of the country compared other surrounding areas.
7. Welcoming place
According to Expat Insider 2019, one of the world's largest and most comprehensive surveys on life abroad, Vietnam claims one of the top 10 countries with the friendliest attitude towards foreign residents. Indeed, it is common to capture smiling and friendly faces of locals in every part in the country. Vietnamese are extremely hospitable and welcoming people, they love sharing their culture and custom with foreigner visitors.
Adapting in a new living gets more difficult especially when you age. It is important to have friendly local people to help you with some tasks such as: finding suitable accommodation, fixing household appliances and cross the street. Gentle Vietnamese are also willing to teach you how to speak Vietnamese, which makes your life easier and a little less lonely so far from home. Even you can be invited for a warm dinner by a friendly local family, which can make you feel like this land is really a place you can call home.
8. The location and easy travel by air
Located in advantageous and favorable position for tourism, Vietnam is really an ideal hub from which you can easily access to many other destinations like: Thailand, Taiwan and Japan…to get a change of scenery. Moreover, Vietnam also offers you great convenience to come back your hometown thanks to many airlines flying routes to such major destinations as Australia, the U.S., Europe, Russia, Turkey and other parts of Southeast Asia.
Moving is becoming more easily due to numerous domestic and international airports in Vietnam. They provide lots of flights you are spoiled for choice, from top-shelf airlines like Qantas, Singapore Airlines, Turkish Airlines and Qatar Airways to budget airlines like Air Asia, Jetstar and China Southern. Two biggest transport hubs in Vietnam, Noi Bai Airport (Hanoi), Tan Son Nhat Airport (Ho Chi Minh City), offer plenty of long-haul flight, as well as non-stop ones to welcome millions of passengers yearly with cheap fares.
9. Good healthcare and transportation
Vinmec hospital in Hanoi
You likely to use more health care service as you age. The systems of private health care in Vietnam is fairly good. There are many international standard hospitals can be easily accessed throughout the big cities such as Hanh Phuc International Hospital and FV Hospital (Ho Chi Minh City), Vinmec International Hospital and L'hôpital Francais de Hanoi (Hanoi).
They are staffed with doctors and medical professionals from the developed countries like: United State, Korea and France. So, language barrier is not your concern anymore. Even Vietnamese doctors have a good command of foreign languages, mainly speaking English or French. Most health care facilities are modern and adequate while prices for specialist treatment are still relatively more reasonable than Western countries, especially when it comes to dental treatment.
There may be the right time when you need to give up driving due to your health. At that point public transportation will become essential vehicles to go around your living area. In large cities, low-cost taxi is popular choices with cheap price, around 10.000VND per km for taxi cost. Moreover, those kind of motorbike taxis in technology time like Grab, Beeline, Go-Viet, are massively used by foreigners due to its flexibility; convenience and cost-saving. You can also buy your own motorbike for around $300 to move conveniently without depending on other transportation services.
10. Entertainment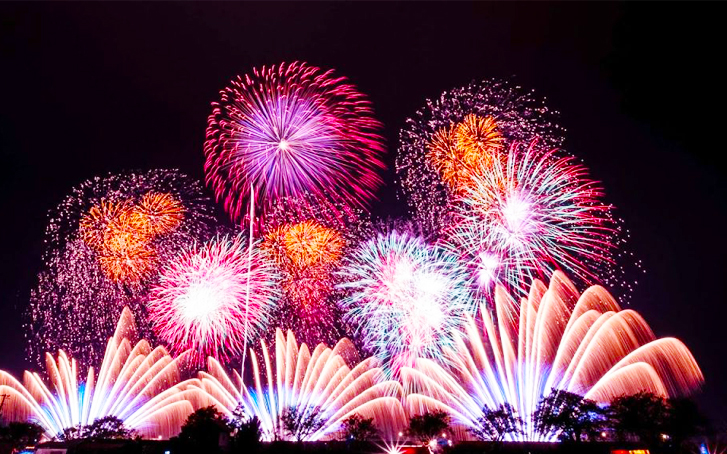 Danang international fireworks festival
With beautiful and rich culture, Vietnam celebrates numerous and varied festivals and events annually such as: Hue festival (Hue), international firework competition (Da Nang), Hoi An Lantern festival, Lunar New year and many more. During the period at those occasions, you can enjoy vibrant atmosphere spreading through every corner of the Vietnamese street and participate in interesting traditional activities. This is a great opportunity to gain an impression of the beautiful culture in the place where you are intend on sticking for a long time.
For many the elder, retiring to the good life is often associated to golf and many other recreational activities such as: fishing, playing tennis, biking, jogging and running. You can join the sport club in your living community where all members regularly exercise together, meet and make a new friendship. Vietnam offers plenty of great locations where you can participate in amazing golf courses on the large mountain with high quality greens, relaxed atmosphere and excellent services such as: Van Tri golf club, BRG Kings'Island Golf Resort (Hanoi). Besides, a ton of beautiful attraction give you advantageous terraces for hiking or trekking like in Sapa, Ha Giang.
11. Thriving expat community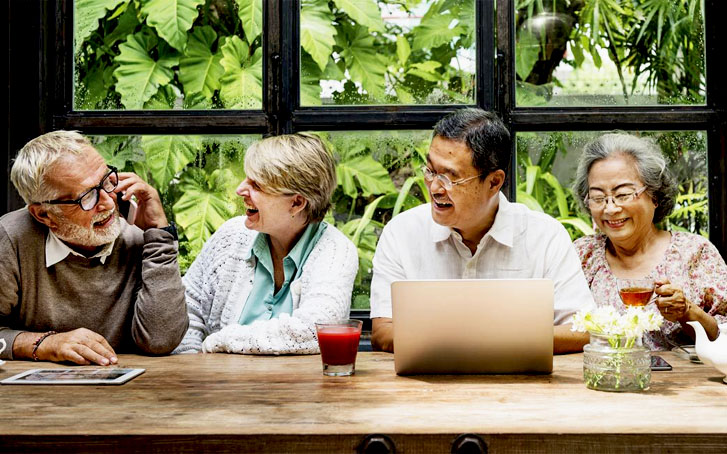 Vietnam names among world's top ten destinations for expats in 2019 according to Expat Insider 2019 survey so more and more foreigners choose the country to relocate. In the big cities like Hanoi, Ho Chi Minh and Da Nang, the communities are increasingly massive and diverse. Within those active communities, expatriates can share their knowledge and experiences among the others, especially new comers can adapt to a new surroundings easily thanks to assistance of fellow expats with some tasks: seeking accommodation, repairing home appliances, teaching how to cook some Vietnamese dishes and much more.
In addition, this is a place the elder can reduce isolation by taking part in regular expat events such as picnics, dinner, outdoor activities and more. Not only do they help seniors improve health, but also strengthen their social interaction. With friendly and approachable members, expats community provides you a sense of home and familiarity in a new living place. Also, this is helpful networks where seniors can find great mutual support.
12. Job opportunity and volunteer
If working is still a part in your retirement plan, don't worry as
job opportunities in Vietnam
is quite plentiful for seniors in all fields, from education to science and technology. One of the most popular jobs is teaching English in centers or private schools that help you not only get more extra income, but also keep social engagement. Moreover,
opening a small business in Vietnam
such as: starting a restaurant and bar, trading garment and textile items, is also a choice of a few foreigner retirees who still want to keep their mind busy.
After leaving a career, many seniors take up volunteering to make a distribution to their current community. Participating social activities not only bring meaningful for your life, but also keep you physically and mentally active. Also, you may get close with Vietnamese people and culture through volunteer activities, ranging from helping people with disabilities and victims of Agent Orange, to teaching English and donating home goods for locals in remote areas.
13. Some available visa options for retiring in Vietnam
Unfortunately, Vietnam retirement visa has not been officially granted just yet. Also, the selection of long term visas is quite limited. Specially, 5 year visa exemption is issued for foreigner who is married to Vietnamese citizen or investor visa is designated if you set up a business in Vietnam in long run. Otherwise, retirees are just able to obtain a tourist or business visa which is only valid up to 3 months in maximum. Only US Citizens are permitted to get 6 months or 1 year visa to Vietnam for tourist and business purpose.
It is time to open your heart towards new challenges, new life. Enjoy your retirement!