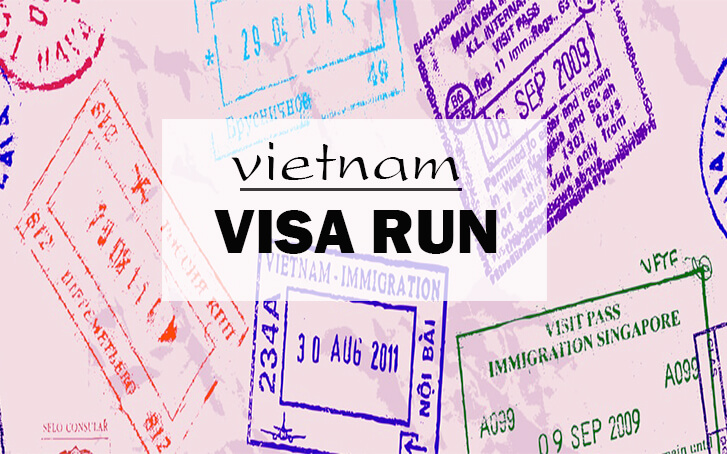 How to get Vietnam visa run
Vietnam visa run - convenient and economical way to stay longer in Vietnam
Vietnam visa run is a great option for travelers to want to extend their permits for another 3 months. To run for visa, you are required to exit Vietnam you are living and re-enter to get you renewed the visa. You can choose Vietnam visa run to countries in the ASEAN region such as Thailand, Cambodia, Laos, etc. This choice will be cheaper, enjoyable and better for busy people. If you are meeting difficulties with visa renewal or can't find any free time to apply for it inside Vietnam, this article will help you on how to get Vietnam visa run with the lowest cost.

Some advantages of Vietnam visa run

First of all, Vietnam is located in the center of the ASEAN region which means the flight from Vietnam to other countries in the region is extremely cheap. You can fly to Laos, Thailand, Cambodia, Myanmar or Singapore with cheap tickets. Besides, the sum of money you spend on visa run trip is not too much. In high season, you can choose one of the airlines and get the best deal for your trip.

Secondly get a Vietnam visa run is a chance for you to discover culture is another ASEAN country. This experience can make your visa run more fun and enjoyable. In other hands, you have an additional trip with a cheap cost for accommodation and food. Fantastic beaches in Thailand, the great Angkor Wat in Cambodia, and new touristic mystery in Myanmar or shopping paradise in Singapore are waiting for you. You only need to arrange a few days, a small sum of money and enjoy your visa run in one of the countries in the ASEAN region.

Procedure on Vietnam visa run
There are two methods of getting a visa run. You either get the visa at the Vietnam land border which is the most nearest to you or at the Vietnam airport for visa on arrival.
Applying for visa run at the Vietnam airport
Step 1: Acquire a visa approval letter in advance by submitting your visa application form on our website. After receiving Letter of Approval, you have to make a copied version of the letter and keep it along with you to exit Vietnam.

Step 2: Exit Vietnam by getting exit stamp on your passport via any Vietnam International Airport or land border, and enter a destination you choose for visa run. When arriving at the destination, you have to go to the Immigration check-in and present all necessary documents and wait for them to be processed. When you get the visa stamp successfully, you can take a flight back to Vietnam or stay in this country for a few days if you like to discover it.

Step 3: Re-enter Vietnam through the airport, you have to present your passport, Letter of Approval, 2 passport-sized photos, visa application form and pay the stamping fee.
Getting visa run at the Vietnam land border
If you want to get the visa run by land, you can go to any international land border which is the most convenient to you in order to finish the visa procedure. However, you should notice that getting visa run by land only allowed you to enter Vietnam through the border you applied for, therefore, you should consider between 2 ways of getting visa run. You can contact us via email or phone number if you need help in the course of doing procedure of visa run by land.
Vietnam visa to Cambodia via Moc Bai Border
Cost of visa run
Visa run costs varies according to your nationality, duration of your visa and your entry port. An applicant is officially required to pay two kind of fees including visa service fee and stamping fee. The former is paid beforehand to process a pre-approval letter and the latter is directly paid for the Immigration Officer at the entry port.
There is a slight difference regarding to processing fee between visa run via the Vietnam border and airport, and usually you are expected to pay a little more if your visa approval letter is issued to get visa stamped through the land border.
FAQs on Vietnam visa run
Q: Can I exit and enter Vietnam in a day for visa run?
A: Yes, you can. With visa run purpose, you can exit and enter Vietnam immediately and do not need to wait for any specific time to come back. Just highly recommend to prepare all visa documentation for Vietnam visa and visa to a country you are leaving for
Q: What should I bring along with me to get Vietnam visa run?
A: There is a list of documents you have to prepare for Vietnam visa including as bellows:
♦ Visa approval letter
♦ 02 passport sized photos
♦ US Dollars in cash for stamping fee
♦ Original passport
♦ Vietnamese visa application form
The form of visa approval letter is different depends on which entry port you are going through. If you are planning to come back Vietnam via road, you have to take an original version of visa approval letter. A printout of invitation letter is only accepted in case you are obtaining visa via Vietnam International Airport.
Q: How many times you can do Vietnam visa run?
A: You can do Vietnam visa run whenever your visa is expired without any issue. In the other words, there is no limited times. However, in order to avoid going for visa run every 1 or 3 months, you can apply for 6 months or 1 year business visa.
Hopefully, all of the details in this article can help you to arrange a success visa run trip. You have many potential destinations around Vietnam to get the best deal. To have the best choice, you can choose your favorite country or somewhere you haven't been before. Thanks to this, you can make your list of destination longer and have an extraordinary experience in a short trip. In addition, Vietnam has some cheap airlines such as Vietjet Air, Jetstar Pacific Airlines, and Air Asia, you can save money considerably. Therefore, you don't need to be worried about the visa run procedure.

Should you need any other supports or have any enquiries related to do Vietnam visa run, feel free to find us at:

+Website: vietnamvisavoa.com
+ Phone: +84969255515(Wechat/ Whatsapp/Viber)
+ Email: support@vietnamvisavoa.com