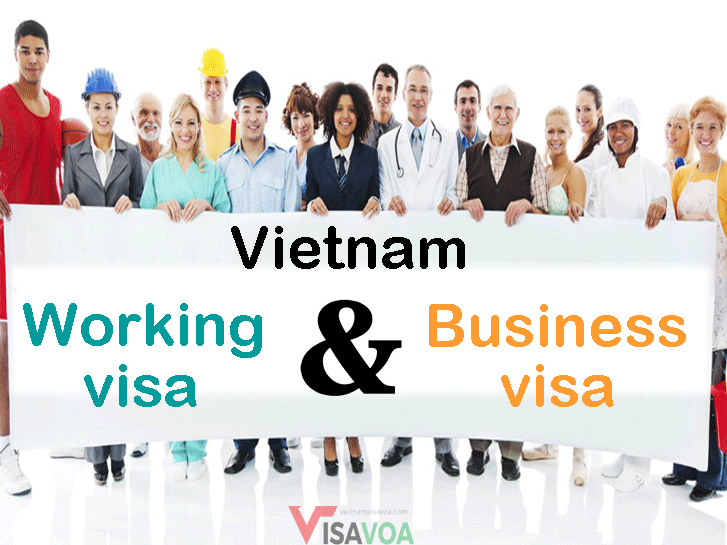 Vietnam working visa and business visa
Vietnam working visa and business visa are two common type of visa allowing foreigners to live and work in Vietnam legally
Business visa, also called DN visa, is used for commercial and trade activities. For example, you come to attend exhibitions or fairs in Vietnam, you want to visit some factories to check the goods, or simply attend a business meeting. If so, you may choose Vietnam business visa.
However, you cannot work with business visa in Vietnam. To work legally in Vietnam, you have to apply for Vietnam working visa (LĐ visa). By holding a working visa, you can do business in Vietnam, get salary, and even purchase an apartment here after obtaining Vietnam temporary residence card. This seems to be a best choice for expats who plan to stay in Vietnam for a long time and with family members.
Vietnam visa validity
Usually, the validity of a Single Entry or Multiple Entries of Vietnam working visa and business visa are 01 month and up to 12 months from the date of issue. However, you also can prolong your stay by visa extension if you want to spend more time in Vietnam.
Costs of Vietnam visa
You will pay two types of fees for visa application: Visa service fee and Visa stamping fee.
Service fee is the fee for getting the visa approval letter issued at Vietnamese Immigration Department. You will pay it online after submitting your visa application form. The standard Vietnam visa cost for 01 month single entry is from 79 USD which comes to 90 USD for 1 month multiple entries. If you applying for 3 month single entry it is 110 USD and the Vietnam visa processing fee for 3 month multiple entries would be around 119 USD.
Stamping fee is the fee paid in cash directly to officer at Vietnam airport for stamping Vietnam visa. The stamping fee for single entry (both for 1 month & 3 months) is 25 USD while it is 50 USD for multiple entries (both for 1 month & 3 months). Also, it will be 95USD and 135USD for 06 months and 12 months multiple entries respectively.
Vietnam visa application process
Vietnam visa can be applied by two way: Apply visa at Embassy and apply visa on arrival (online).
If you want to submit your working visa application directly, you could travel to any Vietnam Embassy which is the nearest or most convenient for you and follow the instructions of the offices.
Vietnam visa on arrival is the most common way for travelers to get a visa on arrival for Vietnam because of its simple procedure and affordable cost.
With a few steps on your computer, you can be granted Vietnam working visa easily:
Step 1: Apply for your approval letter online
In order to apply for visa online, you need to send your passport copy and your date of entry/exit to the address: support@vietnamvisavoa.com.
Otherwise, you can spend some minutes on the website: http://vietnamvisavoa.com/en/apply-online to apply online. Then you will choose a payment method for visa processing fee.
Step 2: Print your Vietnam approval letter
Once approved after 5-7 business days, you will receive a file including the visa approval letter which must be printed clearly and legibly. Don't be surprised when you see numerous other names on your Vietnam visa approval letter because it's normal for your name to just be included on a list of approvals for that day.
Step 3: Collect your Vietnam visa sticker upon arrival
Upon Vietnam arrival, you should approach the visa on arrival counter to get visa stamp for Vietnam. The Immigration office will ask for your passport, Vietnam visa Approval Letter, Vietnam visa application form, and passport-size photos to expedite processing. Then you will receive your passport with Vietnam visa sticker inside.
Hopefully, this summary is informative and useful for you and you will enjoy your stay in Vietnam.