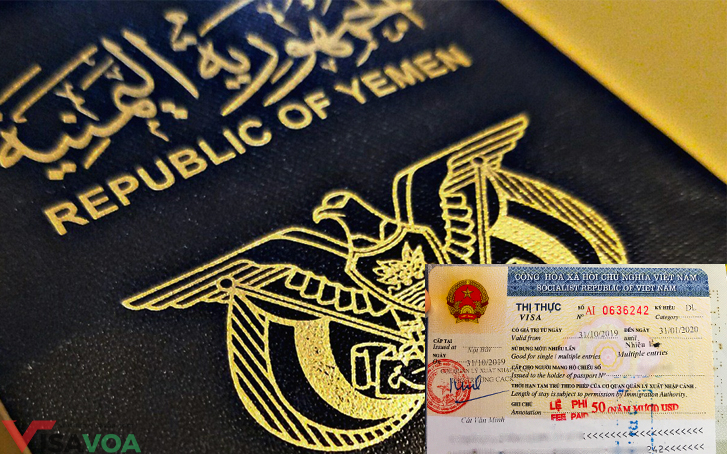 The Complete Guide on Vietnam Visa for Yemeni Citizens
Vietnam has become an emerging destination to tourists from Middle East Regions, including Yemeni travelers. To visit this beautiful country, Yemeni citizens need visa before entering Vietnam. But! You will be happy to know that as Yemeni national, you can easily obtain visa online (Vietnam Visa on arrival) without going to Vietnam Embassy.
In the bellow, there are details of how to get Vietnam visa for Yemeni passport holders and how Vietnamvisavoa makes this process easier for you.
02 accessible ways to get Vietnam visa for Yemeni citizens
As Yemeni national is not included in Visa Waiver Program, you are able to get Vietnam visa through 02 main legitimate methods as following:
1) Apply for Vietnam visa on arrival (applicable for those who travel by AIR only)
2) Apply for Vietnam visa through Embassy of Vietnam located in neighboring countries.
Vietnam visa for Yemeni citizens on arrival (Highly recommended)
How Vietnam visa on arrival works?
Vietnam Visa on Arrival is an online method of getting visa to Vietnam by having a Vietnam visa approval letter issued by Immigration Department of Vietnam, flying into Vietnam and collecting Vietnam visa sticker upon arrival airports.
In order to get Vietnam visa on arrival, at first, applicants are required to submit a visa application form online through a visa agency. The result of this process will be a visa approval letter issued by Vietnam Immigration Department. With this document, the applicant is allowed to board the plane, fly into Vietnam. Upon arrival airport, applicants will present the letter along with necessary documents to Immigration officer, then visa sticker will be pasted in your passport.
Vietnam visa on arrival letter for Yemeni citizens
How to apply?
Vietnam visa on arrival for Yemen passport holders will be done easily through 04 simple steps as below:
Step 1: Fill Vietnam visa application form online
You need to submit your visa application form with exact detail of your personal information such as: Full name, Nationality, Date of Birth….. Then, choosing your Vietnam visa type according to its duration and purpose.
In case, you travel in group, you had better include all group members into 01 order to save time on submitting the visa request.
Please note that everyone except those who are in exemption list, must apply for Vietnam visa no matter how old they are. If you travel with infants, don't forget to apply visa for them.
Step 2: Double check information and pay service fee.
After filling in the form, you should review details carefully in application form to make sure that everything is exact. Then you make payment for service fee in order for us to do all procedure and get your Vietnam visa approval letter granted at Vietnam Immigration Department. Payment can be done by: Credit Card/ PayPal/ Western Union/ Bank Transfer.
Step 3: Receive Vietnam visa approval letter via email
Vietnam visa VOA will send approval letter via email to you once it is granted by Vietnam Immigration. You print out the documents in order to get on your plane to come to Vietnam.
Step 4: Collect Vietnam visa stamp at landing International airport
Once you get into Vietnam International airports, you need to go to Vietnam visa on arrival/Landing visa area to submit your mandatory document included: Vietnam visa approval letter, Vietnamese visa application form, 02 passport photos, passport and stamping fee in cash to Immigration officer.

Document required
Here are documents you are advised to prepare for applying visa on arrival.
Documents to be provided to get a visa approval letter prior to your departure.
• A valid passport – your passport must be valid for at least 6 months since the date you arrive in Vietnam.
• 02 recently taken passport-sized photos
• Visa pages of some countries you visited ( if any)
• Hotel and flight ticket reservation
Upon arrival, present these dossiers at Vietnam Landing Visa Counter.
• Original passport
• Vietnam visa application form
• Vietnam approval letter
• Two passport-sized photos (4x6 cm) (a face straight forward, white background and no glasses)
• Stamping fee in cash which is 25 USD or 50 USD depending on type of entry
Visa cost
To get Vietnam visa on arrival, you need to pay for 02 separate types of fee comprising of visa service fee and stamping fee.
• Regards to visa service fee, it has recently changed from time to time but now it varies from $110 US/person.
• Regards to stamping fee, depending upon type of visa and the number of entry you wish to obtain, this table below will show you how much it costs. Please note that you should bring an accurate amount of money in USA to pay to the Immigration Officer for smooth procedure.
To apply visa on arrival with Vietnamvisavoa.com, you can check visa service fee in the table as bellows:
| | | |
| --- | --- | --- |
| VISA TYPE | SERVICE FEE (USD) | STAMPING FEE (USD) |
| single entry (20-25 days) | $110 | $25 |
| multiple entry (20-25 days) | $140 | $50 |
Vietnam tourist visa for Yemeni citizens
Why should choose VOA for visa on arrival?
Easy to access – Only 4 steps to get the visa to Vietnam
It couldn't be simpler than applying for Vietnam visa online. Without going to the consulate or dealing with a foreign government, you have our assistance obtained visa on your behalf.
Accept almost payment methods (Credit/Debit card, Paypal, Wechat, Local bank transfer, Western Union)
You get in trouble when paying via Credit card, do not worry as we offer you many kinds of payment methods. You are allowed to make a transaction through 06 main method systems comprising of Credit/Debit card, Paypal, Wechat, Local bank transfer, Western Union. We make sure it is totally secured once you pay the fee with Vietnamvisavoa.com
Available 24/7 customer assistance
With Vietnamvisavoa, we provide our clients with 24/7 service and support. Do worry if you have a busy schedule, we are available around the time to be behind you for visa assistance. Whenever you intend to visit Vietnam, please let us know immediately, our professional consultants promise to response you in quickest way.
Trusted and reliable
Many clients complain lots of about the times when they are cheated by fraud companies. It's time to start looking for another agency. Vietnamvisavoa.com definitely understand that a reliable service is vital to build up the trust on our clients. We promise our company is established based on a quality and reliable service.
One important things, once you obtain Vietnam visa with
Vietnamvisavoa.com
, your fee will be refunded 100% if Immigration Department rejects your inquiry.
Vietnam visa from the Vietnam Embassy in Yemen
Apart from Vietnam visa on arrival, Yemeni passport holder can lodge their visa application through Viet Nam Embassy. However, unlike other countries, there is no Vietnam Embassy in Yemen, so if you wish to apply by this way, you will head to embassies either located in neighboring countries or one you are traveling to.
Here is some Embassies of Vietnam nearby your country for your reference
Vietnamese embassy in Riyadh (Arabia Saudi)
Address: Villa No. 23 Al-Dhiyafah Street, Al-Nuzha District, Riyadh, Saudi Arabia
Telephone: +966-1-4547887 ; +966 -1-4569756
Fax: +966-1-4548844
Email: vnemb.sa@mofa.gov.vn or vietsa@ymail.com
Website : www.vietnamembassy-arabsaudi.org
Embassy of Vietnam in Abu Dhabi (UAE)
Location: Villa 147, Salama Bint Butti Street
Street 23, Al Mushrif area
P.O. Box 113038 Abu Dhabi United Arab Emirates
Telephone: (+971) 2 449 8089 / 6710
Fax: + 971-2 449 6730
Email: embassyofvietnam@gmail.com
vnemb1@emirates.net.ae
Website: www.vietnamembassy-uae.org
Document required to submit at the Embassy
 A print – out of completed Visa Form given by Vietnam Embassy
 A passport (must be valid for 6 months at least )
 Hotel and flight reservation
 Invitation letter from a sponsoring company in Vietnam
 Two passport size (4x6 cm) photographs ( a face straight forward, no glass wear and bright background)
 Visa fees
 Prepaid self-addressed envelope if you want to get your passport returned via post
 Other required document depending where Vietnam Embassy you apply for visa resided
Note: List of documents is likely to be different from this Embassy to the another and depends on each applicant
How to apply
Step 1: Contact with Vietnam Embassy in the country you expect to ask detailed required documents.
Step 2: Submit documents in person and filling all your information in the application form
Step 3: After submission of the fees and wait for Vietnam Embassy to get visa issued. As you settle visa application in other countries, you could receive it through postal post; however, bear in mind that it is quite risky if your visa is delivered through this mode due to misplacement.
Visa cost
There are some kinds of fee Yemen citizens need to pay for visa processing:
• Processing fee regulated by Vietnam Embassy
• Stamping fee
• Postal, shipping and handling fee expedite service (if required)
Common types of Vietnam visa for Yemeni citizens
1. Vietnam visa type by purpose
Tourist visa
These visa is issued for the citizens of Yemeni who wish to enter into Vietnam for relaxing or visiting purpose. It is easy to get this visa as long as that they prepare full document as aforementioned requirement.
Business visa
Yemeni applicants are eligible to apply DN visa – Business visa for the purpose of business trade, conferences or business-related issues with its validity lasts 01 or 03 month single/multiple entry.
Most importantly, they must have a Vietnam company sponsored on their behalf. This company will provide some legal documents such as Business registration certificate and Investment License then for visa processing.
Work visa
This type of visa is granted to those coming to Vietnam to work legally. The validity of work visa is usually up to 12 months in maximum. Regarding to the requirement, work permit provided by Vietnam company is one of the mandatory documents to get work visa.
TT/VR visa
For the purpose of visiting Yemeni nationals' spouses, children, parents, they could apply for TT and VR visa. Kindly note that their relatives must satisfy these below cases:
- Vietnamese or
- Foreigners holding work visa, resident card holders or LV1, LV2, DT, NN1, NN2, DH, PV1, Visas
The maximum duration of TT visa is 3 months.
2. Vietnam visa type by duration
Short term visa: 15 – 20 days
As being a Yemeni passport holder, Vietnam Immigration allows 15 – 20 days for tourist visa. All they need is to submit their documents for visa procedure.
Long term visa: 3 months visa
3 months visa is applicable for those visiting Vietnam for the purpose of business or visiting relatives.
In case Yemeni passport holders who are spouse and children of Vietnamese national, they are eligible to obtain a 5 year Vietnam visa exemption.
Vietnam visa type by entry
Single entry
For this type of visa, applicants could enter Vietnam only one time according to their visa validity.
Multiple entry
For this type of visa, Yemeni is allowed to visit Vietnam as many times as they wish as long as their visa is valid.
Visa extension and renewal are available to Yemeni nationals:
How to apply
Some of Yemeni nationals plan to stay longer in Vietnam when their visa comes to expiration date, extending visa is one of the method to consider; however, bear in mind that the fee is enormously expensive.
Let's thinking about this option before you decide, if yes, here is some steps for visa extension procedure.
Step 1: Send the passport copy and visa sticker to us for checking if it is possible to extend visa
Step 2: If the passport meet the requirement, send the ORIGINAL passport, current visa stamp, latest date of entry in person or by post.
Step 3: Make a payment and waiting to get visa extended
How much
The fee of visa is different depending upon how long Yemeni applicant would like to extend.
Frequently asked questions about Vietnam visa for Yemeni citizens
Q1: Do Yemeni need a visa for Vietnam?
Vietnam visa is a mandatory documents which Yemeni national must have to enter into Vietnam, otherwise, they will be denied by the Immigration Department of Vietnam upon landing.
Q2: Are Yemeni citizens eligible for Vietnam E-visa?
Currently, Yemen nationality is exempted from Vietnam E-visa. They should opt for submitting visa request either through Vietnam visa on arrival or the Embassy of Vietnam.
Q3: How can I apply Vietnam work visa?
It is not possible to obtain this type of visa unless you have a company to sponsor you in Vietnam.
Q4: How long is my tourist visa valid for?
The maximum duration of this visa is 15 – 20 days.
Q5: Is Vietnam safe to visit?
Vietnam is known as one of the most attractive country to travel to not only because of its diverse beauties but also its peace. Every single traveler, tourist feel safe and warmly welcomed by friendly local people during their visit in Vietnam. There is no border issue or ethnic conflict so you feel absolutely secured to walk out on street in day or night time. But you should be aware of petty theft in some touristic or crowded areas.
Q6: How can I get Vietnam visa in Yemen?
Obtaining Vietnam visa by online or through The Embassy of Vietnam nearby Yemen are two options for them.
Q7: When is the best time to visit Vietnam?
Vietnam climate is distinctive from places to places along the country. No matter what time of the year, you could visit Vietnam regarding your interests comprising of activities, climate, food, etc. In general, it is most ideal time to visit Vietnam between September and March.