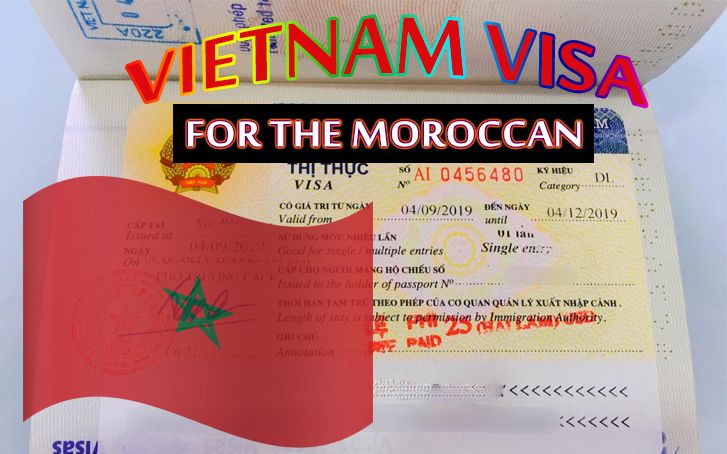 Complete guide to apply for a Vietnam visa with Moroccan passport
Travelling to Vietnam can be an amazing time for many travelers from all over the world, including Moroccan nationals. Learning about different cultures, enjoying gorgeous landscapes or tasting full of intriguing flavors definitely bring you interesting and eye-opening experience.
Before you can jump into the excitement and adventure of traveling abroad, you must first familiarize yourself with the regulations the country you're traveling to. And the first important thing is requirement relating to Vietnam visa policy.
Still not clear? Here is comprehensive guideline on Vietnam visa for citizens from Morocco.
Do Moroccan citizens need a visa to Vietnam?
YES, nationals from Morocco are not exempt from the visa to Vietnam, so you are required to apply a visa that gives you legal permission to enter the country.
How many ways to apply a visa to Vietnam?
Fortunately, Moroccan citizens can apply a visa online, which is known as Vietnam visa on arrival. By this way, you have to get a visa approval letter letter in advance prior to coming to Vietnam. Besides, you can visit Vietnamese Embassy/ Consulate located in Morocco to obtain an actual visa stamp on your passport.
Please be noted that there are two official ways to get a visa to Vietnam including:
• Visa on arrival applied through a travel (visa) agent in Vietnam
• Visa applied via Vietnamese Embassy/ Consulate in Morocco
Apply through Vietnam visa on arrival
Most of Moroccans choose to apply a visa online through a travel (visa) agent in Vietnam thanks to its convenience and quickness. Applying a Vietnam visa on arrival will provide you a visa approval letter that allows you to get a legal visa sticker inside your passport upon arrival without visiting Embassy in advance.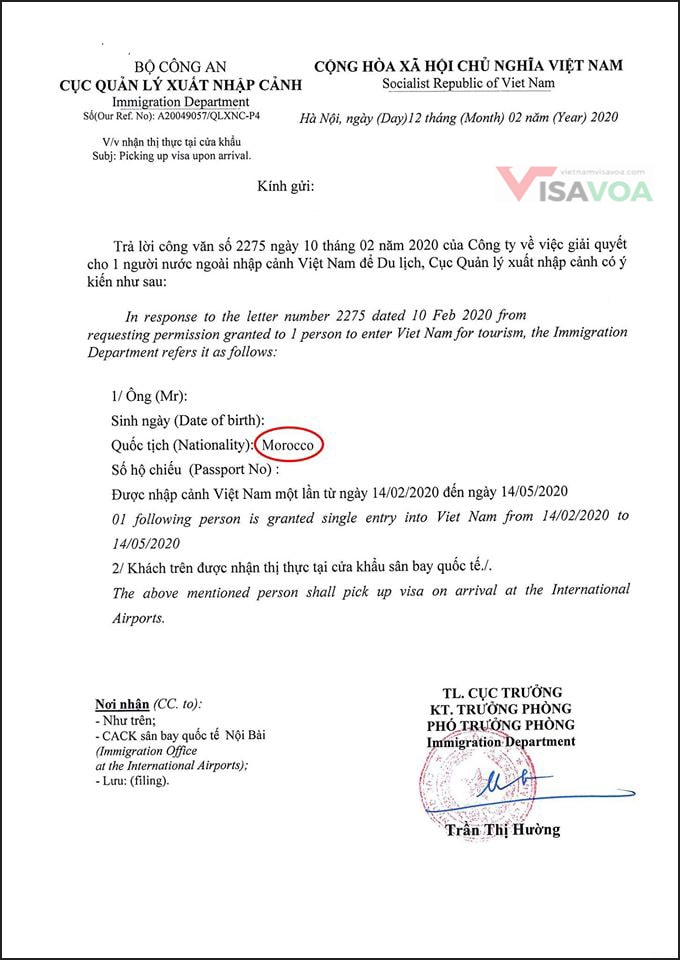 Sample of visa letter for Moroccan citizens
Required documents
► Stage 1: Before travelling to Vietnam
Remember that you only are permitted to board your flight to go Vietnam with a visa approval letter acquired in advance. Getting a visa letter does not ask for much, and the chances that you already have everything you need are pretty high. Here is what you must make ready:
• A passport copy that is valid for six months or more with two empty pages
• Some visa pages of countries you visited in the past
• Flight and hotel reservation (not booking confirmation)
• Other required documents depending upon your visa types
• A valid email address
• Means of payment (credit or debit cards, PayPal account as well)
► Stage 2: Upon your arrival at the Vietnam airport
When receiving a visa letter, print it out a physical copy before leaving and bring it with these necessary documents to acquire a visa stamp at Vietnam airports:
• Valid passport
• Visa approval letter (in paper)
• Recent passport photos (4x6cm size, white background)
• A filled-out Vietnamese visa application form
• Visa stamping fee (USD)
Steps to apply for a visa approval letter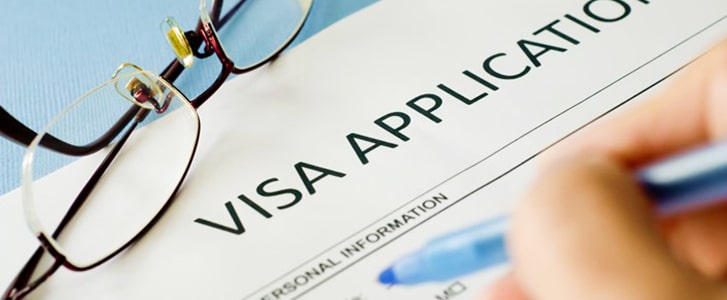 The procedure of visa application is simply completed through 4 simple steps:
Step 1: Provide your basic information as well as some details about your trip, then choose the processing time for your application.
Step 2: Make payment for visa service fee online (through a secured link sent to your email)
Step 3: Receive a visa letter via your email.
Step 4: Print it out along with some other required documents to Vietnam to get visa sticker.
Vientam visa on arrival fee
You must complete 2 kinds of fee during your visa application process, namely:
► Service fee: The charge is required to pay for travel agency through payment online methods. Vietnamvisavoa gives you three options, and each comes with its own fee. They are as follows: standard processing, rush processing and super rush processing.
► Stamping fee: The cost is paid in cash (USD) at Vietnam airports for Vietnamese Immigration Counter. Commonly, it costs $25 to $50 for single entry and multiple entry, respectively (1- month and 3 - month visa).
Important points to remember on Vietnam visa on arrival for Moroccans
• Visa on arrival is only valid for entering Vietnam by air. If you come to Vietnam by land or sea border, you are advised to get visa prior to arrival at Vietnam Embassy/Consulate.
• Service fee is required to be paid in advance so that we can submit your documents to the Immigration Department.
• Double check all the information in the approval letter to make sure your personal information is correct as well as visa validity.
Apply via Vietnamese Embassy/ Consulate in Morocco
This traditional way seems to be probably familiar to everyone. For Moroccan travelers who plan to enter Vietnam by land, cruise or plane as well, please pay a visit to Vietnamese Embassy to get your visa.
Embassy of Vietnam in Rabat, Morocco
Address: 9, Beni MTIR street, Soussi, Rabat, Morocco
Phone: +212.53.763.1206
Fax: +212.53.763.9174
Email: vnambassade@yahoo.com.vn
Required documents
Applicants must visit Vietnamese Embassy by themselves to provide required documents. The best way is that you should contact officers at Embassy in advance to figure out and satisfy all your visa requirements. Those following documents are the most basic ones we suggest you:
• A valid passport - all Moroccan nationals must hold a valid passport that remains valid for at least another 6 months from the date of arrival in Vietnam.
• 02 digital photos - make sure that the picture is as recent as possible and follows all the guidelines for a passport photo.
• Flight and hotel reservation
• A round trip ticket to Vietnam
• Visa fee
• Other relevant documents (if any) – depending on your visa types, you will be asked to provide some other paperwork.
• Your home address – if you wish your visa delivered to your home without taking it in person at Embassy office.
Steps to apply Vietnam visa through the Vietnam Embassy
Step 1: Contact with Vietnamese Embassy to make sure what exact documents you need to prepare for your visa application
Step 2: Head to Vietnamese Embassy and present your collection of necessary documents to officer here and pay a visa fee.
Step 3: Wait some days to receive your original passport with a valid visa delivered to you by post
Visa fee at the Vietnam Embassy
The total visa expenses changeable decided by your visa types, will be announced applicants before their visa is processed. This amount is non-refundable.
Vietnamese visa types and validity
Purpose of travel
Tourist visa
This visa type granted for Moroccans who travel to Vietnam with tourism purposes. The visa's holders can stay here for 15 – 20 days.
Business visa
If you need to come Vietnam for related-business activities, a business visa valid up to 3 months is needed.
Investor visa
The visa is eligible for Moroccan passport holders who plan to come Vietnam for either setting up a company or being lawyer working in the country. Holders of an investor visa can stay here for up to 12 months at maximum each time.
Work visa
Work visas are for persons who want to enter Vietnam for employment lasting a fixed period of time. To get the visa, you must obtain a work permit first whose maximum validity is 2 years and its extension is available.
Number of entry
Single entry visa
With a single-entry visa you can enter Vietnam only once for the certain period of time.
Multiple entry visa
As the name suggests, a re-entry visa will enable you travel to the country a couple of times during their visa validity. This visa type is suitable for those who wish to have several visits once their visas remain valid.
FAQs about Vietnam visa for Moroccan citizens
1. Can I apply a visa to Vietnam from the third country?
YES, absolutely. You can apply visa via visa on arrival or Vietnamese Embassy at a country you are in.
2. Is Vietnam E-visa available for Moroccan citizens?
NO, it isn't. Moroccan passport holders are ineligible for applying an E-visa to Vietnam. In stead, visa on arrival is an online method only used to get a visa upon arrival without working with Vietnamese Embassy.
3. What is the maximum stay for Moroccan citizens in Vietnam?
As we mentioned above, total 20 days for tourism and up to 90 days for business visits only. Besides, some other visa types enable you to stay up to 180 days or even 12 months at maximum each entry.
4. What if I want to stay longer in Vietnam while my visa is going to expire?
If you want to continue staying in the country after your visa expires without exiting, you may consider to extend or renew your current visa. However, the charge for visa extension and renewal is relatively expensive.
5. How fast can I get a Vietnam visa?
It really depends on methods you use. Applying visa through Embassy will take generally 5 – 7 working days. If you are in emergency case, you should choose to process a visa on arrival whose processing time can be 1 – 2 business days, or even some working hours.
6. Is Vietnamvisavoa secured to apply for the Vietnam visa online?
YES. We have been handling thousands of visa applications for every citizens from all countries in the world including Moroccan. As the role of third party, we are authorized by the Vietnam Immigration Department to handle Vietnam visa on arrival for foreigner travelers. Please find us more through our client's feedback here
7. Is the visa service fee refundable?
YES, surely in case your visa is received a refusal from the Vietnam Immigration Department. This fee, however, is not refunded in case your application is submitted already.