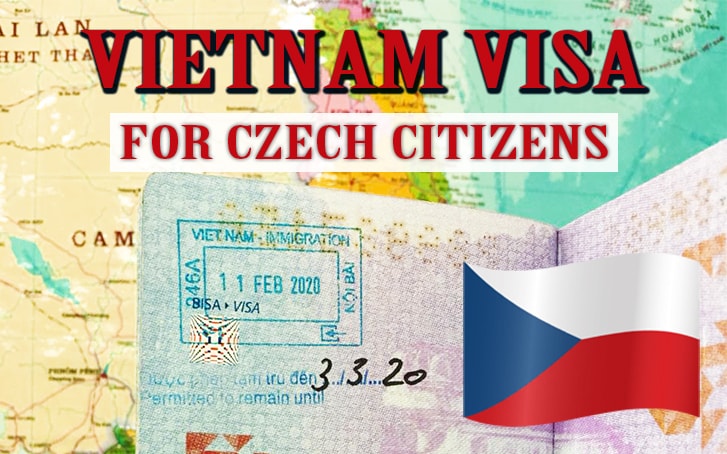 Complete Guide to Get Vietnam visa for Citizens of The Czech Republic
Given its a thousand years' establishment, it is no doubt that the passing centuries have left Vietnam with a rich culture that manifests in many fascinating ways. From North to South, Vietnam is full of ancient buildings, awesome food, and natural wonders that is unquestionably worth a visit.
Being a Czech citizens, before you travel in, you are advised to straighten out Vietnam visa policy. In this article, Czech Republic citizens will find specific guidance about Vietnam visa and other related concerns.
03 legitimate ways to get Vietnam visa for Czech passport holders
Getting a visa is a mandatory requirement for citizens of Czech Republic to enter Vietnam. There are three ways of getting a Vietnam visa as below:
• You can apply and obtain a visa in advance from the Vietnam Embassy.
• You can obtain a visa on arrival.
• You can apply for an E-visa.
Of these three, visa on arrival is a popular choice for its convenience and cost-saving. By choosing this method, you need to start the process of obtaining an approval letter before your flight to Vietnam. Otherwise, your entry request will be refused at departure port.
Vietnam visa for Czech citizens on arrival
Visa on Arrival (VOA) means having a visa approval letter issued by the Vietnam Immigration Office to check in at the departure port and have visa stamped upon arrival to Vietnam. VOA is provided for one or three month single/multiple entry cases for touristic and business purpose.
How to get visa on Arrival
First, you will contact a travel/visa agency approved by the Vietnamese government for getting a VOA. All you need to do is find a justified agency, provide your passport details, travel information and receive an approval letter.
After submitting the details online, it will takes 2-3 days (or urgent service within 4-8 hours) for the approval letter issuance.
Although VOA is the most popular option, there is one restriction. Visa on arrival is applicable for air travel only. If you enter Vietnam by land or sea border, you are required to obtain a full visa before your arrival.
Documents required upon arrival
• Original passport (must be valid for at least 06 months from arrival date and have at least 02 blank pages)
• Two passport size (4x6 cm) photographs (no glass wear, white background)
• Vietnam Visa Application form
• A printout of Pre-Approval letter
• Stamping fee: 25USD or 50USD depending on type of entry
As you can see, the entire process can be done simply and effortlessly. With the assistance of Vietnamvisavoa, you can ask for advice in filling the application form if you are first time traveler or any other visa relating issues.
How much does Vietnam visa on arrival cost for Czech citizens?
Vietnam VOA includes visa service fee and stamping fee.
For the visa service fee, it is quoted contingent on each agency. Meanwhile, the stamping fee is fixed amount and directly paid to the Immigration Officer at the airport in cash.
To apply visa on arrival with Vietnamvisavoa.com, you can check visa service fee in the tables as bellows:
Vietnam visa from the Vietnam Embassy
If you want to have Vietnam visa stamped into your passport before your departure to Vietnam, there is always an option of applying for it via Vietnam Embassy in Czech or your residing area.
This is a traditional approach and since the visa fees and requirements is not the same for all type of visa, it is better to contact the Embassy beforehand.
The most noticeable benefit of this method is that you can save time at the airport plus entering Vietnam by air, sea or land border as wish.
How to get visa from the Vietnam Embassy
The embassy will provide a range of consular services, therefore, please contact the office directly for information about your request before applying.
Vietnamese Embassy in Prague, Czech Republic
• Address: Plzenská 214/2578,150 00, Praha 5, Czech Republic
• Telephone: (+420) 257 211 540 / (+420) 257 211 791
• Fax (+420) 257 211 792
• Email: dsqvietnamcz@yahoo.com
• Website: vnembassy-praha.mofa.gov.vn
• Office hours: Monday to Friday
- Morning: 08h30 - 12h00
- Afternoon: 14h00 - 17h00
Documents Required
To apply for a visa at the Embassy of Vietnam in Prague, Czech Republic, the following documents are required:
• Valid passport for at least 06 months prior to your planned entry date
• Vietnam visa application form
• 02 recently taken passport sized photos (4*6cm)
• Visa application fees
• 1 new envelope with stamp on it and your exact home address in order to avoid losing issues.
• Sponsor letter in case you apply for business purpose
Vietnam E-visa for Czech citizens
An electronic visa (E-visa) is one of visa types issued to foreigners by Vietnamese Immigration Department via electronic system. As a Czech passport holder, you are eligible to get an E-visa for travelling to Vietnam.
Getting an E-visa is simple as all the process is performed online via Vietnam Immigration Department official website. However, Vietnam E-visa is valid for maximum of 30 days with single entry.
How to Get Vietnam E-visa
You need to go to the official Vietnam E-visa website and follow the steps described as bellows:
Step 1: Upload your passport date page and photo on the official E-visa website, then fill in the form with your personal details.
Step 2: Pay E-Visa fee with a valid credit card and receive your invoice confirmation.
Step 3: After 3-4 business day, return the "E-visa search" tab and enter your verification code, birth of date and email to download your e visa confirmation.
Documents Required
• Scanned copy of passport
• Scanned copy of a recent passport size photograph (no glass wear)
• Valid Credit/Debit card for payment
• Email address to track off your visa application and download E-visa confirmation
Cost and processing time of E-visa
It takes around 15 minutes to provide details (if you have prepare all requirement) and pay for E-visa fees which is 25$ (payment mode may charge you 1$ more).
The time taken for Vietnam E-visa document issuance (a PDF file, which you need to get printed) is 3-4 business days, but can take up to 6 days as well. So make sure you apply for E-visa, at least two weeks prior your travel.
Quick notes:
• Once the process is complete, keep your registration code safe as it will required for getting your visa from the same portal where you applied it.
• There will be no email for confirmation so do not wait for it.
• Remember to take a print of E-visa (a one page pdf file) from the portal and keep this with you throughout your stay in Vietnam.
Common types of Vietnam visa for Czech Republic citizen
Tourist visa (DL)
For any Czech citizen who want to spend their vacation in Vietnam, tourist visa (categorized as DL) is one of the most popular type which is valid for from 1 to 3 months.
Business visa (DN)
A business visa (categorized under DN) allows its holder to enter and stay in Vietnam purposes of conducting business activities such as meetings, signing business contracts, trading, etc.
Work visa (LD)
Work Visa is a type of visa when a Czech citizen coming to Vietnam for the purpose of working with a Vietnamese registered company. A working visa is issued for maximum 24 months to Czech nationality.
TT/VR visa
TT and VR are types of visa which are issued to Czech passport holders for the purpose of visiting their spouses, children, parents who are
- Vietnamese or,
- Foreigners holding work visa, resident card holders or LV1, LV2, DT, NN1, NN2, DH, PV1, Visas
TT visa is granted for a maximum of 3 months validity whereas in case of VR, the maximum staying duration is 6 months.
Investor visa (DT)
DT visa is issued to foreign investors or foreign lawyers practicing in Vietnam. The validity of DT visa varies from 1 year to 5 years depending on the capital investment.
Five-year visa exemption
This is a type of long term visa which is issued by the Vietnamese government to Czech Republic citizens who are spouse or children of Vietnamese people (living in Vietnam or residing abroad). Those having 5-year Vietnam visa exemption certificate is allowed to stay in Vietnam for 180 days at maximum for each visit.
Short term visa
A short term visa is granted for Czech passport holders who have the intention of staying in Vietnam 1 or 3 months for touristic or business purpose.
Long term visa
If a Czech citizen wish to spend more than 3 months in Vietnam, that person needs to opt for a long term visa option.
Single entry
A single entry visa allows Czech passport holders to enter Vietnam just once during with within the visa's validity.
Multiple entry
A multiple entry visa allows Czech passport holders to enter Vietnam several times while the visa is valid.
How to get Vietnam visa urgent and emergency for Czech Republic citizens?
In some situations when Czech citizens who wish to obtain a visa on arrival in limited amount of time can avail for urgent services from Vietnamvisavoa.com. In urgent cases, approval letter is issued in 1-2 business days or couple of hours if requested as emergency case.
Four simple steps to get a rush Vietnam visa
Step 1: Fill up the visa application online or send your passport copy to our email at support@vietnamvisavoa.com
Step 2: Pay the visa service fee online. By Paypal or credit/debit card.
Step 3: A visa approval letter will be sent to your email within the requested time.
Step 4: Provide printed version of approval letter, 2 passport size photographs (4x6 cm) and stamping fees to get visa stamped upon arrival.
How can Czech Republic nationality extend their stay in Vietnam?
Visa renewal and visa extension
Once a Czech citizen is already in Vietnam, he/she can choose between visa extension or visa renewal depending on personal travel needs. For visa extension, he/she will get an extension stamp on the passport indicating new stay period. While with visa renewal, he/she will get a new page sticker on the passport as a new visa.
How to apply
For convenience and time-saving, Czech passport holders are advised to apply for visa renewal or visa extension via Vietnamvisavoa. With the decent assistance from the staff, the process will be easier than ever.
Step 1: Submit request and details for extension/renewal with a copy of passport and visa at support@vietnamvisavoa.com
Step 2: Wait for confirmation on feasibility of the request along with relevant service fee and processing time.
Step 3: Pay the fees and provide your passport to Vietnamvisavoa office via post or in person. After 7 working days, collect your passport with extended or new visa.
How much does extension and renewal cost for Czech citizen?
Extension fee: The fee depends on your current visa status and your required extended duration.
Renewal fee: The fee for renewal is always higher than the extension fee because you are required to pay all inclusive for a new visa stamped on your passport.
Vientam visa run
There is one common solution for longer stay for Czech citizens called "visa run". It is used by a lot of expats in Vietnam to extend their stay as Vietnam visa extension or renewal is quite costly. Visa run means you have to leave Vietnam, get to a third country and then re-enter Vietnam with a new visa. The requirement is listed as below
• A valid passport with at least 04 blank pages
• An original approval letter for getting Vietnamese visa stamped on re- entry
• Two passport size photographs
• Visa fees for relevant Vietnamese visa
Visa run through land border/ the airport–steps to do
Step 1: Arrange approval letter from Vietnamvisavoa.com before leaving Vietnam
Step 2: Arrange for transportation to another country by land border or airport
Step 3: Perform exit formalities (at land boarder or at airport)
Step 4: Apply for the third countries visa on arrival (if needed)
Step 5: Perform exit formalities at the country and reach at Vietnam immigration
Step 6: Submit the approval letter, Vietnam visa application form, photographs, fee to get a Vietnamese visa stamped again and enter Vietnam
Visa run cost
• Visa fee: It is sum of visa on arrival fees of the third country, Vietnamese agency fees and visa stamping fees which is 25$ for single entry and 50$ for multiple entry.
• Transportation cost: Depends of the country and mode of transportation selected for visa run
Frequently answered questions about Vietnam visa for Czech citizens
Q1: Is 1-year business visa available for Czech passport holders?
Unfortunately, at the moment, Czech passport holders are not accessible to 1-year business visa yet. The maximum validity one can apply for is 3 months.
Q2: How can I make payment for visa on arrival service?
• A: Vietnamvisavoa has offered several method for our clients to make payment online. You can consider paying by Paypal, credit/debit card up to your choice
Q3: Is it better to choose visa extension or visa run?
• A: Both of this method are designed to extend your stay in Vietnam. In case you can manage to leave Vietnam for another country such you should do visa run. If you are too busy with your schedule or unable to travel back and forth you can choose to stay in Vietnam while doing visa extension. Compare to Vietnam visa run, it saves your time and money in travelling, nevertheless, extension fee is usually much higher.