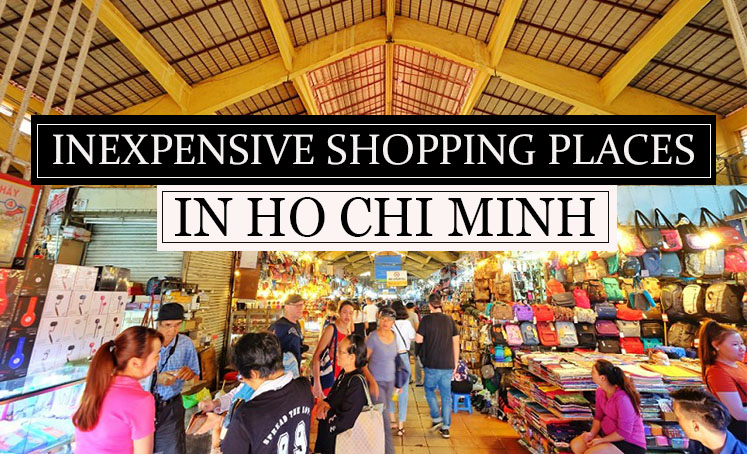 Inexpensive shopping places in Ho Chi Minh City 
Ho Chi Minh, not only a tourist hub in Vietnam but also a famous destination for shopping lovers
Ho Chi Minh, a dynamic city in the South of Vietnam with its impressive economic growth, its booming developments of huge shopping malls all around the city with well known international brands. If you are not seeking for International brands, Ho Chi Minh City still has many things to offer you at low price. In this article, we will recommend you cheap shopping in ho chi minh City, that are popular among locals and tourists.



Sai Gon Square
There are 3 Sai Gon Squares in Ho Chi Minh City which sell the same products however the most recommended one is Sai Gon Square 3 as it is cooler and larger.
Opening hours

: 09:30 – 21:00 daily

Address: 181 Hai Bà Trưng, phường 6, Quận 3, Hồ Chí Minh
Source: Facebook
What should you buy in Sai Gon Square?
Clothes, souvenirs, phones and good hang out spots!
You can find a diversity of products in Sai Gon Square from houseware to trendy clothes or modern technology stuff. This place is not only a favourite shopping spot for Vietnamese but also for international tourists. This Sai Gon Square 3 offers offer slightly better price than Sai Gon Square 1 which is in District 1.
To some extent, Sai Gon Square is somewhat like a regular local Vietnamese market, the stalls in the mall are well organized and quality of goods here is actually much better. By the way, do not forget to your happy smile to make a good bargaining while shopping in these places.
The ultimate tip is to try offering the merchants 2/3 of the initial price and then gradually raise it up. The more stuff you buy, the better price they will offer.
In case you do not have much time for shopping in further places, it is recommended you to try out Ben Thanh night market.
Ben Thanh Night Market
Opening hours: 18:00 –24:00 daily
Address: Le Loi, Ben Thanh, Quan 1, Ho Chi Minh
Source: Shutterstock.com

What can you get here?
Clothes, footwear, hats, jewelry…
Every day, after 5 p.m when the sun is about to sleep, multi-colored lights flick on and this area becomes as colorful and busy as ever. A night market is set up alongside the main hall with many clothing, apparel, souvenir shops and food stalls until midnight.
Ben Thanh night market offers an authentic glimpse into real, living night markets where you can pick up some bargains including lacquer ware, bamboo goods, and arts and crafts. There are clothes; textiles, luggage, watches and an assortment of electronic goods are on sales.
Almost goods here are offered at reasonable price but do try your bargain skill. The seller will be happy to offer you some discounts. However, do note that some items are non-negotiable In such case, if you find the products values the money, just go for it or else do browse around and go back if you find the price is reasonable.
Once you like to take a rest, just head to the eateries around the market building and enjoy some local food: fresh seafood, beer, noodle, hotpot……….
Sai Gon Flea Market
Opening hours: Sunday from 11 AM – 8 PM
Address: 1st floor, Boomerang Restaurant, 107 Ton Dat Tien, Tan Phu Ward, District 7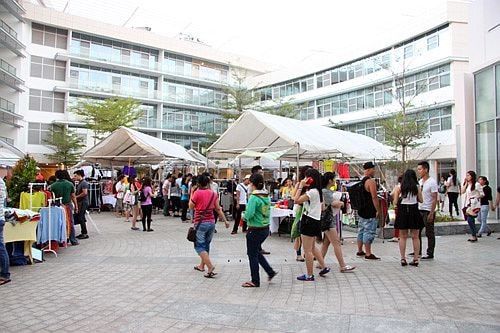 source: Zing.vn
What is the main items?
Handicraft, hot-trend clothes
Known as the market of artists, Saigon Flea is a popular convergent point where a wide range of contemporary artists and designers showcase their handicraft and tailor-made works truly inspired by love of creation. Located in the quiet and tranquil Phu My Hung Town, Flea market takes you away from crazy traffic in the City.
Lied on the first floor of Boomerang restaurant, this market sells all the unique products such as: vintage clothing, jewelry and home décor with reasonable price but limited in quantity. So if you come on time, be quick to get the most favorite one.
Hello weekend market
Opening hours: weekend, 10:00 – 21:00
Address: location is frequently change, so follow fanpage on Facebook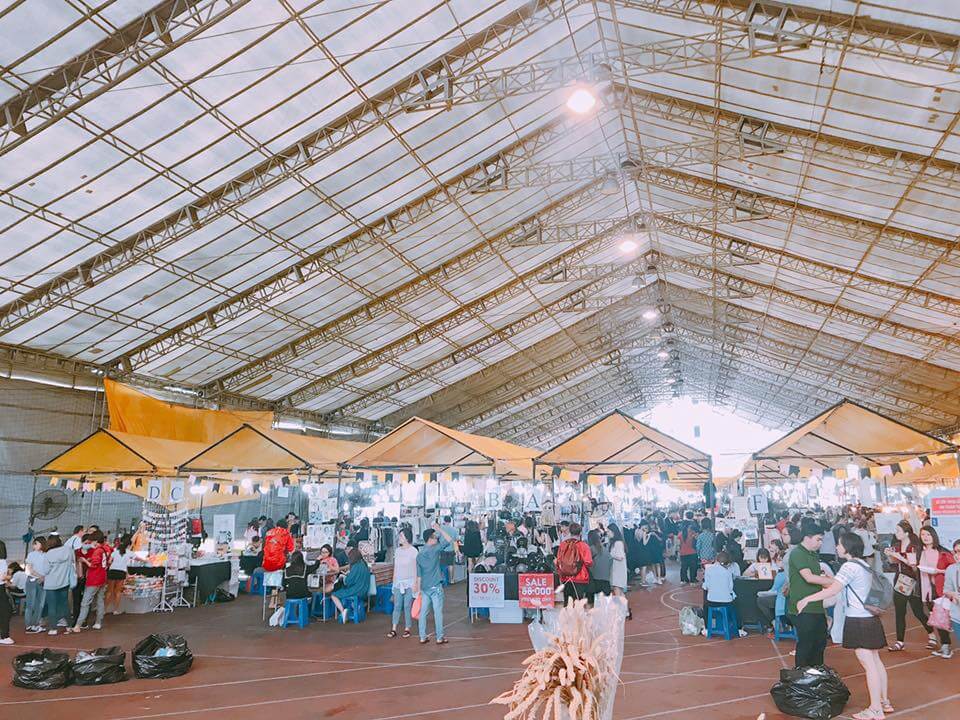 Source: Instagram
What is standout there?
New and second-hand clothing, accessories, to home décor,...
This special market is just held twice a month on the weekend. A hectic shopping place with tremendous space shows various types of items ranging from clothing, accessories, to home décor… You are more likely to find yourself an assortment of unique and fashionable items from some online vendors who are in a bid to lure more consumers to their newly launched products.
Hello weekend is the type of mobile market, so the location is frequently changed, that's why at any sites it approaches, wide range of items are always available to meet the needs of customers, mainly foreigners and local youngers. Also, its background are created with beautiful photo shoots in order to give you a great moment through nice pictures.
An Dong Market.
Opening hours: 8:00-14:00 Daily
Address: An Duong Vuong Street, District 10 , Ho Chi Minh city
Source: Thanh Nien Daily
What you can buy?
Divided into four floors with different extensive collection of items, An Dong Market displays a variety of fashion wholesales and handicraft stalls.
The ground floor firstly welcome you with some kind of street food venders such as: desserts, snacks, ice-cream, fruits, grill foods and some special cuisine: turmeric noodles, spring rolls, pho,… which cater all day with ridiculously cheap price under 1 $, so you can freely stroll around market and shop without worrying about your stomach. The two next floors provide the exclusive selection of clothing, shoes, handbag, accessories, textiles and top floor is quality handicrafts and trinkets made by skilled local.
Shopping in there is much cheaper than renowned shops and stores in the city center, the best tips for you to save budget when you come here is bargain, you should negotiate with seller in order to have the cheapest price.
Shopping streets
When you visit Vietnam, you will be amazed how Vietnamese can do business in every corner of the streets. Doing business on the streets seems to be a custom of Vietnamese people and it is become an essential thing in Vietnamese people's life. There are many fashion street vendors that are available from late afternoon to midnight so that you can choose and buy goods conveniently. Popular roads include Nguyen Trai (District 5), Cach Mang Thang Tam (District 10), Quang Trung (Go Vap District), Nguyen Anh Thu (District 12), and Thu Duc university campus, which are the best places where you can find the suitable items with many types and sizes.
There are different types of goods: clothing, shoes, handbags, and accessories for you to choose from at good price.
Le Van Sy Street
Source: Itourvietnam
There is a fascinating assortment of clothing, dresses, footwear and bedding at a surprising low price. Many street vendors provide sales up to 50%-70% for various items.
Nguyen Trai Street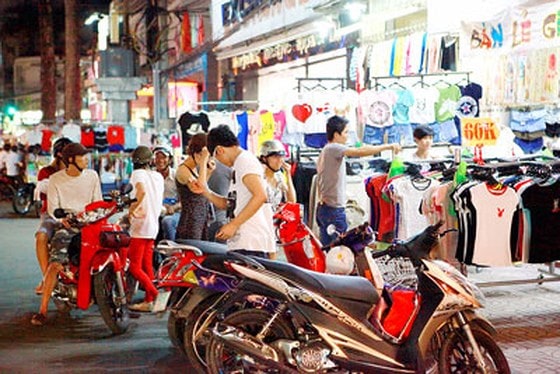 Source: Maze Vietnam
Nguyen Trai Street – one of the most bustling streets in Ho Chi Minh City, where there are street vendors who carry heavy stock of dresses, bags, backpacks and shoes. These vendors love to have chat with foreigners in English.
Nguyen Dinh Chieu Street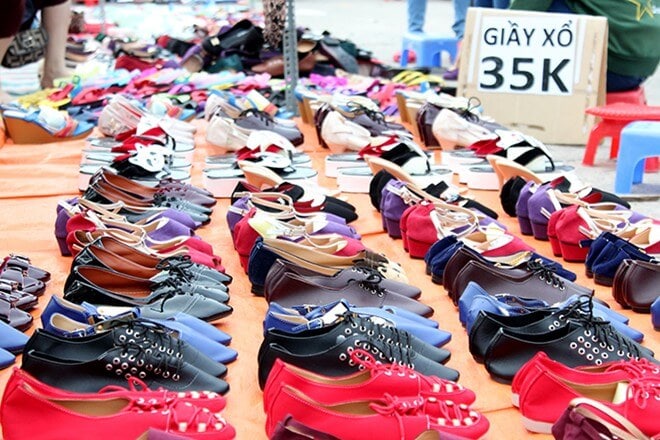 Source: itourVietnam
Vietnamese shoes is famous among international market, then do not miss visiting Nguyen Dinh Chieu Street for some pairs of shoes. This street is known as paradise of footwear.
Hopefully, after reading this article, you have some insight into shopping in Saigon.
Just follow the recommendation and we ensure that you will carry back so many good quality Vietnamese products at good price to your country and you will have a wonderful shopping experience in Ho Chi Minh.
The eyewear street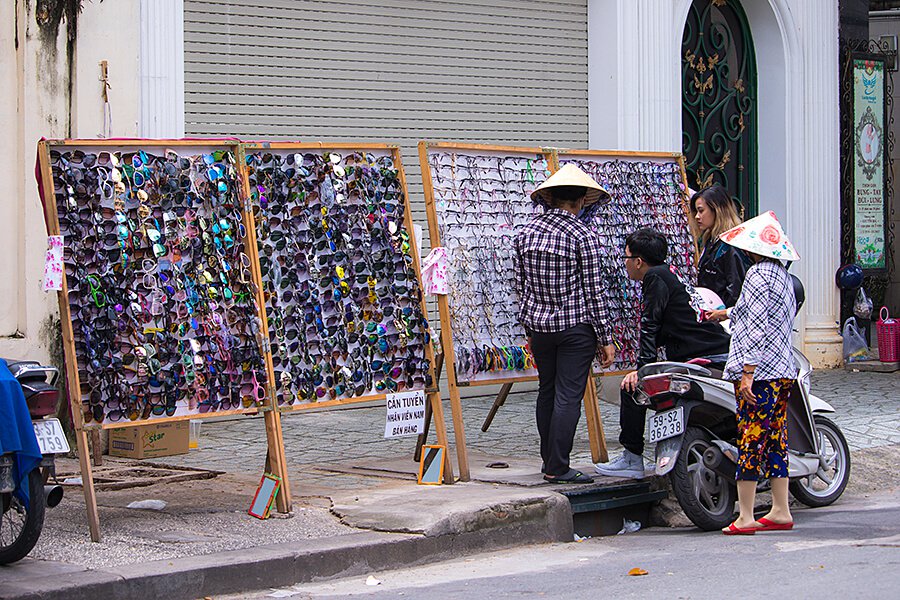 Source: Facebook
Clients those who want to find a hippest glass and sunglass, this eyewear street is the most common choice with several different colors, sizes, shapes and styles for all ages but the price just roundly 3$. However, you should wear this kind of glass with the aim of showing off your style or just like an accessories to mix with your clothes.
Tips and Tricks
Be good at bargain: If you want to have cheaper price, let's show your friendliness, don't forget to smile or even make jokes when negotiating with sellers, perhaps if they feel funny, they will discount for you.
Be a decisive buyer: In case you do bargain but can't not get the price that you want, let's walk away immediately and find the the same product in others stall to have a cheaper price.
"Cash is King"- this saying is certainly true when you shop in most of local markets here. No credit card or online payment is accepted to pay your stuffs, therefore bringing cash in Vietnamese Dong is always wise choice.
Have local friends: In case you have local friends who can speak English, don't hesitate to ask them go with you because most of seller can't not speak English well, so better if you have someone to help you communicate with sellers.
Take care your belongings: These kind of markets usually attract a large volume of people to get there, so some pickpocket will take advantage of messy crowd to steal, however, it is very rare. Anyway, it's better to be careful, right?
If you have not applied for your Vietnam visa for your trip in Vietnam, do not forget to submit your Vietnam visa request at: https://vietnamvisavoa.com/en/apply-online.

In case you want to be accompanied by an experience tour guide to discover Ho Chi Minh city or simply to do shopping in this dynamic city or if you have any other requests, do contact us:
Website: vietnamvisavoa.com
Phone: +84 969 255 515( Wechat/ Whatsapp/Viber)
Email: support@vietnamvisavoa.com

We would be pleased to assist you!