Best Indian restaurant and Halal food in Hanoi
For those who are fans of Indian and Halal food. Through this article, you will be led to that best of restaurants in Hanoi on your traveling. 

Hanoi has welcomed an influx of tourists from all part of the worlds, of which many of those are from India or Muslim countries. So, in order to feed the demand of diversifying food for growing tourist, it also offers a bucket list of food and dishes from across the globe. As for many Indian or Muslim travelers who are looking for their authentic Indian foods, there are so many options to go with. Here we recommend you top list of Indian restaurants with Halal foods in Hanoi that will make you stay here longer.
Little India.

Located right in the Old Quarter at 32 Hang Tre Street, Hoan Kiem District, the Little India is known as one of the best favorite restaurant for Muslims in Hanoi with a diversity and authentic foods prepared by skilled Indian chefs. Additionally, this spot promises halal certified beef, chicken and lamb with non-alcoholic beverages.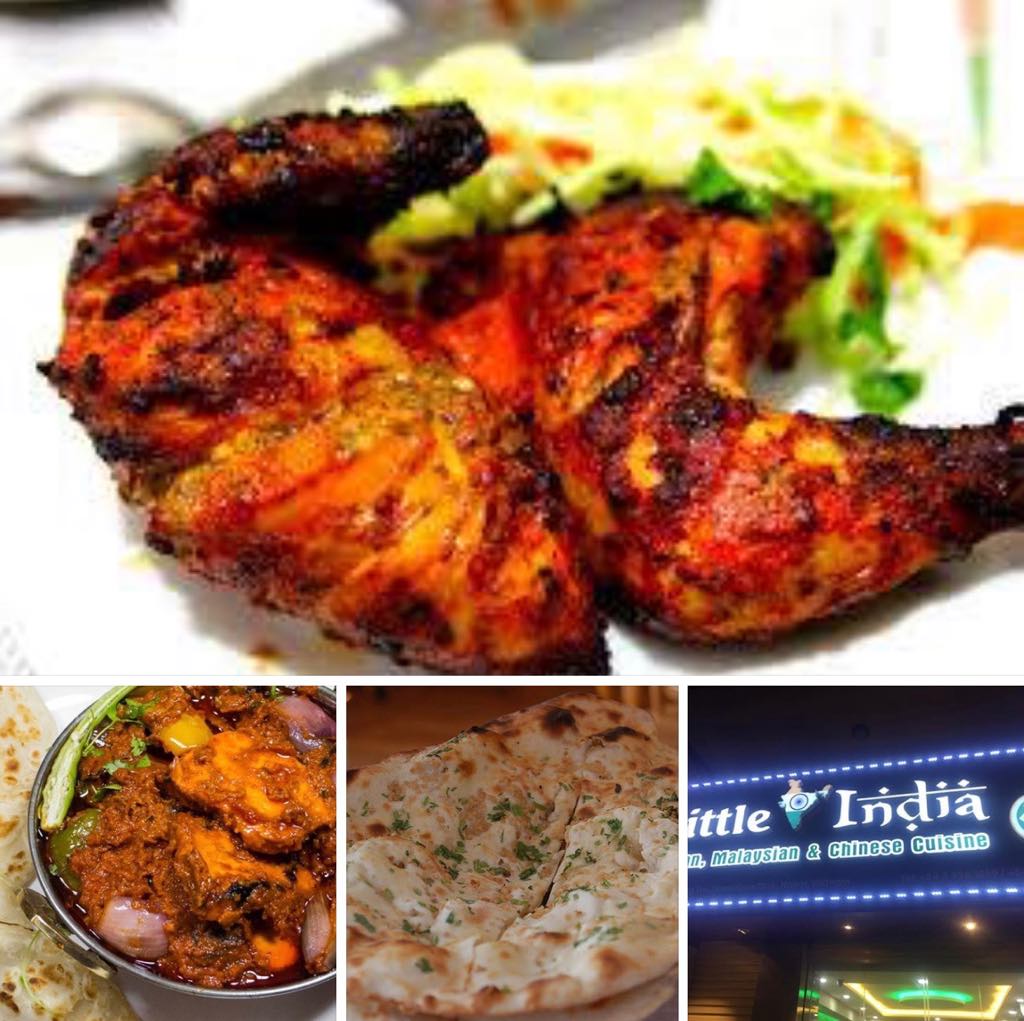 Halal food (Little Indian restaurant) – Facebook
Specifically, when it comes to Halal food, what is the first dish that comes into your mind?
For me, it is a bowl of hot fried-rice from Little Indian which make me eager to Halal food. From "basmati" rice- one kind of food do well for health and have low blood sugar index, basmati fired-rice becomes a great dish with sweet-smelling and rich in nutrition when mixed into nuts and raisins.
Basmati fried-rice (Little Indian restaurant) - Facebook
Namaste Hanoi
Impressed by the name Namaste means Hello in Hindi language, this Namaste Hanoi offers you a wide selection of Indian cuisine and Halal meats to choose which surely satisfy every fastidious dinners. Walking up to second floor, you will immediately impressed by the spacious space, elegant décor based on the rich cultural aspect of India and smiley welcoming of restaurant's staff. All dishes are exclusively served on cooper plates to better your taste and health.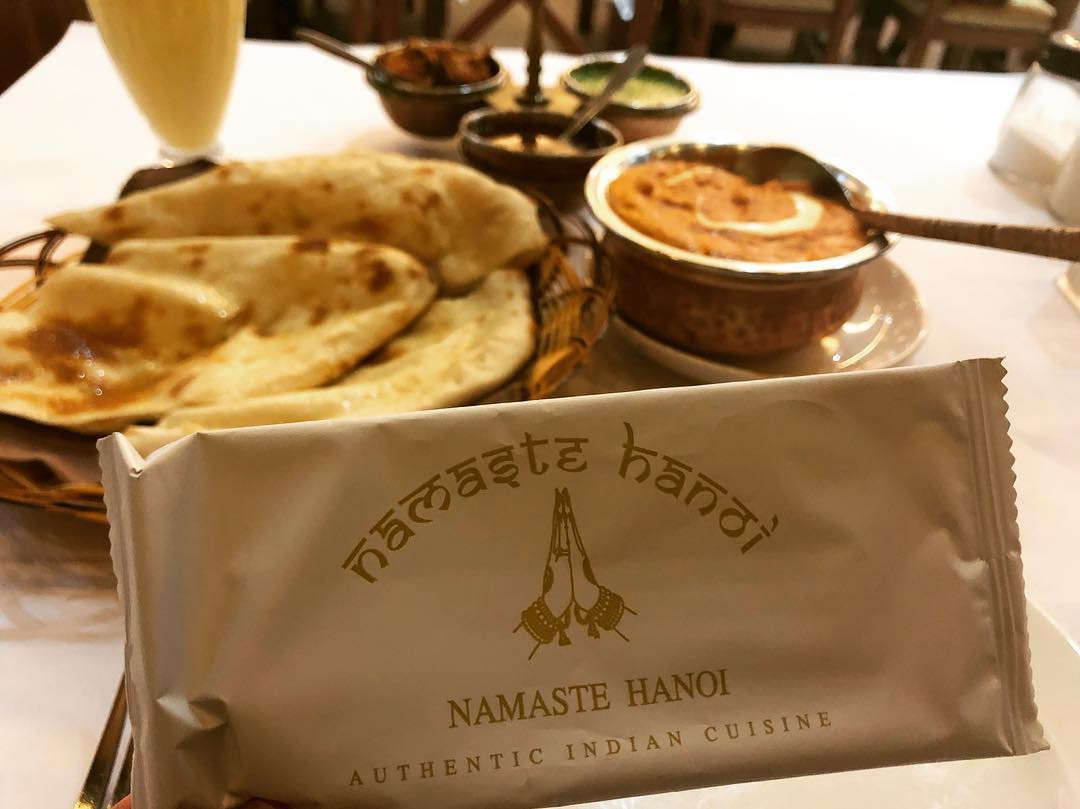 Namaste Hanoi - Instagram
Like other Indian restaurants and Halal food, Namaste has richly-varied menu to please and bring you the nutritious meals, even it simple or not, that meal still meet the demand of having essential substances from vegetables and meat which is ultimate happiness for vegetarians.
You will have opportunity to enjoy the excellent combination of curry shrimp and yogurt or curry chicken with tomato or cream sauces which is totally exquisite creating the juicy taste.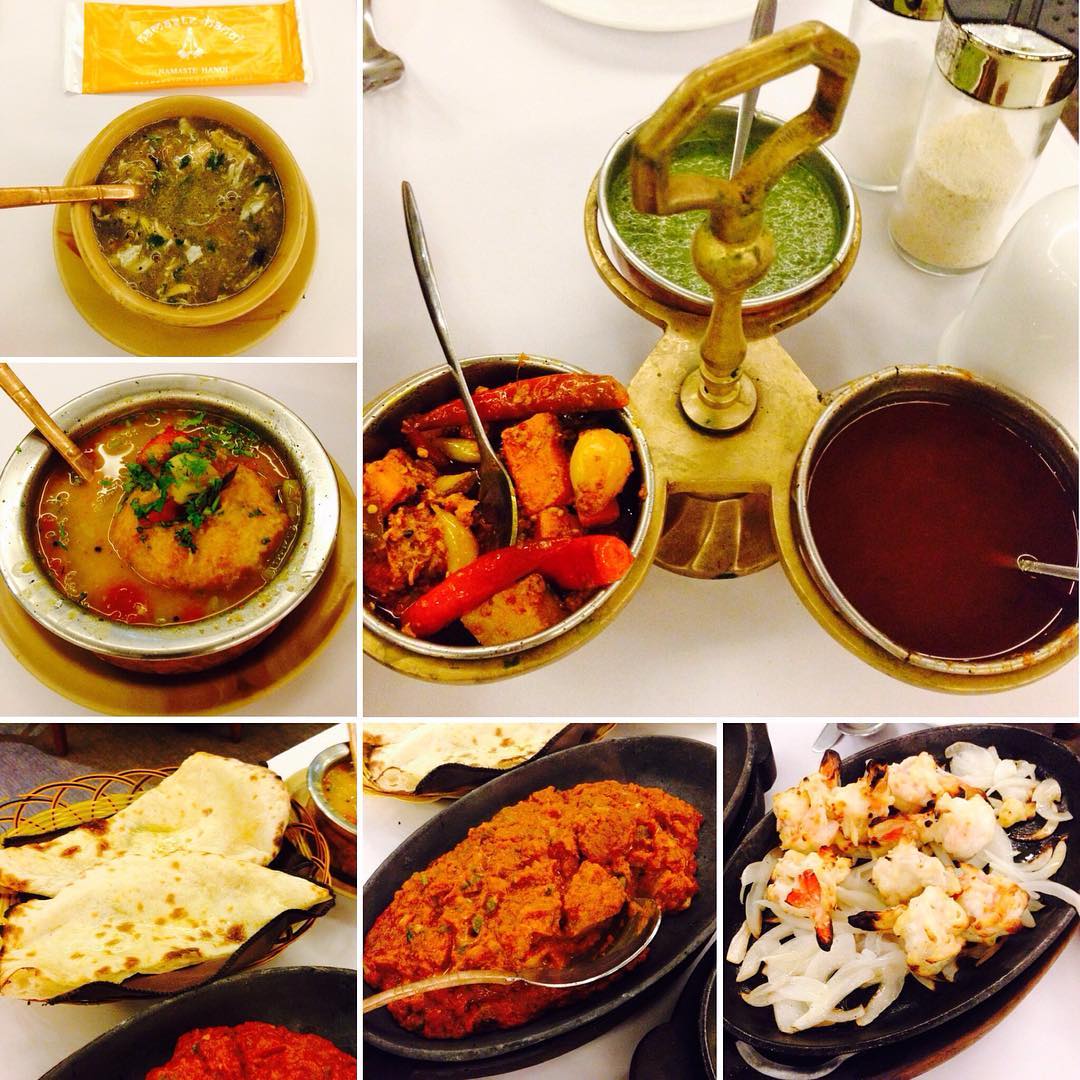 Namaste Hanoi - Instagram
Though this restaurant is a bit pricey, it is definitely worth every penny you spend there.
Khazaana Indian Restaurant
Established since 1992, Khazaana Indian Halal Restaurant is proud to be the oldest Indian restaurant in Hanoi and the winner of the Best Indian Restaurant Award by Vietnam Economic Time and the Certificate of Excellence by Tripadvisor for the year of 2013 and 2015. Right after stepping into the restaurant, you will be brought out of the vortex of lifestyle, got into a fancy dining room and lured with the melodious music.
While traveling to Hanoi, don't forget to come over there, it's will be your best experience when you have a chance to taste over 180 dishes covering a wide rooted range of South Indian, Desi Indian and Mughlai that are cooked by 5 chefs from Indian. It is a true treasure trove for you to take time and try every attractive plate of spicy curry which is heaping with authentic ingredients directly imported from India so you know what you pay for is what you get!
Any diners have got to know Khazaana, they was obviously obsessed with the signature and palatable dishes in there: soft and sweet-smelling tikka masala, tandoori chicken with affordable prices and highest quality that make the strong impression on food lover when every bite is a best tasty experience ever.
Chicken tikka masala (Khazaana Restaurant) – Khazaana.vn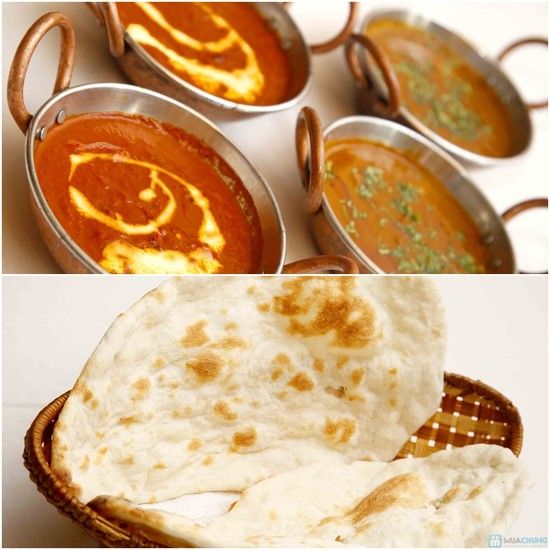 Nan bread (Khazaana restaurant) - Khazaana.vn
Contact: (+84) 39345657/ 39343513
Address: 34 Duong Thanh Street, HoanKiem District
Also, Keema Nan or Tawa fish is something you should not miss while you are there
Tandoor
Located on a buzzing street in the Old Quarter, Tandoor is also one of the best Indian restaurants in Hanoi which is widely known and highly praised by tourists, expats and even Vietnamese people. It can rest assured that you will feel worth to go there if you are Indian food lover. It has no exaggeration to say that the flavor in there awaken all senses and will drive you to the ninth clouds.
Tandoor food- Internet
Standout dishes: Chicken korma and Parathas are awesome, flaky and memorable when put together with vegetable soups which chopped garden fresh vegetables seasoned with delicate mix of Indian spices and herbs that cannot be mix with other restaurants.
Additionally, don't miss to taste the amazing masala curries that are made with at least 19 unique spices and herbs as well as other specialties such as a nan flat breads and Pakistani kebabs that are made with a traditional tandoor oven.
Furthermore, Tandoor will please your sense with its delightful and exclusive décor, it offers dining experiences for difference occasions from casual gathering like anniversaries , birthday party to formal gathering with flexible house dining and event points.
Come here with your loved ones and fill your stomach. What could be better than that?
Contact: (+84) 438245359
Email: tandoor@hn.vnn.vn
Address: 24 Hang Be Street, HoanKiem
PK Spice Restaurant
With the special diets including Halal, Vegetarian Friendly, Vegan Options, Gluten Free Options, PK Spice Restaurant brings connoisseurs great senses of savory and healthy dishes in Pakistani cooking style also at affordable price.
You will fall in love with the chic space when you step into that place along with the friendliness of owners and staffs that make you feel free and get out of depression to entering comfort zone.
PK Spice Restaurant brings eaters a WOW experience to try the giant garlic Nan that you cannot find in any restaurants in Hanoi. "Phenomenal" seems to small word in comparison what delightful food experience you have at PK Spice.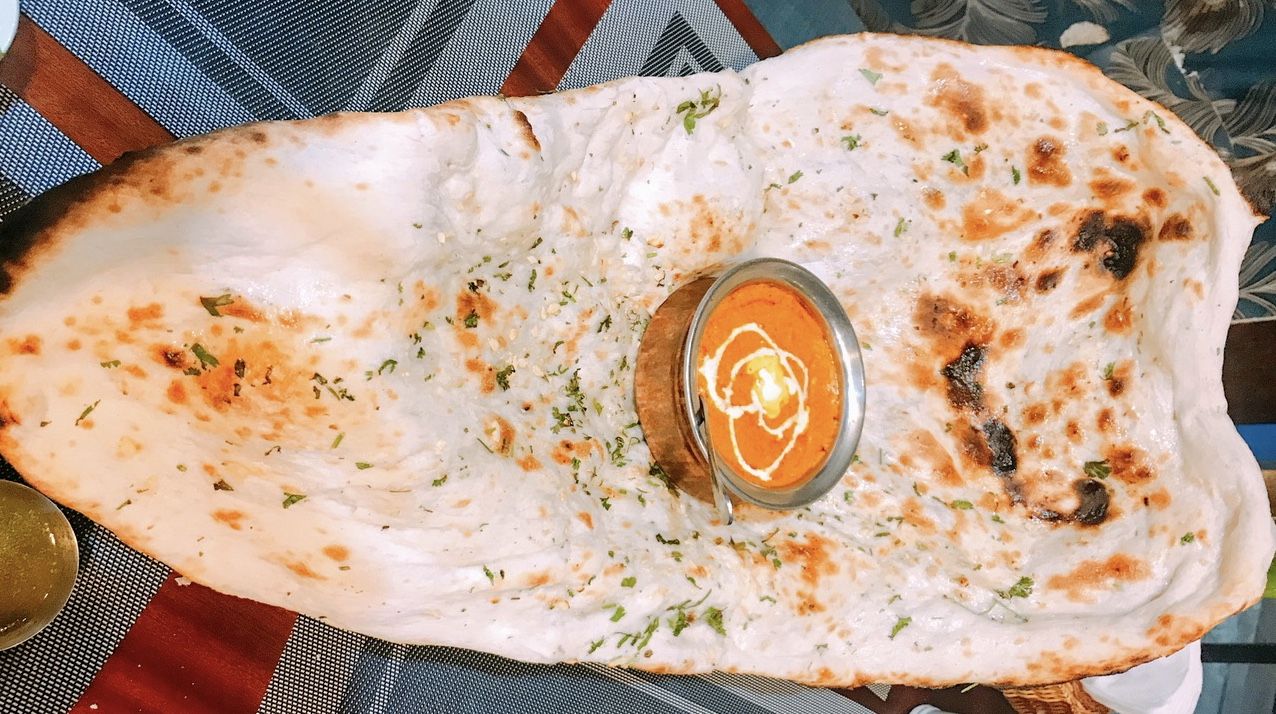 Butter-chicken-garlic Nan- Facebook
This restaurant offers delivery food to your place, so you have the dishes you love so much whenever you want.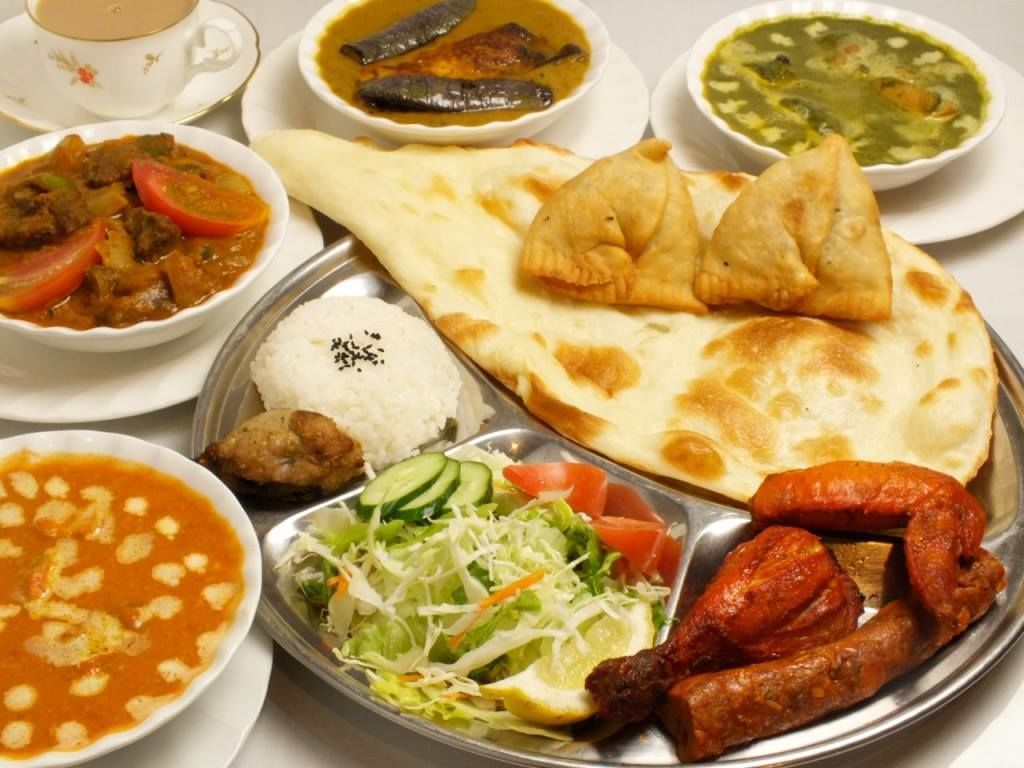 Contact: +84-120-380-7871
Website: PK-spice.com
Address: 10 Hang Manh, Hang Gai, HoanKiem, Hanoi
Finding Halal and Indian dishes in Hanoi will not be much of a challenge any more. Now you have this list.