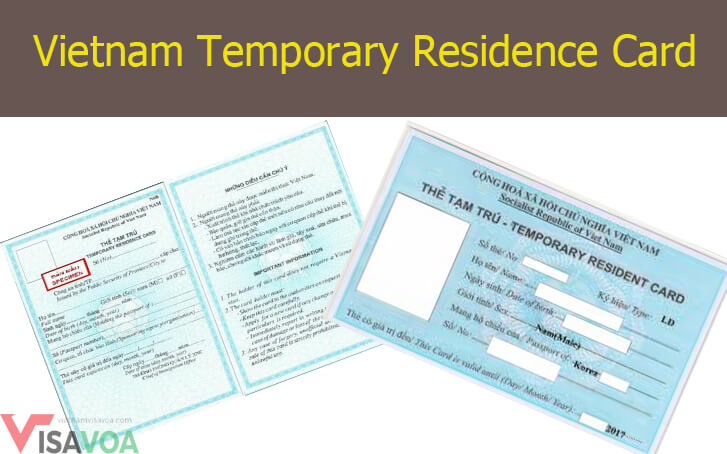 How to get a Temporary Resident Card in Vietnam
Temporary Vietnam Resident Card is most recommended document to those who would like to settle their life in Vietnam for a few years.
Apart from Vietnam visa, Vietnamese temporary resident card (TRC) is a required paper for foreigners who want to extend their visa in Vietnam. With this paper, they can stay in Vietnam for a certain time. To get this type of resident card, foreigners have to submit some documents to the Vietnam Department of Justice and wait for a few working days. Therefore, foreigners should prepare them as soon as possible to get the resident card soon. If you are wondering the procedure on getting Vietnamese resident card, please read this article carefully to make sure you understand the requirements and procedure.
There are 2 cases of Vietnam Temporary Resident Card application. The first one is for people who get the work permit or applied for employees, and the other one is for anyone who doesn't have a work permit or applied for the company's owners, dependents



Case 1: With a work permit, applied for employees



Requirements for resident card:

Before applying for Vietnamese resident card, you have to make sure that your passport valid for more than one year and have time to stay in Vietnam more than one year. With people who have a work permit, they need to prepare some documents as below to apply for the resident card:
A written request of agencies, organisations and individuals offering, guarantee and propose for the temporary residence card

One declaration of information of foreigners who apply for temporary residence, with photos and sealed by the agency or organisation: A written request for a temporary residence card; a declaration about foreigners applying for a temporary resident card

2 3 x4 cm photos;

Passport, valid visa, immigration cards;

Notice of use of the seal of the enterprise

One copies or photo proof of the purpose to stay in Vietnam.

Apart from this mentioned documents, you have to include your work permit to prove that you are allowed to work in Vietnam.



Procedure to get the resident card:

To get the resident card for whoever got a work permit, you have to wait for five working days until your application is approved. You also have to pay the fee depending on your duration in Vietnam as well as your nationality.
Please notice that the resident card is valid for a period of 1 to 3 years, so you have to renew it before it expires. Moreover, the duration of the resident card is one month shorter than the duration of the passport and everyone with a passport valid for less than one year will get no resident card.



Case 2: Without a work permit, applied for the company's owners, dependents



Requirements for the resident card

If you don't have a work permit, you still have to have time to stay in Vietnam more than 01 year and a valid passport more than 01 year because they are conditions to get the resident card. Besides, you have to prepare same documents with Case 1 but depending on your purpose, please add your investment license, permits the establishment of enterprises, certificate of board members, permits the establishment of representative offices, marriage/birth registration. These documents are very important for the resident card application. Therefore, you need to keep them carefully and submit them as soon as possible to assure your business runs smoothly.



Procedure to get the resident card:

After gathering all necessary papers, you have to present them to the Immigration Management Department, Police provinces and cities directly under the Government. The time for processing documents is from 05 to 07 days, and the fee is still the same as Case 1.

If you lost your resident card, you have to notify the issuing agency and do the same procedure to get a new one. However, your time of waiting for the process will increase to 14 working days

Vietnamese resident card is a compulsory document for foreigners who wish to stay in Vietnam and extend their visa. There are more and more foreigners come to Vietnam to look for a job or work for many companies, therefore, getting Vietnamese resident card is really important for the Government to manage and control the number of foreigners in Vietnam. If you intend to come to Vietnam and enjoy the life here, let's research the procedure on making resident card deeply to make sure your time here is convenient and comfortable.

However, we understand that not all foreigners have time to stand in a queue to submit their application or are familiar with Vietnamese procedure. So, if you need help to complete your application and get the resident card successfully, let's contact us:

Website: vietnamvisavoa.com
Phone: +84 969 255 515(Wechat/ Whatsapp/Viber)
Email: support@vietnamvisavoa.com
We are very honoured to support you to begin a new great life in our country - Vietnam.