VIETNAMESE EGG COFFEE – A PERFECT CONCOCTION
Most people would love eggs served by being stirred on to the soup or baked with veggies or lentils. But, how about mixing eggs into your coffee? Egg…coffee?

Egg mixed into coffee? It may sound weird and definitely hard to imagine. But how strange, it just works and comes with the taste of pleasure! Follow me to explore the mysterious flavor of this secret concoction.
MYSTERIOUS COMBINATION
What happens when you need an excellent coffee, but fresh milk is out of the stock? So, it is right time to come up with "peculiar idea". That is exactly how Vietnamese egg coffee was introduced for the first time by a man whose name was Mr. Nguyen Van Giang in 1946. Due to the shortage of fresh milk at that time, he rescued coffee by using whisked egg yolks instead while he was working as bartender at the Sofitel Legend Metropole Hotel. Surprisingly, most hotel guesses were hooked by its amazing flavor. Then, he left his job and opened up his own egg coffee shop called Giang Cafe, regarded as the original egg coffee shop erving the best egg coffee ever since.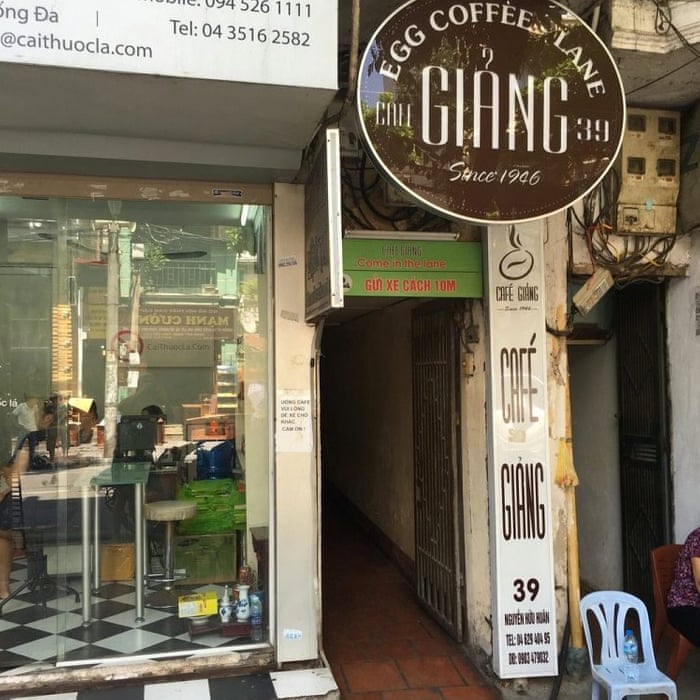 Source: Internet - Giang Cafe
Located a narrow alley at 39 Nguyen Huu Huan, Hanoi, Giang Cafe retains the rudimentary features of the Vietnamese ancient house. You can come here to immerse yourself in cultural space with a cup of fragrant egg coffee. Such a great experience to get closer to yourself!
HOW DOES IT TASTE?
When it comes to egg mixed with coffee, the mental image coming in your mind could be unpleasant. But, wait? You can be "knocked out" at the first sip. Egg coffee is made by beating an egg yolk with sweeten condensed milk until it creates thick and creamy texture before being perched on top of the dense signature coffee. This perfect equilibrium is extremely attractive yellowish brown color that I couldn't help waiting anymore to try it. I scooped up a bit of it and took a mouthful, its flavor blew me away immediately. It is incredibly velvety, soft like a tiramisu, are you drooling yet?
TWO WAYS TO SAVOUR
Since its initial introduction, Vietnamese egg coffee has been a massive burst in popularity, thus, original recipe has been altered to create various forms. Now, you have two choices to savor its delicious flavor: hot or cold versions. Both of them seem to be quite different experience of paralleled enchantment.
Source: Internet - Giang Cafe
The hot one served with a cup sitting in a small dish of hot water to maintain its temperatures. It has a thick, foamy egg-based head and the yellowish head of creamy goodness is incredibly perfect.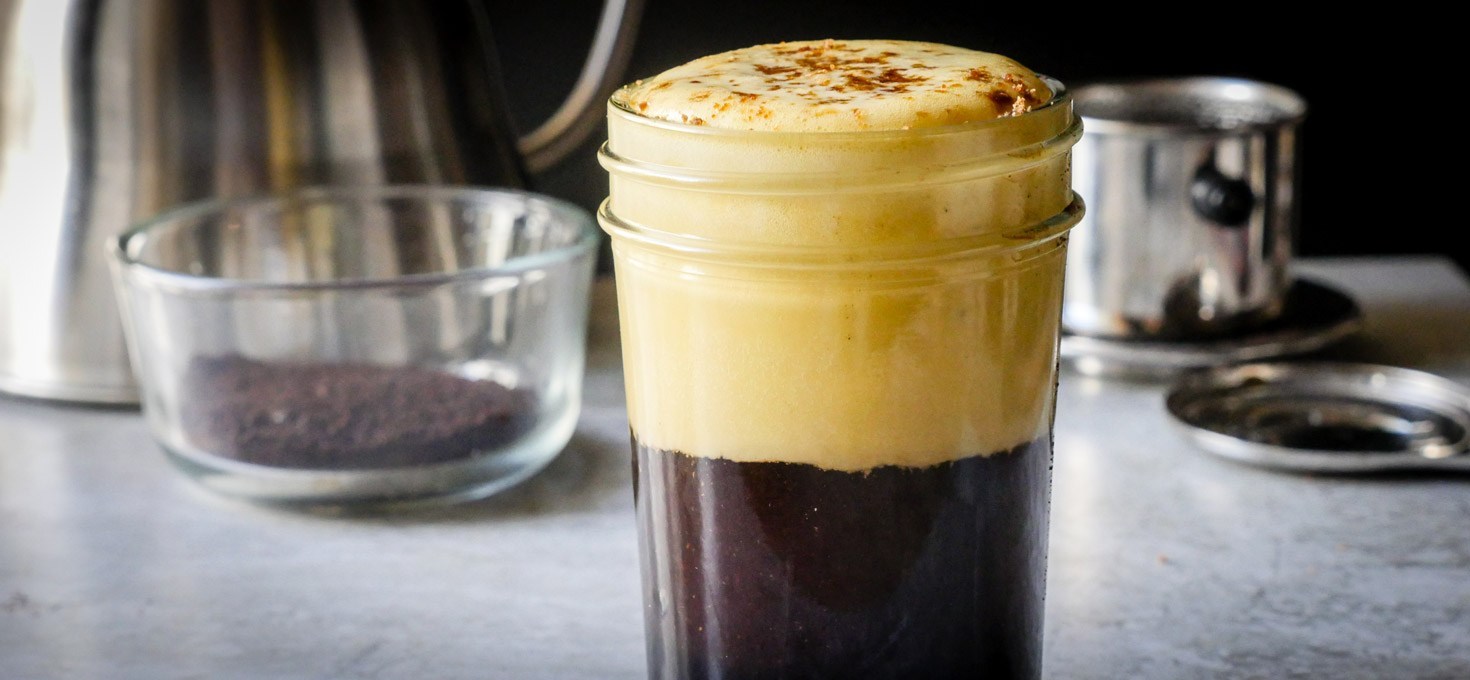 Source: Internet
The cold version comes in a cup loaded with ice and tastes more like a "runny tiramisu".
MORE THAN JUST A DRINK

Source: Internet - Lam Cafe
Walking down a street in Vietnam, an image people sitting and sipping with a cup of egg coffee on tiny plastic chairs on the sidewalk or grand coffee shop while gossiping with their friends, has become familiar. Not only does egg coffee become a memorable impression of Hanoi, but it also remains as an adhesive element of Vietnam coffee culture. So, not saying much that egg coffee is really a "THING" that you definitely have to try!
Besides, eggs are an incredible source of nutrition bringing some benefits to your health. The egg yolks used in the coffee, rich in vitamins and minerals such as: Vitamins A, E and K. They have benificial effect on your cardiovascular and metabolic health, memory functions as well. That is absolutely fabulous that you can enjoy delicious beverage and good health simultaneously.
WHAT'S DIFFEENCE BETWEEN EGG COFFEE IN HANOI AND SAIGON
Although the original egg coffee was introduced in Hanoi, however, egg coffee culture has been as national beauty of Vietnamese society so there are more and more coffee brands will have a go at whipping up their own version, especially in Saigon – Vietnam's biggest city.
Vietnamese egg coffee has developed as distinctive style with its own way of making, its additional variations and its own taste, while retaining the classical flavor. Generally, no matter where it is, Hanoi or Saigon, its specific characteristics bringing distinct feelings for customers. Concerning Hanoi. A cup of egg coffee can be seen easily in anywhere – on the sidewalk, along the lakes, in the balcony of some lovely buildings. Hanoi people prefer coffee to be strong, flavorful and condensed.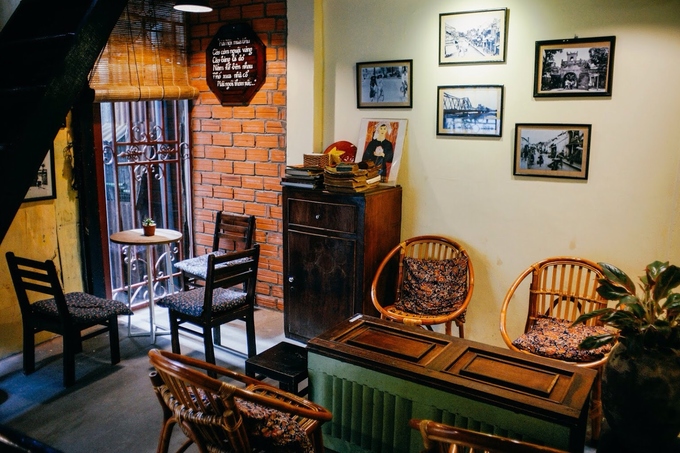 Source: Internet (a tiny Conner of Goc Hanoi Cafe - Saigon)
In Saigon, somehow bringing a little different due to regional habits. Its taste is much sweeter than in the north. Cafe in Saigon seem to be spacious, elegant and romantic than Hanoi due to influencing Western-style.
PLACE TO TASTE THE BEST EGG COFFEE
Enjoying a cup of egg coffee with appetizing side dishes like: Sunflower seeds or a piece of biscuit in the morning - absolutely perfect match.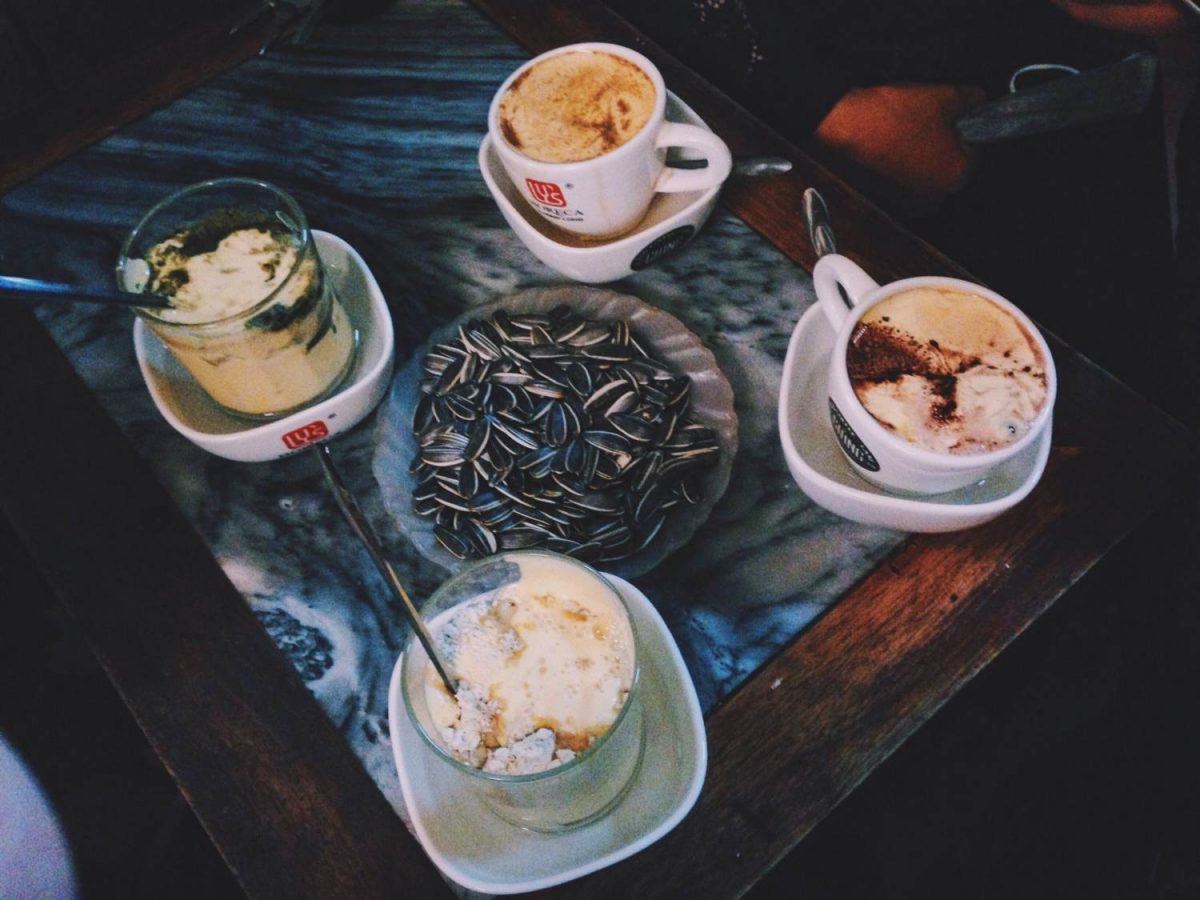 Source: Internet
Hanoi
Giang Café
Address: 30 Nguyen Huu Huan Street, Hoan Kiem District, Hanoi
Average price: 15.000 – 30.000 VND
Space: quite style like ancient house bringing you feel cozy like "home"
Dinh Café
Address: The second floor, 13 Dinh Tien Hoang, Hang Bac Street, Hoan Kiem District, Hanoi
Average price: 30.000 – 70.000 VND
Space: so crowded, position on the balcony is really perfect vibes
Pho Co Café
Address: 11 Gai Street, Hoan Kiem Lake, Hanoi
Average price: 20.000 – 55.000 VND
Space: ancient beauty with a spectacular view over old houses here
Ho Chi Minh
The Luu Gia Café
Address: 8 Hoa Cuc, Phu Nhuan District
Average price: 30.000 VND
Space: small store, a classic street-style design with small wooden furniture making customers reminisce about the old days
Hoa Dat Cafe
Address: 235A Huyen Tan Phat, Tan Thuan Dong Ward, District 7
Average price: 35.000 VND
Space: resembling a beautiful Vietnamese old house with all futurite in dark brown tone, you can listen the calming tunes of Vietnam folk songs
Goc Ha Noi Café
Address: 165/3 Bui Vien, Pham Ngu Lao Ward, District 1
Average price: 40.000 VND
Space: quite place closing all the noise behind
MAKE YOUR OWN RECIPE
The below instruction gives for those are far from Vietnam, still want to taste a cup of egg coffee at your own house in your own way: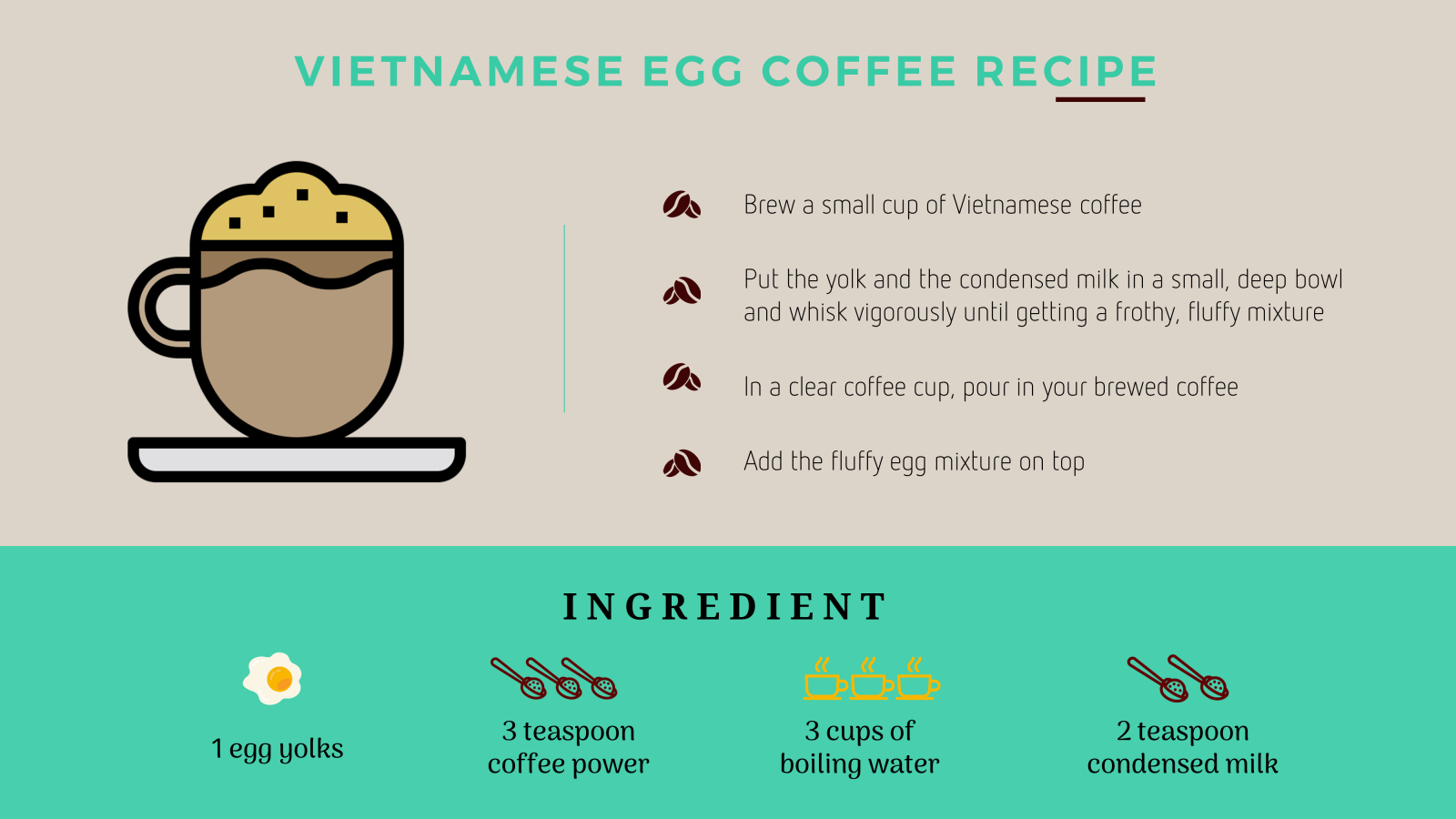 Basic recipe for a cup of classical egg coffee
Hoping oneday you will have a chance to sip the authentic egg coffee in any coner of street of Vietnam. I do believe that will be great experience, especially for adventurous coffee lovers.
Please feel free to contact with us to discover more and more best specialty foods in Vietnam:
Phone: +84969255515 (Whatapp/Viber/Zalo)
Email: support@vietnamvisavoa.com
We would love to show you real Vietnamese life!