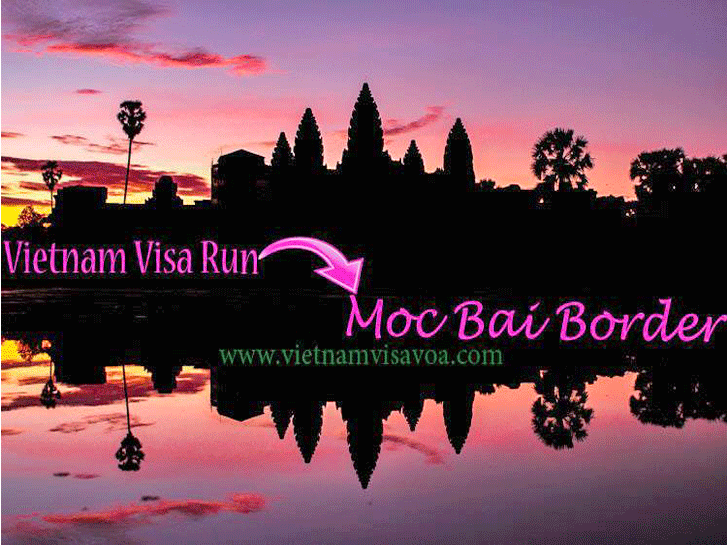 Vietnam visa run at Moc Bai border
Vietnam visa run at Moc Bai border is most recommended option for extending your stay in Vietnam
For those expats who want to live in Vietnam for quite some time, it is a real test of patience and finance if they stick to visa renewals. Visa renewal allows applicants to renew their visa without leaving the country. However, the process of visa renewals is unsurprisingly complicated and costly. Good news is expats can now choose visa run to, such as Cambodia, to get their new visa stamp.
Why Cambodia and how this process is done will be provided right below.
Why to choose Vietnam visa run to Cambodia?
Vietnam visa run is an alternative to visa renewals for those who want to continue staying in Vietnam. It requires applicants to leave the country and re-enter it. The great thing is you can stay in the neighbor's country for a few days and do a bit of traveling meanwhile.
So why should you choose Vietnam visa run to Cambodia?
First, the distance between Cambodia and Vietnam makes it an appealing deal for the visa run. Especially for expats living in the South of Vietnam, going to Cambodia only takes several hours with buses up and running daily. Flying to Cambodia is also a possible and less hassle choice if you don't live in Saigon or the surrounding area.
Secondly, the chance to get to know Cambodia's culture and history is so tempting, making the visa run more enjoyable. The beaches there are stunning and Angkor Wat is enormously beautiful. Though the cost of food and accommodation needs to be arranged beforehand, visa run to Cambodia is an inexpensive option compared to visa renewals.
Procedure of Vietnam visa run to Cambodia
There are two ways in getting visa run. You either get visa on arrival at Moc Bai Border (since it's the closest border to Saigon) or get it at the Immigration checkpoint at the airport.
Getting Vietnam visa run at Moc Bai Border
Things to prepare before leaving: Your passport, Stamping fee, Passport photos (at least 2), Original Letter of Approval for Vietnam visa (which you can get from some visa agency), and Form NA1 with completed information (Download it here).
Stamping fee for Vietnam visa on arrival at Moc Bai checkpoint:
Taking the bus to Moc Bai: There are many bus options available from Saigon to Moc Bai Border. The cheapest one is the public bus which goes from Park 23/9 to Moc Bai Border. Other bus operators including Sapaco, Kumho, depart from Pham Ngu Lao street.
At Moc Bai Border, leaving Vietnam: After leaving the bus, you should get the Exit stamp on your passport at the Vietnam check-in counter and exit Vietnam. After exiting Vietnam, go to Cambodia check-in counter at Bavet border and get an Entrance stamp on your passport. In case you don't need Cambodia visa, you can enter Cambodia directly through the check-in counter.
You can obtain Cambodia visa on arrival when you are landing in the Cambodia Airport. This type of visa doesn't require you to register online in advance. The visa fee costs around $35. You can also apply for Cambodia E-visa beforehand and wait for at least 3 working days get it.
At Moc Bai Border, re-entering Vietnam: You can choose to leave Cambodia right away or stay there a few days. When exiting Cambodia, you need to get an Exit stamp on your passport at the check-out counter. Check the prepared documents carefully and present them together with the entry visa form at the border check-in counter on Vietnam side, pay stamping fee and get a renewed Vietnam visa on your passport without hassle.
Getting visa run at the airport
Getting visa on arrival at the airport is quite simple. All you need to do is to submit printed Approval Letter with 2 passport-sized photos and pay the stamping fee at the Immigration office at the airport.
How to get to Cambodia from Vietnam
By air
Visa run by air to Cambodia is an option for expats who live in the North and middle part of Vietnam. The most common air route is from Hanoi and Da Nang to Phnom Penh and Siem Riep.
Hanoi

Da Nang

Fly to

Phnom Penh: 3.5 hours

Siem Riep: 1.5 hours

Phnom Penh: 4.25 hours

Siem Riep: 1.25 hours

Average Cost

$200

$200

Availability

5 direct flights to Siem Riep per week

1 direct flights to Phnom Penh

3 direct flights to Siem Riep

Airlines

Vietnam Airlines, Cambodia Angkor Air
Apply for Vietnam visa on arrival in Cambodia to get Vietnam visa stamped at Vietnam airports
By Bus
Buses are plentiful and convenient in Ho Chi Minh, making it easier for expats living in the South of Vietnam to get visa run in Cambodia.
The cheapest option so far is taking the public bus to Moc Bai border at Park 23/9. The bus runs every 30 minutes and costs only $2 for 6 hours ride. Other more convenient options are taking high-quality buses in Pham Ngu Lao area. Just go to any travel agencies on Pham Ngu Lao Street and get your ticket there. The price is roughly $12 for 6 hours.
Some notices for visa runners
Being the easy option to renew Vietnam visa doesn't mean your carelessness is allowed during the visa run process. There are important notices to keep in mind before getting your visa run at Moc Bai Border.
Unlike getting visa on arrival at the airport, where you only need to present a copy of Letter of Approval, visa run at Moc Bai Border or any borders requires you to present the original Letter of Approval. Which means you have to receive the letter from Immigration Office of Vietnam and bring it along to Cambodia.

Besides stamping fee for a renewed visa, you should be aware of some "coffee money" for immigration officials at Moc Bai Border. This helps the process of getting visa run smoothly.

Passport holders from Pakistan, Bangladesh, Sri Lanka, and countries in Africa are not eligible for Cambodia E-visa and visa on arrival. Therefore, you need to apply for Cambodia visa in advance in Cambodia Embassy in Vietnam. As detailed as below is the Cambodia Embassy/ Consulate address in Ha Noi and Ho Chi Minh City.
Cambodia Embassy in Hanoi

Cambodian Consulate General in Ho Chi Minh City, Vietnam

71A,Tran Hung Dao Street
Hanoi
Vietnam

Tel:
(+84) 24 942 4789
(+84) 24 942 4788

Email:camemb.vnm@mfa.gov.kh

No. 41, Phung Khac Khoan
Ho Chi Minh City
Vietnam

Tel:

(+84) 28 829 2751

Email: camcg.hcm@mfa.gov.kh
Would you love to try out Vietnam visa run at Moc Bai border? If you still have any questions on this topic, connect our dedicated support team from Vietnamvisavoa.com at:
+ + Hotline: +84969255515
+ + Email: Support@vietnamvisavoa.com