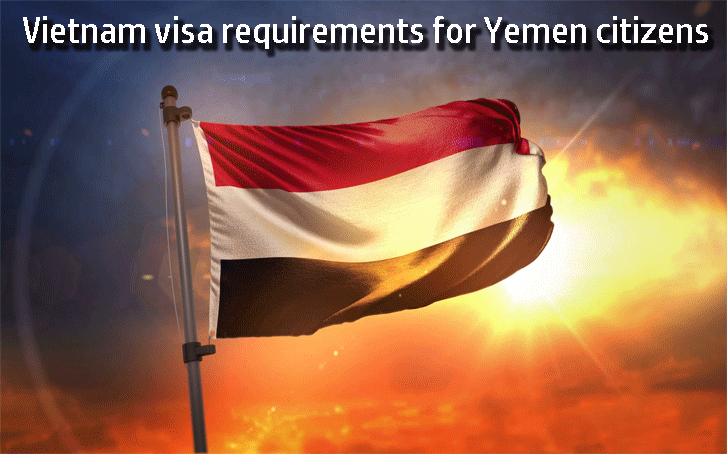 Vietnam visa requirement for Yemen citizens
All Yemen passport holders need a visa to visit Vietnam so you should research the country's visa policy carefully. Each nation has specific one, and if you do not follow the rules, your visa application will be denied. Read Vietnam visa requirements for Yemen citizens in order to get Vietnam visa smoothly.
What documents required?
To obtain Vietnam visa, citizens of Yemen do not need many documents and here is the list of them:
A valid passport – your passport must be maintain its validity for at least 6 months since the date you arrive in Vietnam

02 recently taken passport-sized photos

Hotel and ticket booking

Vietnam visa application form

Invitation letter from Vietnam
Sometimes, the officials may ask for other papers as well. Though this depends on a case-by-case basis, Yemen passport holders had better contact them in advance to save time and cost.
In case Yemen citizens want to submit the Vietnam visa on arrival, they just need to provide their passport copy and visit Vietnam by air.
How much does Vietnam visa cost for Yemeni national?
Getting Vietnam visa at the airport, Yemeni citizen is advised to pay two compulsory fees: service fee and stamping fee. Service fee is paid online in advance to Vientamvisavoa.com to process and acquire a visa approval letter, which is subject to change because of Vietnam visa policy. While stamping fee is paid directly in cash to the Immigration Officer at the Vietnam airport.
Read more about how to get Vietnam visa on arrival, click here.
For more details about Vietnam visa for Yemen nationals, don't hesitate to reach us at:
Website: https://vietnamvisavoa.com
Tel: +84 969 255 515
Email: support@vietnamvisavoa.com