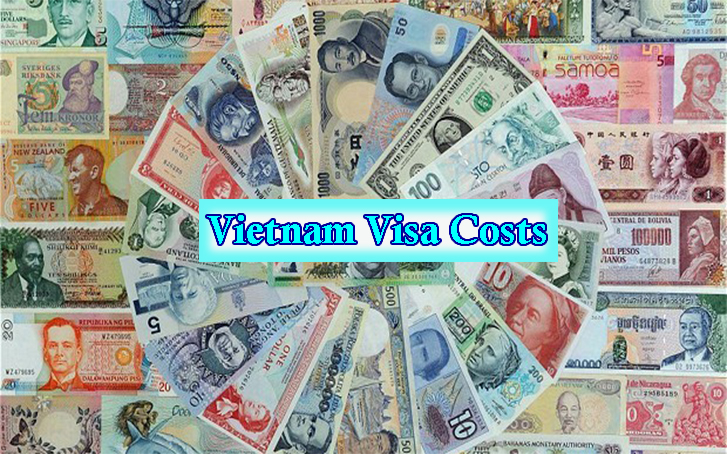 Vietnam visa costs
When it comes to Vietnam visa on arrival, applicants must pay 2 kinds of Vietnam visa fees: Service fee and stamping fee.
Vietnam visa service fee
What is service fee?

Vietnam visa service fee is the fee you pay to Vietnamvisavoa.com for assisting you to process your Vietnam visa application at Immigration Department of Vietnam. In particular, service fee is associated with re-checking your information in your Vietnam visa application, submitting your application on behalf of you to Vietnam Immigration Department, following up your visa case, sending your Vietnam visa approval letter via your email.
The fee shall vary depending on your type of visa, nationality, visa duration and processing time.

To refer the visa service fee, kindly assess this page. But bear in mind that this is the fee for normal nationality. If you are from special countries such as Pakistan, Cameroon, Turkey, etc. directly contact us via hotline + 84 969 255 515 or email support@vietnamvisavoa.com to get the best offers.

Notice
The service fee will be lower for application in groups. Means that if you travel in group of 2 persons upward, each applicant pays less service fee rather than travelling individually. And Vietnam visa costs may vary depend upon your nationality also.

The payment for Vietnam visa service fee must be made in full by available payment methods of travel agencies. Common payment methods are: Credit Card, Paypal, Bank Transfer, Western Union, and Cash.

Depending on each travel agency, the service fee would be somewhat difference. To our experience, professional service providers would charge higher price, in return, clients are well taken care of.

The refund for Vietnam visa service fee shall be given to applicants if their Vietnam visa applications get rejected by Immigration Department of Vietnam.



Vietnam visa stamping fee


What is stamping fee?

Stamping fee is the charge you have to pay directly to the Immigration Counter at Vietnam airport in order to get Vietnam visa sticker on your passport. It is mandatory and fixed amount to pay to Vietnam Government.

The rates for this fee are regulated and controlled by the Immigration Office. In the following is the latest update of visa stamping fee per person (as of 2019)
| Visa type | Stamping Fee |
| --- | --- |
| 1 month single entry | 25 US |
| 1 month multiple entry | 50 US |
| 3 month single entry | 25 US |
| 3 months multiple entry | 50 US |
| 6 months multiple entry | 95 US |
| 1 year multiple entry | 135 US |



Notice
Visa stamping fee must be paid in cash (USD)

Online/Card payment is not accepted to pay for stamping fee

The rates of stamping fee are applied to all foreigners

It is highly advised that all travelers should prepare exact amount as required for Vietnam stamping fee on arrival

If any further information about Vietnam visa cost is needed, our Customer-Care Consultants will respond within 2 hours during working time and 24 hours outside working time (GMT+7), pleased to contact us via:
Website:Vietnamvisavoa.com
Hotline: +84969255515 (Wechat/Viber/Whatsapp)
Email: support@vietnamvisavoa.com