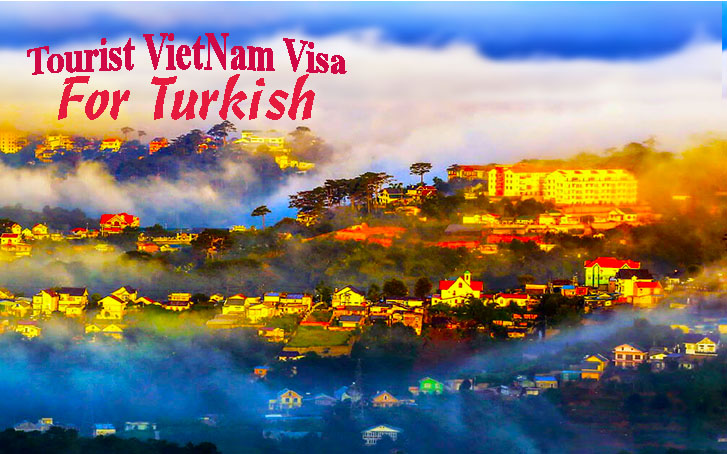 Tourist Vietnam visa for Turkish passport holder
So many Turkish citizens currently want to travel to Vietnam-one of ideal tourist destinations in the world. At the moment, they can choose one of two following ways to get Vietnam tourist visa and have a chance to visit Vietnam.
Those Turkish people who have a plan to come to Vietnam with tourism-related purpose but they are wondering how to obtain tourist Vietnam visa. In the following post, we will provide Turkish travelers with details about how to apply tourist Vietnam visa as well as fee involved in Vietnam visa.
The first way is to apply Vietnam visa on arrival on Turkish passport
This is the most secured and fastest way for Turkish passport holders to get tourist Vietnam visa.
Step 1: Submit Vietnam visa on arrival request
First, you fill in the online form here or send an email to us via support@vietnamvisavoa.com with copy of your passport and your entry/exit date to Vietnam.
Step 2: Pay Vietnam visa service online
Our company will send you an email about making payment for Vietnam visa service so that Vietnam visa approval letter is issued. As of April 2019, the service fee for Vietnam tourist single entry visa for Turkish passport holder is 110$/ person.
Step 3: Collect Vietnam visa approval letter via email.
Our company will send you a Vietnam visa approval letter issued by Immigration Department of Vietnam via your email within 07 working days. It is noted that you should double check all details to make sure that there are no errors in your letter. And do not forget to print it out and take it on your flight.
Step 4: Receive Vietnam visa upon arrival
After arriving Vietnam international airport, you will go to visa upon arrival area and submit documents includes: Original passport, Vietnam visa approval letter, Vietnamese visa application form attached with passport photo and pay for stamping fee in cash ($25 US/ single-entry visa, $50 US/ multiple-entry visa). And you will receive a sticker on your passport back.
Note:
Your passport must have at least 6-month validity.

Normally, the processing time to get Vietnam visa takes at least 07 working days. However, in emergency, you can choose the urgent service to obtain Vietnam visa approval letter within 03 working days with the extra fee.
The second way is to apply visa at Vietnam Embassy in Turkey

.
You are advised to contact officer by phone for requirements before heading to Vietnam Embassy in Turkey. Below is official contact of Vietnam Embassy in Turkey as below:
Official address of Vietnam embassy in Turkey
Address: 414 Sokak, No:14,Birlik Mahallesi, 06610 Cankaya, Ankara
Phone: +90 (312)446 8049
E-mail: Vnemb.tr@mofa.gov.vn or dsqvnturkey@yahoo.com
Website: https://vietnamembassy-turkey.org/vi/
In case you want to read more details, please read requirement on Vietnam visa for Turkish citizen here