Vietnam E-visa, all you need to know ( Updated 2022- Covid 19)

Although there was a decision to open all Vietnam tourism to international visitors from March 15, 2022. As of March 22, 2022, Vietnam has just reopened the visa-free policy for citizens from 25 countries and Vietnam e-visa for 80 countries. In this article, Vietnamvisavoa shares with you all the information you need to know about applying for Vietnam E-Visa.

Update on Vietnam visa policy Vietnam during Covid 19 period

From March 22, 2020 until further notice, Vietnam temporarily suspends entry for all foreign nationals. Only Vietnamese citizens, foreigners on diplomatic missions, official duties and skilled workers are allowed to enter at this time. Anyone entering Vietnam must undergo a medical check and practise a 21-day quarantine upon arrival.
All foreigners entering Vietnam after March 1, 2020 under visa exemption, e-visa or tourist visa will be granted a free automatic extension of stay until January 15, 2022 . Travelers still in the country should declare their temporary stay to the local police, through their host or hotel, and must complete the online Vietnam health declaration here .
Travelers who entered the country before March 1, 2020 may be considered for an extension, provided they can present a letter from their embassy or consulate stating that they cannot leave the country for objective reasons. (letter must be translated into Vietnamese). Foreigners who have undergone COVID-19 quarantine or treatment in Vietnam are also extended. When leaving Vietnam, they must bring their identification documents to present to the immigration officer.
What is Vietnam electronic visa, Vietnam Evisa?

Since July 2020, Vietnam E-Visa has been launched with the aim of simplifying entry procedures and stimulating Vietnamese tourism.Vietnam E-visa is one of the types of visas issued by the Immigration Department of Vietnam to foreigners entering the country. Vietnam E-visa is valid for 30 days and good for single entry only.
So far Vietnam Government has approved Vietnam E-visa for citizens of 80 countries.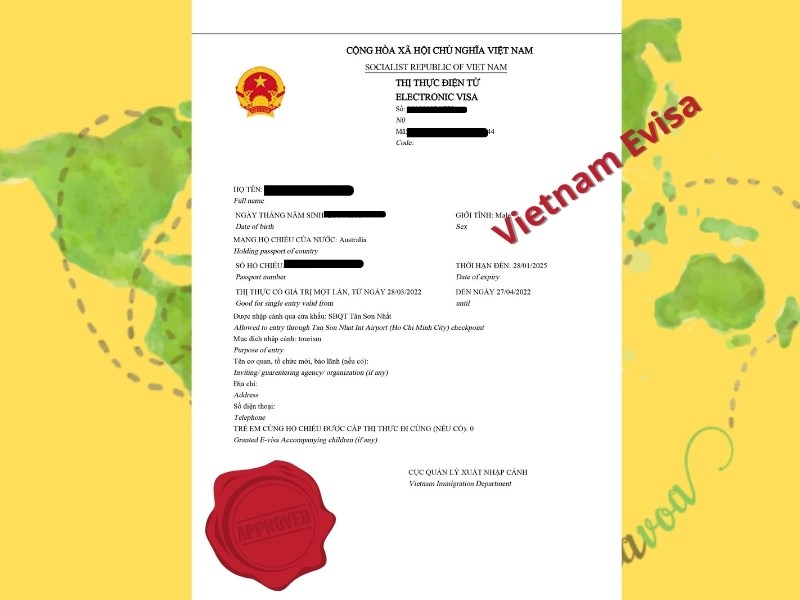 Vietnam E-visa cost

Cost of applying Vietnam E-visa?
$25 US/ person is the official fee of Vietnam E-visa. Visa applicants will pay Online via international payment card or bank transfer to Vietnam Immigration account.

How long does it take to get Vietnam e-visa?

After registering Vietnam E-visa form and successfully paying, it will take 03 working days to receive the result.
Visitors can directly apply for e-Visa Vietnam here: Official website of e-Visa Vietnam.

In case you don't want to waste time filling out the form and want to make sure there are no mistakes, you can completely do Evisa Vietnam through companies specializing in making entry visas to Vietnam.
Contact: Vietnamvisavoa.com
What to prepare before applying for Vietnam Evisa?

Before applying for Vietnam E-visa, make sure that your nationality is one of the approved nationalities as in this list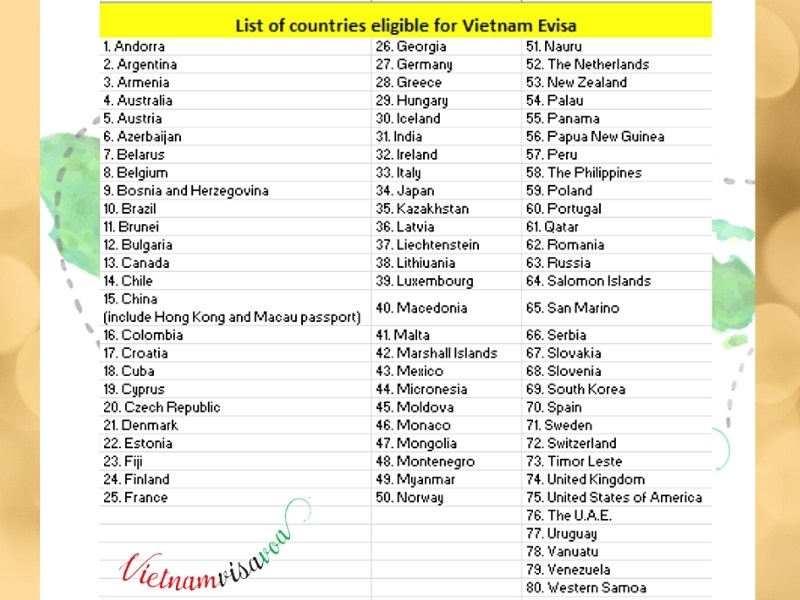 Then, you need to get ready for those details below:
• Passport valid for at least 06 months from the date of entry
• Passport page photo in jpg. format
• Passport photo in .jpg format (4x6, white background, no glasses)
• Valid international credit or debit card
• An active email address
• A temporary address in Vietnam
• Date of entry and exit and border gate of entry/exit to and from Vietnam
Steps to apply for Vietnam E-visa

1. Open the official website of the Vietnam Immigration Department to register your E-visa Vietnam application.
2. Upload a .jpg image of your passport data page and passport photo
3. Fill in all required personal information in the form: Full name, gender, date of birth, nationality... please make sure to check the information carefully to avoid any mistakes.
4. Fill in all the necessary information related to your trip in Vietnam: Estimated date and place of entry, exit, travel destination, hotels/accommodation.
5. Re-confirm the information in the declaration form and make any necessary changes in the form.
6. Pay E-Visa fee through provided payment methods: International payment cards or Vietnam Internet banking.
7. Get your registration code and save the registration number. It's best to take a screenshot and save it on your computer or phone. If you do not remember your registration number, you will not be able to check the status of your Evisa application and will not be able to download the result.
8. Where to download your Vietnam e-Visa?
After applying for an e-Visa online, you will need to wait 03 working days for your visa request to be approved by the Vietnam Immigration Department. After three days, you can extract your Vietnam e-visa result here
Enter your registration code, email and date of birth to access. Download the .pdf file and print your e-Visa in two copies and keep them with you till you leave Vietnam.
Instructions on using E-Visa to enter Vietnam
Electronic visa, Vietnam Evisa is valid for entry at 28 international border gates, including 08 international airports. For a complete list of airports, seaports and border crossings where Vietnam e-Visa is accepted, please click here.

Upon arrival at the Vietnam border gate, the applicant will submit the original passport and E-Visa at the immigration counter for entry stamp.

Note: During your stay in Vietnam, you need to bring your E-visa along with your passport. When exiting Vietnam, you will also need to present a pre-printed E-visa at the exit border.
Frequently asked questions about Vietnam E-Visa

- Can I get an extension for my 30-day Vietnam E-Visa?
As a rule, the E-Visa is valid for 30 days and cannot be extended further.

- Can I enter Vietnam after the entry date in my application?
Your visa is valid for 30 days from the expected date of entry that you fill in the visa application form. You can enter Vietnam any day during the validity of your visa, but you must exit before your Vietnam visa expires.
- Do I need to queue at Visa On Arrival counter in Vietnam?
You don't have to wait in line at the Visa on Arrival counter. You go straight to the immigration counter with pre-printed E-Visa and original passport to stamp Vietnam entry. Welcome to Vietnam!
With fully updated information about Vietnam Evisa above, we hope you have a clear understanding of Vietnam E-visa. If you need help with Evisa Vietnam or want advice on Vietnam visa issues, please contact Vietnamvisavoa!