Where to get Vietnam visa on arrival? Vietnam international airports (updated 2019)
Many foreigners have been wondering where to have a visa stamped inside their passport to enter Vietnam. Here is the ultimate arrivals guide to Vietnam international airports.
Foreigners travelling to Vietnam by land or sea are required to get a full visa at local Embassy or Consulate before going on board. Unlike the traditional way, visa on arrival allows you get a stamping visa directly at international airports in case you travel by AIR.
A question many foreigners regularly consider is how many Vietnamese international airports are available for getting a visa on arrival. If you also have the same concern about the question, read on this article to find out the full answer.
Where to get a visa stamp at Vietnam airports?
On arrival at airports of Vietnam, you will see the sign board which guide you the way to come to Visa on arrival office (or landing visa counter). Here you will follow all necessary procedures to pick up a visa stamp on your passport.
Visa counter at Noi Bai international airport
Noi Bai Airport (Hanoi): "Visa upon arrival" counter is located opposite the Immigration desks. You have to submit all your documents in window at the right hand side, then wait at the left one while the Immigration officers process it.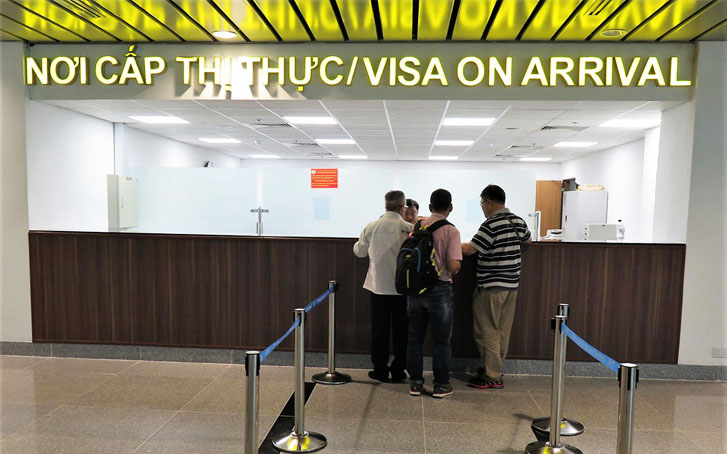 Visa counter at Da Nang international airport
Danang Airport (Danang): Upon landing and going to the huge hall of this airport, you can easily find the "Visa on arrival" counter that is quite visible on the left hand sign.
Visa counter at Tan Son Nhat international airport
Tan Son Nhat (Ho Chi Minh): When you exit the airplane, please follow the sign to the "Landing Visa" on the left hand side as soon as you enter the Immigration Hall.
Steps to get a visa stamped at the airport
After receiving a visa approval letter throughout online application for a
Vietnam visa on arrival
. Some other required documents you need to collect in advance in order to have a stamping visa in Vietnam. In general, the procedures to affix an actual visa stamp is the same at all Vietnam international airports.
Step 1: Show required documents to the Immigration Officer at Vietnam airport
Upon landing, you will head to the "Landing Area" counter and submit all following documents to the Immigration Officer there:
- Visa approval letter (print and bring with you before boarding)
- 2 photos of standard passport size 04*06 cm (one for sticking on the Vietnamese visa application form, one for back up)
- Original passport
Step 2: Pay the stamping fee
After presenting those above-mentioned documents and making payment, you will have to wait for an amount of time when your visa is processed. Commonly, you have to wait around 30 minutes for this process, however, it may be longer for 1-1.5 hours depending on the number of arrivals.
When you hear your full name being called out, you need to come to the window and pay a stamping fee that is fixed price regulated by Immigration Department. Currently, it costs $25 per person for single entry visa (one month or three months) and $50 per person for multiple entry visa (one month or three months). For the most up-to-date information about
Vietnam visa fees.
Step 3: Receive your passport stamped a visa inside
After making payment, you will be received your passport with an approved visa inside and given a receipt.
Step 4: Double check the visa information
Please check carefully information in visa sticker when you receive your passport back with a stamp of approval to be sure all information are correct.
Some essential notices when stamping a visa at the airport
To collect the visa stamp at the airport easily and efficiently, you should take some following attention:
- Remember to prepare those mentioned required documents well in advance. Otherwise, you will waste time to collect them at the airport with a bit high charge: around $5 for printing application form and $2-$5 for each photo.
- The stamping fee need to be paid in cash ONLY (credit cards are unaccepted). It is highly advisable that you should pay the exact amount of stamping fee in cash (USD). In reality, there are many tourists waiting to collect a stamp there so this helps you to save the time. You can consider
fast track service
that the staff of visa agent will help you to get a stamping visa quickly.
- After your passport is returned, you should check the newly issued visa for any errors while you are still at the window. If any wrong information, you need to report the Immigration officer there instantly. Two stamps affixed in your passport include:
• The visa stamp: shows the date you enter Vietnam
• The visa sticker: shows the certain period you are permitted to stay in Vietnam
List of international airports you can stamp a Vietnam visa
Visa on arrival is currently available at 10 international airports in different provinces of Vietnam including:
Noi Bai Airport (Hanoi)
Located 30 kilometers far away from the center of Hanoi, this is the biggest international airport of northern Vietnam. There you can easily access the common utility services upon landing such as: food area, shopping, SIM card, money exchange and free ones (internet, water, wifi). From here, you can choose one of these transportation options to get to the city center within one hour: Grab ($11), taxi ($13-$20) and bus (just around $2).
Tan Son Nhat Airport (Ho Chi Minh)
If you intend to head to the busiest city in the south of Vietnam, you mostly will land at this airport. Located 6km north of the center (District 1), the airport also offers visitors complete services: Sim card, current exchange, restaurants, ATM, even spa and massages. It just takes around 40 minutes driving to District 1 with the cost of $5-$8.5 for a taxi. You can also choose airport shuttle that takes you straight to the downtown for as low as $1.
Da Nang Airport (Da Nang)
This is an important gateway to access central region of Vietnam. Its international terminal is fully equipped with convenient services to make the best of customers' airport experience so you can find every basic services there. From Da Nang airport, you can go to Hoi An ancient city by taxi (around $20), private car ($25 - $35) or public bus ($1.5).
Van Don Airport (Quang Ninh)
Given its modern infrastructure and up-to-date facilities, this newest airport definitely brings you the best experience. Thanks to it, passengers currently can cut travel time to Ha long bay with just 1.5 hour-car ride upon arrival. Besides, this airport offers all convenient facilities that you might expect to find at an international airport.
Cat Bi Airport (Hai Phong)
Due to its small size, the airport welcomes small numbers of passengers yearly. It is only 5km from this airport to Hai Phong city center so entering the town is quite easy thanks to the following transportation options: a taxi with the average cost of VND 50,000 ($2.5) or motorcycle taxi at VND 40,000 ($2). From there, you can join some tour in Cat Ba Island (10km away).
Cam Ranh Airport (Khanh Hoa)
Located 35km away from center of Nha Trang coastal city, this airport is the Vietnamese fourth largest one that handles many domestic and international flights. Visitors can find ATM machines, currency exchange counters, a food court, and souvenir shops there. To reach the town, you can either choose a taxi with around $12.5 or a bus service with cheaper cost ($2.5-$3).
Can Tho Airport (Can Tho)
This medium-size airport just provides a limited number of international flights. However, if you wish to have new experience in Mekong Delta region, you definitely get a stamping visa in this airport. From there, it is easy to access beautiful travel spots such as floating market (Cai Rang), Ninh Kieu Pier tourist market and many other places to enjoy a local specialties.
Phu Bai Airport (Hue)
Originally built in 1940 for domestic flights mainly, however, after being upgraded, this airport is well furnished to welcome foreigner passengers with modern facilities and high-quality services. Like other airports, this airport maintain a bus service to get to Hue city with $2.5. A more convenient, you can catch a taxi which costs on average $10.
Phu Quoc Airport (Phu Quoc)
Phu Quoc Island is a perfect spot for those who desire to be surrounded by white-sand beaches, coconut trees and pure air. So millions foreigner passengers choose to fly to Phu Quoc airport to start their holiday on a yearly basic. Especially,
Phu Quoc visa waiver for foreigner
permits you to visit the island without a visa for 30 days maximum. In addition, a plenty of transport options are available there so that you can get to your destination, from the taxi to shuttle bus with cheap fares.
Lien Khuong Airport (Da Lat)
Practically, not many foreigner travelers choose to get this airport for collecting visa on arrival, however this is listed as one of the international airports where you are permitted to get a visa upon arrival. From the airport to the Da Lat center, travelers are expected to pay for a taxi with the cost of $8.5 or a shuttle bus with $1.8 within 45 minutes.