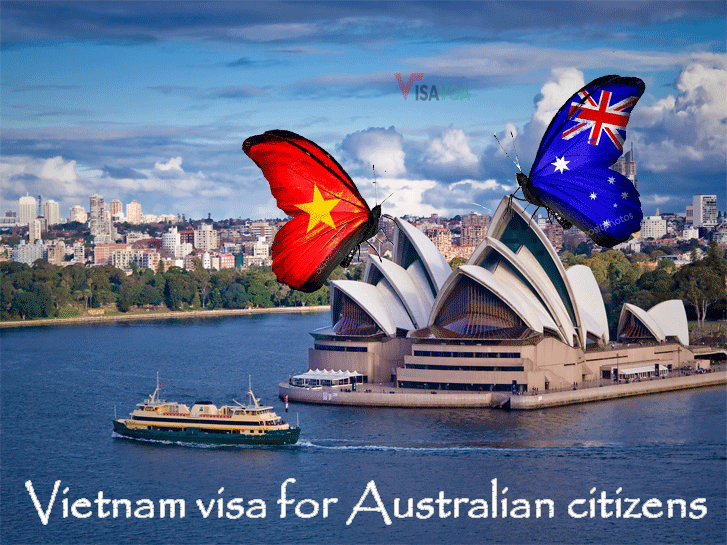 Vietnam visa for Australian passport holders
Are Australian passport holders required to have Vietnam visa when entering Vietnam? The answer is that every Australian citizen must apply for a visa if they want to visit Vietnam. There are 3 different ways for Australian to get the visa to Vietnam encompassing applying for Vietnam E-visa, submitting for Vietnam visa on arrival, getting Vietnam visa at Embassy/ Consulate. Check out the pros & cons of each method to choose the most suitable one for you upcoming trip.

Vietnam E-visa
Australia is in the list of countries granted for Vietnam E-visa schemes. It means that Australian citizens can apply online for Vietnam visa via the official website of Vietnamese Immigration Department.
Pros:
The visa fee is fixed for all nationalities (25USD)

You can apply online for it

You can enter Vietnam through all ports (air, sea, and land)
Cons:
You only can apply for 1-month single-entry tourist visa.

The fee is non-refundable. If your visa request is refused, you won't receive your visa fee you paid
Vietnam visa on arrival
This is also an online way to get Vietnam visa. Australian passport holders will work with a visa agent in Vietnam to get the visa approval letter issued by Vietnam Immigration Department. At the Vietnam international airport, you submit that letter along with Vietnamese visa application form, 2 4*6cm passport-sized photos and pay for the stamping fee to get visa stamped on passport.
To know more about the detail application process for Australian passport holders, refer to the article "How to apply for Vietnam visa on arrival?"
Pros:
The application process is online and straightforward. Being citizens of Australia, you just need to fill out a simple online form or send your passport copy to the email address support@vietnamvisavoa.com.

The waiting time is short. You just need to wait for 2 working days (normal service) or even few working hours (urgent service) to get the visa approval letter.

You can get back the service fee in case the visa agency can't get your letter.

You can apply for all type of visa.

When getting the visa via

Vietnamvisavoa.com

, you are provided some extra services to consider such as fast track, car service, tour booking, etc.
Check this page to know why many people have applied for Vietnam visa on arrival.
Cons:
Vietnam visa on arrival is only granted for air travelers.
Vietnam visa at Vietnam Embassy/Consulate in Australia
It is the traditional way to get the visa for every countries in general and Vietnam in particular. All the visa procedures and requirements are guided by the officials there.
Here is the information of official Vietnam Embassy/ Consulate in Australia:
Embassy of Vietnam in Canberra-Australia
Address: 6 Timbarra Cres., Malley Canberra, ACT 2606, Australia
Tel: (612) 6286 6059 /(612) 6290 1549
Consular: 6290 1556
Fax: (612) 6286 4534
Consulate General of Vietnam in Sydney – Australia
Address: Suite 205, level 2, Edgecliff Centre 203 – 233 New South Head Road, Edgecliff, NSW 2027 PO Box: 732, Edgecliff, N.S.W 2027
Tel: 02 93271912/ 0293272539
Fax: 02 93281653
Pros:
The visa is stamped on passport before your departure.

You can apply for all types of visa and enter Vietnam through all means (plane, ship, car, etc.)
Cons:
Long waiting time (5-7 working days),

You have to travel the Embassy for at least 2 times to submit your documents and to get back the visa.

Your original passport must be submitted and each Embassy/ Consulate has its own requirements about the documents. It is advisable for you to contact them in advance to ask for the detail information.
For further information about Vietnam visa for Australian passport holders, check us via support@vietnamvisavoa.com or follow us here!