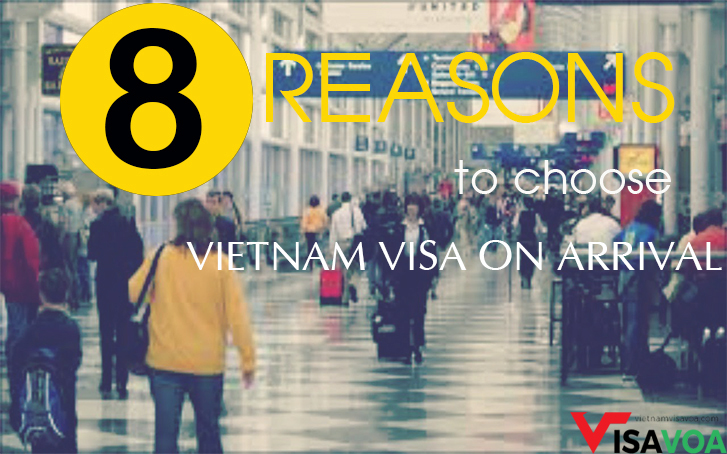 Top 8 reasons to choose Vietnam visa on arrival
Applying a Vietnam visa could be time-consuming and exhausting since there are a lot of documents and procedures to follow. Fortunately, Vietnam visa on arrival now offers a better option for those who want to visit Vietnam. Vietnam visa on arrival is accessible to almost all travelers visit Vietnam by air with a few requirements which can easily be fulfilled.
Let's look at top 8 reasons why you should choose Vietnam visa on arrival.
Simple visa procedure
Unlike traditional visa application, the procedure for Vietnam visa on arrival is simple. You only need to follow 3 easy steps to get your visa done.
Step 1: Fill out the Vietnam online application on vietnamvisavoa.com with your full name, date of birth, nationality, passport number, date of arrival and type of visa. Then pay for service fee online via PayPal, Western Union, and Bank transfer or with credit cards. Get detail for making payment for service at Payment guideline.
Step 2: After 2 (for tourist visa) to 5 working days (for business visa), you will get Vietnam visa approval letter via email. All you need to do is to print out the visa letter and Vietnamese visa application, prepare 2 passport-sized photos and bring them to the airport together with your original passport.
Step 3: Present your required documents above to immigration officials, pay for stamping fee and obtain your visa. The stamping fee varies depending on the types of visa and the length of your stay.
Time-saving
If anything you can save from applying for Vietnam visa on arrival, it must be the traveling time to the embassy. Going back and forth to the embassy is not really a favorable option, especially with those who don't have much time. For those who live far away, traveling to the Embassy can be extremely expensive and time-consuming. With visa on arrival, you only need less than 5 minutes to fill out the form online. Plus you don't need to go anywhere to submit your documents. Time to prepare for documents and travel to the embassy can be saved for necessary business.
Cost-effective
Compared to traditional visa application processed at the Vietnam Embassy, visa on arrival is more economical and affordable. You don't have to waste money on traveling and postal/parcel fee to the Vietnamese Embassy as well as money to prepare for required documents. In other words, there is no additional cost when you apply for a visa on arrival.



Hassle-free from applying for a visa at the Vietnam Embassy

One great thing about visa on arrival is the undemanding procedure. Unlike regular visa application, some embassies require applicants to provide proof of the trip such as hotel or tour booking and round-trip tickets as for tourist visa or an invitation letter from your business partner in Vietnam as for business visa. The preparation for your trip to Vietnam will be trouble-free and more enjoyable with visa on arrival service.
Security
Another drawback of traditional visa application is that applicants must send their original passport to the embassy. Those who live away from the embassy have no choice but to send their passports by post with the constant worry that the passport may never reach its destination. The worst thing is if you lost your passport, the length of visa application could be extended since you had to apply for a new passport.
Now the problem is solved with visa on arrival. There is no need to send your passport anywhere. Just bring it to the airport and get your Vietnam visa stamp there.
Applying everywhere
What do you need to apply for Vietnam visa on arrival? Just a laptop with a good internet connection! It means you can apply for a visa on arrival anywhere and anytime at your convenience. Do remember to apply for Vietnam visa on arrival and get ready for Vietnam visa approval letter before taking the plane to Vietnam
Getting visa on arrival with an urgent process
What if you need an urgent Vietnam visa? It will be at a stroke of a pen with visa on arrival. Normally, you need to wait from 2- 5 working days for a letter of approval for visa on arrival. However, in case of an urgent request, you can ask for visa on arrival within a working day or even within several working hours. How wonderful is that!
It would be impossible to get a visa upon urgent request if you apply for traditional visa application at Vietnam Embassy/ Consulate.
No need to deal with Vietnam Embassy/ Consulate or Vietnam Immigration, a visa agency will do it for you
No one wants to work directly with the Immigration Department since the department often asks for complicated documents or require complex procedures. Visa on arrival, again, is an ultimate option if you don't want to work directly with government agencies. Everything can be done online without long and complicated process.

Benefits of getting Vietnam visa on arrival is clearly seen. Do not forget to submit your Vietnam visa on arrival request at our website: vietnamvisavoa.com. We would be happy to serve you with all our heart.

Website: Vietnamvisavoa.com
Email: support@vietnamvisavoa.com
Phone: +84969255515(Whatsapp/Viber/ Wechat)