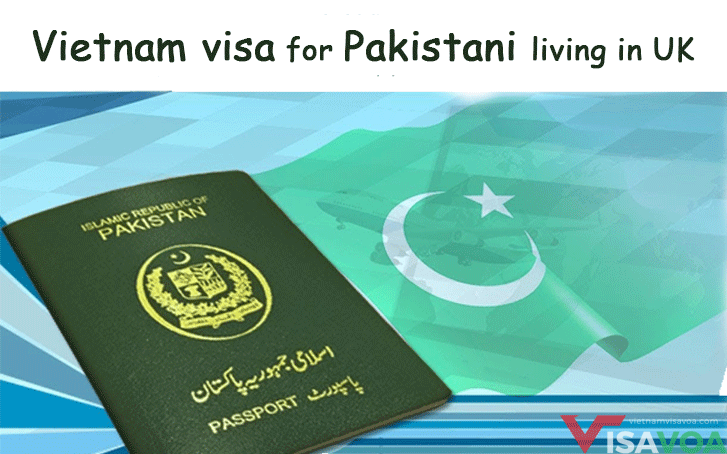 The best way to apply for Vietnam visa for Pakistani living in UK
Be sure that all Pakistani nationals living or working in UK require to apply a visa to Vietnam. In general, the procedure to get Vietnam visa for Pakistani is not complicated with no hassle. In the meanwhile, Vietnam visa on arrival is highly entrusted by Pakistani expats in UK as the best way to apply for visa to visit Vietnam.

Vietnam visa on arrival for Pakistani citizen – Requirements:
When you want to obtain Vietnam visa on arrival, you do not need much documents required. Vietnamvisavoa just ask you a little that is to provide some information of yourself. You can go online to fill in an online application form with your date of travel; visa type; purpose of travelling; your full name; date of birth; and few other pieces of information. It should takes you for few minutes to complete Vietnam visa application form.
Otherwise you send your passport copy to our email at support@vietnamvisavoa.com with your estimated arrival date provided along, our team support will swiftly handle your visa application instead of you.
The application process
You need to go through 4 steps in order to complete the process of Vietnam visa on arrival. The first step is to access the link to submit your visa application form to obtain a visa invitation letter online before your departure.
The second step consists of making payment. It is crucial to check your every single piece of information before payment is made because any revision or change is impossible once your visa application is submitted to the Immigration Department.
The third step is to receive your visa approval letter delivered to your email after 5 working days. You should carefully look through the visa letter to make sure that all your detailed information is correct. Any small error can lead to you repeating the process because mistakes can invalidate your visa.
Flying to Vietnam and present the visa letter at Visa Counter upon your arrival is the last step in order to take a visa sticker on your passport.
Processing time and visa cost:
* Processing schedule: only 5 working days. For urgent service, visa approval letter can be completed within 2 or 3 working days.
* Visa fees: read this article for specific information about Vietnam visa cost for Pakistani
Vietnam visa on arrival is the easiest way for Pakistani citizen in UK to obtain a visa. There is no trip to the Embassy and you can do it online at any time, so there is no need to take leave and time from work. If you have planned to visit Vietnam, feel free to contact us to be supported to get Vietnam visa for Pakistani without hassles.
Note: Only Pakistani passport holders who travel to Vietnam by air are eligible to apply for Vietnam visa on arrival. In case you enter Vietnam by other means of transport, please go directly to Vietnam Embassy in UK and obtain a visa to Vietnam there.