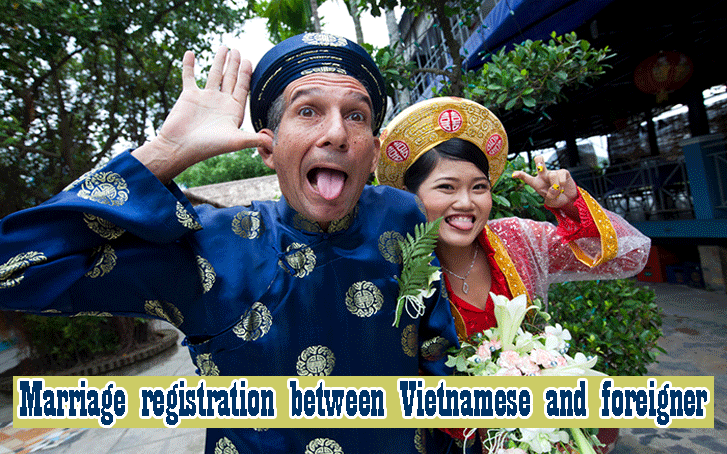 Marriage registration between foreigner and Vietnamese citizen in Vietnam
The requirements
Are you looking for the procedure to get married a Vietnamese citizen? Any foreigner can get married in Vietnam as long as they are living in Vietnam and meet these requirements:
The woman is over 18 and the man is over 20

Neither the man nor the woman has a spouse under Vietnamese law

Both partners are mentally capable of making independent decisions

The couple does not have blood relatives in three generations
Note: The following people are not allowed to get married in Vietnam:
Adoptive parents and adopted children, stepfather and daughter-in-law, stepmother and son-in-law, stepfather and his wife's daughter, stepmother and her husband's son

Same-sex couples
Necessary documents for marriage registration in Vietnam
Check out the required documents below in order to get the marriage registration smoothly.
A completed marriage application form in Vietnam: your photo, your personal information, your signature.
Proof of marital status – an applicant must prove their single or divorced status, or that their spouse is deceased, with a document issued by a competent agency from their home country. This document must be dated no earlier than six months before the date when the marriage documents are submitted
Medical certificate – this can be issued by a competent organisation in Vietnam or abroad and must be dated no earlier than six months before the date when the marriage document is submitted. It must certify that the applicants are not suffering from a mental illness or any other illness that impedes independent decision making
Certified copy of personal identity for Vietnamese citizens
Certified copy of household registration certificates or resident registration for Vietnamese citizens
Passport or resident card – foreigners and Vietnamese citizens residing abroad
Temporary/Permanent resident card – foreigners residing in Vietnam
Application fee
Note: Two copies in Vietnamese of all marriage application documents are needed. They must then be submitted by only one or both intended bride or groom to the Department of Justice in the area of residence.
The place to get the marriage registration: Department of Justice

The Department of Justice carries out the following responsibilities in the run up to your civil marriage:
Applicant Interview – this is to make sure both applicants are both entering into marriage voluntary and assess their meaning of their relationship. The interview will be officially recorded in full and both parties must sign the completed document.
Displaying of Banns – The couple's marriage banns will be officially displayed at the People's Committee of Communes in the applicants' place of residence. They will be displayed for seven consecutive days – This time is for any party to announce that the couple may not be fit to marry. If this does occur it is up to the People's Committee of Communes in the applicants' place of residence to inform the Department of Justice.
Decision - Within 25 working days after receiving the documents and fee the Department of Justice issues its decision.
Civil Marriage - Once the marriage certificate has been signed by the Head of the Provincial People's Committee, the Department of Justice will arrange a civil marriage within five working days.
The address of Department of Justice in big cities in Vietnam
Department of Justice – Hanoi
Address: 1B Tran Phu Street, Ha Dong District, Hanoi
Tel: (04) 33546163
Fax: (04) 33546155
Department of Justice – Ho Chi Minh City
Address: 141-143 Pasteur, Ward 6, District 3, Ho Chi Minh City
Tel: (08) 38290230
Fax: (08) 38243155
Department of Justice – Danang
Address: 16 Bach Dang Street, Hai Chau District, Danang
Tel: (0511) 3822822
Fax: (0511) 3895267
If you need more information about Marriage registration in Vietnam, or needs any consultancy about Vietnam visa , please do not hesitate to contact us via
Email: support@vietnamvisavoa.com
Hotline: +84969255515
Website: vietnamvisavoa.com