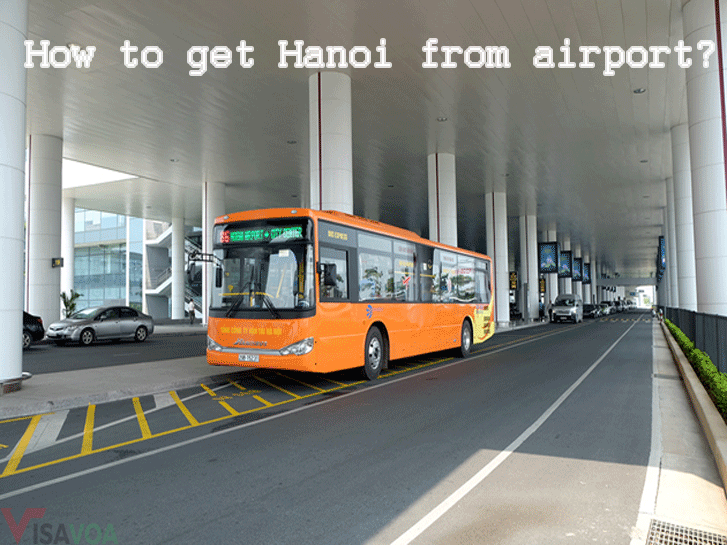 How to get to Hanoi from airport? 
If you are already planning to head to the North Vietnam, then you generally choose Noi Bai international airport. As soon as landing at airports, you definitely will consider which common transportation you could get to get in the town. Don't worry, there are diverse available options that meet your need and expectation.

Noi Bai international airport is located 45 kilometers away from the central Hanoi. Depending on the time you arrive, we will give you some recommendations to choose the best way for you.
Private minibuses
The private minibuses expect to leave as soon as it is full, which usually doesn't take long. This option is popular with locals because the bus will stop off a few times to drop people off along the way without any exact place. But you don't need to be too worried because they generally stop off in points that are in walking distance to central. However, you just prepare to be flexible and notice that the drivers don't speak English.

Commonly, minibuses leave every 30 – 45 minutes and the price for one way ticket is 40,000 VND per seat (1.8 $).
Airline transfer service
Some airlines such as: Vietnam Airlines, Jetstar, Vietjet provide the customers shuttle bus service from the airport to the downtown. They run transfer service when you book your ticket with unbeatable price, around 2 USD/ pax to city center.
Taxi
If you want to save your valuable time, getting a taxi is the fastest way to access the inner city from the airport. You can easily reach taxies that stand a lot outside arrival terminals. However, remember to ask about the price before making the decision. There is another alternative is using apps to book a taxi (Grab, Bee) with the price 12,000 VND/ km.
Airport pick-up
A hotel generally provides you pick-up service in case you've booked its room. The benefit of this option is that there will be a person waiting on you at airport and then you will be taken to the right hotel without any trouble along the way.
If you take our car service at the airport, we also take our driver to get you back your hotel in the central with decent price and guaranteed service. When you apply for Vietnam visa online with vietnamvisavoa.com, remember to book our car service and make payment online. We will arrange every service once your payment is confirmed.
Public bus
You can take two main city buses number 7 and 17 to get to Hanoi from the airport. This is the cheapest way with the charge is just 9000 VND per one way for one person, however, you may waste more time (around one hour) to get the downtown because they will have to stop at fixed points along the run to get customers. Buses run every 15-20 minutes from 5 am. to 10 pm.
Airport bus number 86 which costs 40,000 VND/ one way is also a great option to go back and forth between city and airport. Staffs on buses are polite, helpful and to be able to speak English as well.
In case you would like to take private car service for well organized trip, just contact us at:
Email: support@vietnamvisavoa.com
Hotline: +84 969 255 515
---
We are able to cater your every need. Get further detail about our extra services
Let's apply online for Vietnam visa now!