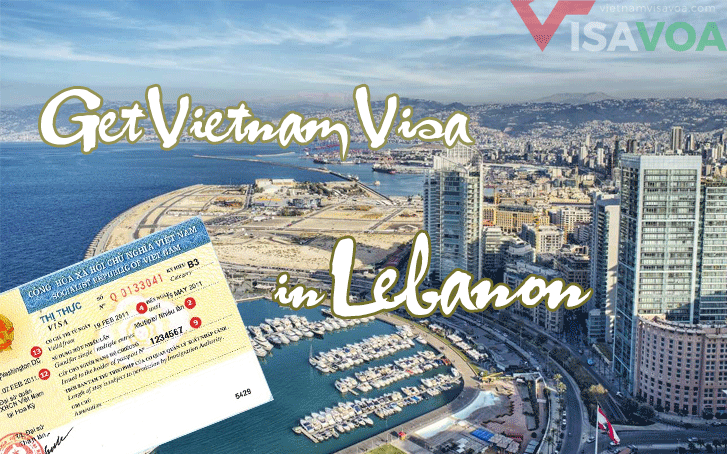 Get Vietnam visa in Lebanon
Get Vietnam visa in Lebanon becomes so much easier with Vietnam visa on arrival. Just submit your Vietnam visa request online, fly to Vietnam and get stamped visa upon arrival.

Vietnam is a developing country in South East Asia which attracts millions of foreigners each year for not just spending holiday but also this new economy opens up a variety of business oppotunity. Going along with the development in economy, Vietnamese Government also make Immigration to Vietnam become much easier than ever before.
1. Does a Lebanese passport holder need visa for Vietnam?
Being a Lebanese citizen who takes regular passport must apply for Vietnam visa for permission to visit Vietnam for any purposes: tourism, business, family visit.
2. How to get Vietnam visa in Lebanon?
Normally, a person can either apply for Vietnam visa at Vietnam Embassy or apply gor Vietnam visa on arrival. However, till now there is no Vietnam Embassy in Lebanon yet. Therefore, Lebanese passport holder and who reside in Lebanon can only get Vietnam visa on arrival
2.1 Procedure to get Vietnam visa on arrival
► Submit the documents via email to:support@vietnamvisavoa.com
♦ Your passport copy
♦
Your ticket reservation
♦
Your hotel booking
►
Pay for service fee online:
Service fee is paid for us to get your Vietnam visa request approved at Vietnam Immigration. Service fee would change depend upon the nationality. As for Lebanese passport holder, you would need to pay $ 100 US service fee for 1 month single entry tourist visa.
Receive your Vietnam visa approval letter via email: After 3- 5 working days receiving your documents and payment for service fee, you will get your Vietnam visa approval letter sent to your email. You need to print out this document, take this document along with you to check in your flight.
►
Stamp your visa on your passport:
Once you arrive in Vietnam airport, you would present the Vietnamese visa approval letter, Vietnamese visa application form, the passport and

stamping fee

to the officer. They will stamp a Vietnam visa on your passport.
Note: The validity of your visa will be indicated on the visa page. You should pay attention on the expiration date of your visa. You must leave Vietnam by that expiration or else you must do Vietnam visa extension for a longer stay in Vietnam.
For any other supports, feel free to contact our support team at:

Website: Vietnamvisavoa.com
Hotline: +84969255515 (Viber/Whatsapp/ Wechat)
Email: support@vietnamvisavoa.com