Airlines in Vietnam
Airlines in Vietnam have been more various and provide ever-changing quality for travelers to Vietnam.
As of 2020, there are 8 registered airlines in Vietnam: Vietnam Airlines, Jetstar Pacific, Air Mekong, VASCO, Indochina Airlines, VietJet Air, Viet Star Airlines, and Bamboo Airways but in this article we only mention to 4 most popular ones: Vietnam Airlines, Vietjet Air, Jestar Pacific and Bamboo Airways.
Vietnam Airlines
This is the most pretigious airlines in Vietnam that provides the most flights throughout the country. It is the utmost airline with 46 destinations in 19 countries all over the world. On July 17th, 2018 Vietnam Airlines was honored as a 4-star international airline according to Skytrax standard, along with Air France (France), Emirates (UAE) and Japan Airlines ( Japan), Korean Air (Korea), British Airway (UK) and more. This was the third consecutive year the airline to be in the list of Skytrax, a global benchmark in evaluating airline quality standards.
The airline supplies a large number of flights including domestic and international ones. Depending on your budget, you can choose one of flexible and dirverse classed from economy class to business ones with reasonable ticket charge. With professional and excellent crews, the airline promises to bring you the most comfortable experience.
Vietjet Air
Vietjet Air is Vietnam's first cheap private airline licensed to operate since 2007. This is an official member of the International Air Transport Association (IATA) with IOSA Safety Certification. Vietjet has also been ranked at the highest level of aviation safety in the world by AirlineRatings.com, the world's leading prestigious organization specializing in safety and product evaluation of global airlines. Currently, Vietjet is operating 64 A320 and A321 aircraft, with 105 routes covering all destinations in Vietnam and international routes to Japan, Hong Kong, Singapore and Korea. National, Taiwan, China, Thailand, Myanmar, Malaysia, Cambodia and many other countries.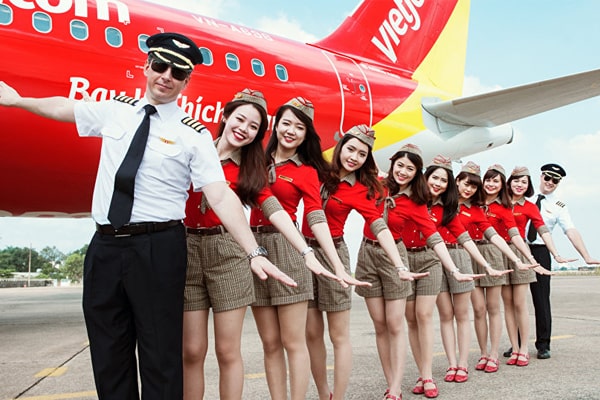 Jetstar Pacific
The most hightlight of Jetstar Pacific is that it is the first-low cost airline in Vietnam that provide a large range of cheap tickets flying to many destinations both in the country and abroad. By making efforts to provide low-cost for passengers every day, Jetstar Pacific hopes to help people fly more and more frequently, as well as create air travel opportunities for those who were previously considered unable to travel by plane. At the moment, Jetstar has the routes to 16 countries and 60 markets in Asian - Pacific region.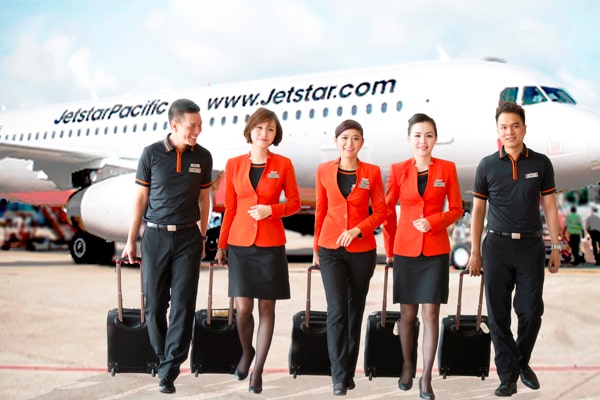 Bamboo Airways
Officially established in 2017, Bamboo Airway has steadily developed into an important airline in the region. With a slogan "more than just a flight", Bamboo Airway desires to build it as a 5-star airline operating both domestic and international routes. The airline offers a large range of flight routes, as well as flexible classes with affordable price and friendly crews. Also, in-flight entertainment system is a new service that aims to bring the most experience for customers.
Tips for booking flights in Vietnam
♦ You should book your flight at least 3 months in advance before your trip to get the lowest fare for flight ticket.
♦ The flight ticket in peak season is much more higher than offseason so that it is hightly recomended that you should book a ticket in offseason. The peak season in Vietnam is generally from November to April, June to August.
♦ Commonly, the off season falls the period from september to october that is the best time to hunt cheap tickets.
Get a Vietnam visa
When it comes to travel a country, except you are waived for the visa to it, the first and foremost thing you need to do is to get a visa. And chances are, if you travel Vietnam by air you are able to submit for a online Vietnam visa, called visa on arrival. This is an online way providing you a Vietnam approval letter via online application, this letter gives you permission to enter Vietnam legally for the given duration.
What does a Vietnam approval letter look like?
Vienam visa approval letter sample
Please do remember that if you have connecting flights between these airports, you are required to get stamped visa at the first arrival airport no matter how long you are there. For example, you fly to Noi Bai airport first and take a connecting flight to Ho Chi Minh, you must get visa at Noi Bai airport. Sometimes, you could clear the procedure quickly but it is recommended to get at least 03 hours between 2 flights to avoid rushing. In case you need the assistance to stamp visa as soon as possible, use our Fast Track service.