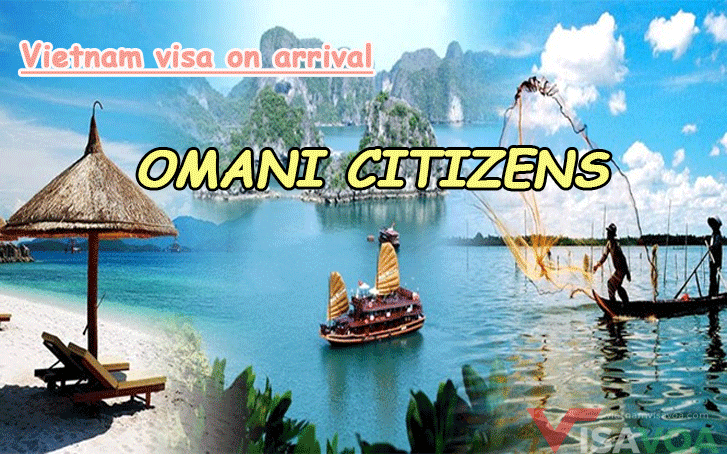 Vietnam visa on arrival for Omani citizens
Getting a visa is a compulsory requirement of Omani passport holders before coming Vietnam. Majority of the Omani have chosen visa on arrival as a way to obtain Vietnam visa because of its cheapness, convenience and fast speed.

Vietnam visa on arrival
Visa on arrival is an online method allowing foreign visitors obtain visa at Vietnam international airport. Visa applicants must get visa approval letter before the trip to Vietnam. Omani citizens have to show this document for Immigration officers to stamp Vietnam visa at Visa on Arrival counter.
Vietnam visa application procedure
For online process, the Omani passport holders need to send your passport copy and the expected entry and exit date to the email address: support@vietnamvisavoa.com for visa process.
In your visa online procedure, there are three major steps, you need to follow:
1. Applying for Vietnam visa online
Omani applicants can spend a few minute on the website https://vietnamvisavoa.com/en/apply-online to apply for Vietnam visa online.
In this step, you will complete a Vietnam visa online application form with your personal information such as: Full name, gender, date of birth, nationality and passport number.
After completing the application form, you should choose a payment method for visa processing fee.
2. Receiving Vietnam visa approval letter via your email
You will receive visa approval letter for Vietnam via email after 2-3 working days (normal service). Then, this is time for you to prepare printed pre-approval letter and hand-writing form of Vietnam visa application. Also, your passport photos and 25USD in cash for stamping fee are two necessary things that you have to remember.
In case citizen of Omani want to get Vietnam visa approval letter sooner, they can apply for Rush Vietnam visa. The letter will be issued within 1 working day.
3. Stamping visa at Vietnam airport
Once you arrive in Vietnam International Airport, you have to present to Immigration officers necessary documents includes: a copy of Vietnam Visa approval letter, two of your passport-sized photos, visa stamping fee, Vietnamese visa application form (completed form with hand-writing) and your original passport.
Omani citizens benefit from Vietnam visa on arrival
At present, Vietnam Embassy has not established in Oman yet, therefore, Omani citizens find impossible to get Vietnam visa from their home country. Thanks to Vietnam Immigration Policy, every citizen from Oman can be granted visa at Vietnam airport by Visa on arrival. Moreover, Vietnam visa on arrival simplifies complicated procedure as well as save amount of time for visa applicants compared to apply for Vietnam via Vietnam Embassy.
Vietnam visa on Arrival fees
Like other applicants, when applying for Vietnam visa on arrival, Omani passport holders also pay two types of visa fee: Visa service fee and visa stamping fee. In which, Visa service fee is the fee paid for processing of Vietnam visa application. It will be a preferential rate if the Omani apply for a group. PayPal, Bank transfer, Western Union or via payment link online with your credit card are the best ways that you can choose to make payment. Besides, Omani citizens need to pay amount of fee for stamping Vietnam visa when landing in Vietnam. It will be 25USD and 50 USD for single entry visa and multiple entry visa respectively.
*Visa service fee is guaranteed to be refundable in case your visa application for Vietnam gets rejected by Vietnam Immigration Department.
Vietnam visa on arrival legality
Vietnam visa on arrival is 100% legit because it is officially recognized and approved by the Vietnam Government according to Circular No.190/2012/TT-BTC, Decree No.21/2001/ND-CP of May, 2001, Joint Circular No.04/2002/TTLT/BCA-BNG, Ordinance No.24/2000/PL-UBTVQH10 of April 28, 2000. Therefore, Omani passport holders can fully trust the legality of Vietnam visa on Arrival and use this way to apply for Vietnam visa.
Website: www.vietnamvisavoa.com
Email: support@vietnamvisavoa.com
Tel: +84 969 255 515