All about Vietnam Visa for Pakistani Citizens
Vietnam is one of the most favorable destination among travelers around the world includes Pakistani visitors when it comes to make their trip around Southeast Asia. It is the land of rich history, deeply culture and spectacular landscapes.
Fortunately, it becomes easier to apply online for a Vietnam visa for Pakistani citizens. This articles will detail the entire process of visa application and requirement, so it is really worth spending time to read through it.
02 legitimate ways to get Vietnam visa for Pakistani citizens
As you are Pakistani passport holder, there are 02 methods to get Vietnam visa. Let's have look and pick one being more convenient for you.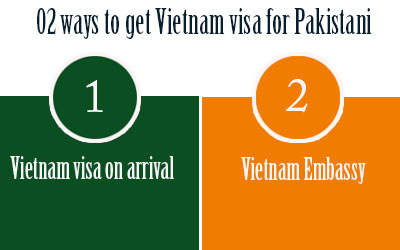 1. Apply for Vietnam visa on arrival
2. Apply for Vietnam visa beforehand at the Vietnam Embassy in Pakistan
Note: Pakistani passport holder is not eleigble for Vietnam E-visa. Further details about Vietnam E-visa, you can click HERE
Vietnam visa on arrival for Pakistan citizens
How Vietnam visa on arrviva work
As Pakistani citizen, you can easily get Vietnam visa on arrival by acquiring a visa approval letter issued by the Vietnam Immigration Department. Just need to find a visa agency who can help you to handle this document on behalf of you. Once you receive a visa approval letter from, you will print it out and take it along to Vietnam airport to get visa stamped on your passport.
The bellow we will show the steps to get the pre-approved visa letter with Vietnamvisavoa.com
How to get a visa approval letter
Pakistani citizens can easily to obtain a visa approval letter issued by the Vietnam Immgiration through Vietnamvisavoa.com with 03 easy-to-do steps as bellows:
Step 1
: Submit your visa application
online
or send your documents including: your passport copy, all visa pages (if have), flight and hotel booking to our email at
support@vietnamvisavoa.com
Step 2: Make a online payment for visa service fee. We will share a payment link through your email/whatsapp
Step 3: Receive your visa approval letter after 8-10 working days (not included Sarturday and Sunday) by email/Whatsapp
[Sample of visa approval letter]
► Otherwise, you can also contact us through our email or whatsapp No. as bellows:
Email: support@vietnamvisavoa.com

Whatsapp No.: +84 969 255 515
2. Documents required
► BEFORE TRAVELLING TO VIETNAM: To obtain a visa approval letter prior to your departure , there are some documents required to prepare from you. All items from the list are easy to collect and here are documents need to be provided:
• Your passport copy (valid at least 6 months onwards) with 02 blank pages left on it
• Visa pages of some countries listed on your passport
• Flight ticket & hotel reservation
►AT VIETNAM AIRPORT: Besides of the documents asked to provide Vietnamvisavoa, Pakistani travelers need to submit the other documents upon their arrival airport in Vietnam:
• Visa approval letter
• Vietnam visa application form
• Two passport-sized photos (4x6 cm) (a face straight forward, white background and no glasses)
• Stamping fee in cash which is 25 USD or 50 USD depending on type of entry
• Original passport
3. Visa cost
As normal, it comprises of visa service fee and stamping fee. The fee of visa is different for each agency and depends on type of visa you want to get.
To apply visa on arrival with Vietnamvisavoa.com, you can check visa service fee in the tables as bellows:
| | | |
| --- | --- | --- |
| VISA TYPE | SERVICE FEE (USD) | STAMPING FEE (USD) |
| single entry (20-25 days) | $110 | $25 |
| multiple entry (20-25 days) | $140 | $50 |
Vietnam tourist visa for Pakistani citizens
Useful notice before applying Vietnam visa on arrival for Pakistani
♦ You have to obtain a visa approval letter in advance before travelling to Vietnam
♦ The visa approval letter acquired is only valid if you enter Vietnam via airlines. There is nothing to deal with the Vietnam Embassy in this case
♦ The longest validity of tourist visa is valid up to 20 or 25 days in maximum for Pakistani passport holder.
♦ An invitation letter from Vietnamese friend doesn't help in getting a visa approval letter
Vietnam visa from the Vietnam Embassy in Pakistan
1. Document required
• Application Form at Vietnam Embassy
• A passport (must be valid for 6 months at least )
• Some visa pages of countries showed on your passport
• Hotel and flight reservation
• Bank statement
• Company letter
• Two passport size (4x6 cm) photographs (no glass wear and should hold light background)
• Visa fees (In cash is you are applying in person. Else it must be money order or cashier's check)
• Prepaid self-addressed envelope if you want to get your passport returned via post
2. How to apply
If you do not want to obtain visa letter online, here is the address of Vietnam embassy in Pakistan
Address : House 117, Street No. 11, SectorE-7 , Islamabad, Pakistan
Telephone : 00 92 51 2655785/2655787
Fax : 00 92 51 2655783
Email: vnemb.pakistan@yahoo.com
Website: www.vietnamembassy-pakistan.org
Step 1: Submit your required documents including passport copy, visa pages of some countries (if any), recent photographs and a self-addressed envelope to receive Vietnam visa.
Step 2: Filling the application form will full your personal information
Step 3: Make a payment for visa fee (shipping and handling fee) then wait for processing time regulated by Vietnam Embassy to get visa.
3. Visa cost
The fee is based on Vietnam Embassy, there are some kind of fees you have to pay:
• The Embassy's processing service fee
• Stamping fee
• Postal, shipping and handling fee expedite service (if required)
Common types of Vietnam visa for Pakistani citizens
1. By purpose
1.1 Tourist visa
This type of visa is not only for travel purpose including attending recreational classes, hobby or sports related but for visiting family and friend, even medical treatment also.
1.2 Business visa
On this type of visa, you can attend business conferences, conventions, meetings, and other business-related events.
Do remember Vietnamese sponsor company is Must if you want to get business visa.
1.3 Work visa
Work Visa is a type of visa when citizens of Pakistan visit Vietnam for the purpose of working with a Vietnamese registered company. A working visa is issued for no more than 24 months to Pakistani nationality.
1.4 TT/VR visa
TT and VR are types of visa which are issued to Pakistani passport holders for the purpose of visiting their spouses, children, parents who are
- Vietnamese or
- Foreigners holding work visa, resident card holders or LV1, LV2, DT, NN1, NN2, DH, PV1, Visas
TT allows an eligible Pakistani citizen to stay for a maximum of 3 months
2. By duration
2.1 – Short term visa: 15 – 20 days
A short term visa is granted by Vietnamese government in case a Pakistani citizen intends to stay in Vietnam for 15 – 20 for touristic purpose.
2.2 – Long term visa: 01 - 03 months
If Pakistani passport holders would like to visit Vietnam for business purpose or visiting relatives (TT/VR visa), Vietnam government gives them 01 – 03 months of duration to stay.
Besides, as a long term stay option Vietnam also grants a five-year visa exemption certificate to Pakistani citizens who are spouses or children of Vietnamese people. The certificate does not restricts number of entries to its holder for 5 years but allows a stay of maximum 180 days per visit.
3. By entry
3.1 Single entry
Single entry visa allows Pakistani passport holders to enter Vietnam only one time during visa is valid.
3.2 Multiple entry
Multiple entry visa allows Pakistani passport holders to enter Vietnam as many times as they wish between the dates of validity indicated in Visa Approval Letter
Why should choose Vietnamvisavoa.com for visa on arrival?
► Highly recomended by Pakistani traveller bloggers from Travel Dairy Forum; Pakistani backpackers, etc
► 24/7 available for phone call and email
► Timely received approval letter as guaranteed
► Explicitly coherent guidance through every step
► Securely protected personal information
► Highly successful rate of 99%
► Prominently competitive price
We leave our contact details as bellow if you need any further advise and instruction for Vietnam visa
Email: support@vietnamvisavoa.com

Whatsapp No.: +84 969 255 515
---
Frequently answered questions about Vietnam visa for Pakistani citizens
1. Do I need a visa for Vietnam?
Yes, you do. Visa is one of the mandatory documents to enter into Vietnam. Without this documents, you are not allowed to go through airport counter legally.
2. How to apply Vietnam visa for Pakistani from Thailand?
It is extremely easy. You can submit your request at Vietnam Embassy in Thailand or apply visa online.
3. Is Vietnam urgent visa available for Pakistani passport holder?
The answer is No. Currently, rush service is not available for Pakistani passport holders. Therefore, make sure you submit your visa before 12 – 15 working days for visa processing time.
4. Where can I apply Vietnam visa from UK for Pakistani citizen?
It is so straightforward, you can apply for visa either from Vietnam Embassy in UK or visa on arrival. For most of the cases, visa on arrival is considered as the easiest and fastest method and highly recommended.
5. Are Pakistanis eligible for Vietnam E-visa?
No, they aren't. E-visa is just applicable for only 84 nationalities BUT not yet included citizens of Pakistan.
6. How can I apply Vietnam work visa?
A sponsor in Vietnam is a Must. Obtaining a work visa is more complicated than tourist visa, they are required a guarantee who play a role to represent and be fully responsible for Pakistani passport holders when he/she comes to Vietnam.
7. Visa extension and renewal are available to Pakistani nationals?
No, it is not available. Currently, in case Pakistani passport holders would like to stay longer in Vietnam, they need to apply a new visa instead of submit extension request.