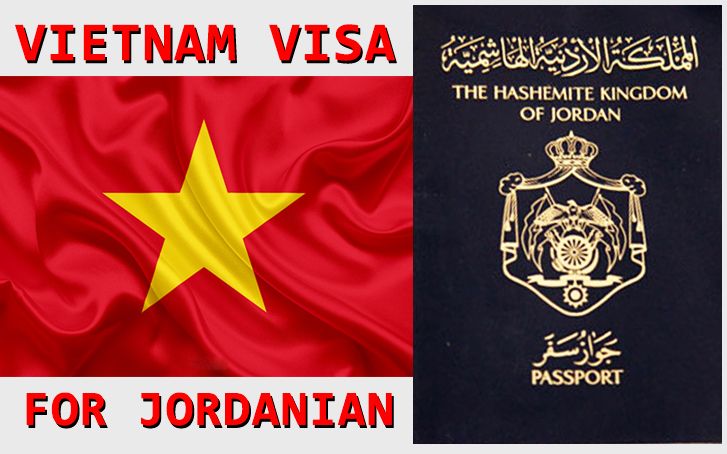 A Complete Guide to Get Vietnam Visa for Jordanian
In recent year, Vietnam has received more and more attention from Middle East travelers including Jordanian citizens. Although both countries are located in Asia, still, there are significant differences that inspires people to explore.
Considering the huge number of foreign travelers coming to Vietnam each year, Vietnam Government is simplifying obtaining a visa with a online application process. This article will cover all the aspect that Jordanian citizens want to know about Vietnam visa.
What are types of Vietnam visa for Jordanian
Tourist visa
This is the most common and simple type of visa for vacationing in Vietnam. Fortunately, Jordanian can apply for 1 month or 3 months visa validity as they wish.
Business visa
This type of visa is aimed at those attending business conferences, conventions, meetings, and other business-related events. Having a Vietnamese sponsor company is mandatory requirement if you want to get business visa.
Work visa
For citizens of Jordan coming to Vietnam for the purpose of working legally with a Vietnamese registered company, the visa is mandatory. A working visa is issued for maximum 24 months validity to Jordanian nationality.
TT/VR Visa
TT and VR are types of visa issued to Jordanian passport holders for the purpose of visiting their spouse, children, parents who are Vietnamese citizens or foreigners holding work visa, resident card or LV1, LV2, DT, NN1, NN2, DH, PV1 visa.
TT allows an eligible Jordanian citizen to stay for a maximum of 3 months
5 year visa exemption
This type of visa is granted for Jordanian who are spouse, children of Vietnamese people, living in Vietnam or residing abroad. The benefit of 5 years exemption is that no visa is required for 5 years.
Investor visa
This particular visa is for Jordanian investor. The capital investment will decide the visa validity from 1 to 5 years. You are advised to contact us for more details about the visa duration.
Additionally, Vietnam visa type is classified according to a number of entry. Specifically, it consists of:
Single Entry visa
Holding single entry visa means you can travel to Vietnam for one time only within the visa validity.
Multiple Entry visa
Holding multiple entry visa give you the privilege to enter Vietnam as many time as you wish within the visa validity.
Where do I apply Vietnam visa?
Option 1 - Apply for Vietnam visa on arrival
To get a visa through this method, you just need to look for a reliable Vietnam visa agency who obtain a visa approval letter on behalf of you before your travelling to Vietnam. The visa approval letter is mandatory as it allows you to board your flight and pick up a full visa stamp on your passport upon arrival at the Vietnam airport.
This method will save you a lot of time and effort.
Option 2 - Apply for Vietnam visa beforehand at the Vietnam Embassy
This is a traditional way to obtain Vietnam visa. You will have your visa stamped into your passport in advance and you are ready to head to Vietnam. Unfortunately, there is no Vietnam Embassy/Consulate established in Jordan, Jordanian will have to visit the Embassy in the nearest neighbor country.
Let's go deep into the way of how to apply for Vietnam visa in the following parts.
Vietnam visa for Jordanian citizens on arrival
What documents are required:
1) Visa approval letter
2) Vietnam visa application form
3) Two passport-sized photos (4x6cm) (a face straight forward, white background and no glasses)
4) Stamping fee in cash which is 25 USD or 50 USD depending on type of entry
5) Original passport
However, with Vietnam visa on arrival, you have to obtain a visa approval letter beforehand, how can you get it? Keep reading
How to get Vietnam visa approval letter?
There are a load of visa agencies offering Vietnam visa approval letter. Vietnamvisavoa.com is the name for your trust to handle your visa application. Let's follow our simple steps as below:
•
Step 1
: Submit
online
your visa application form. Otherwise, you can send your visa inquiry with your passport copy directly to our email:
support@vietnamvisavoa.com
• Step 2: Make your payment via a secure link attached in confirmation email
• Step 3: Receive your visa approval letter after some working days (2-3 days for tourist visa and 5-7 days for business visa)
Now your visa approval letter is well-received. Don't forget to print it out and take it along with your passport sized photos, Vietnamese visa application form, stamping fee in cash and your original valid passport.
What should I do at the Vietnam airport?
Don't worry! The whole visa procedure is easier than you have ever thought if you exactly follow the guidance as below:
- Go to the Visa Counter at the Vietnam airport after getting off your flight
- Present the visa approval letter, Vietnamese visa application form, passport and 2 passport sized photos to the Immigration Officer.
- Wait for your name to be called by the Officer
- Pay for stamping fee and receive your visa stamped on your passport
- Double check all details in the visa before moving to the next Immigration Line.
Vietnam visa on arrval fee
Each type of visa will have different fee charge. There are two kind of fee which are service fee and stamping fee:
• Service fee is paid in advance in order to start the approval letter issuance. Payment method including Paypal, Western Union, bank transfer or by credit/debit card.
• Stamping fee is paid in cash (exact amount in USD) at Vietnam airport.
Important points to remember on Vietnam visa on arrival for Jordanian
• Visa on arrival is only valid for entering Vietnam by air. If you come to Vietnam by land or sea border, you are advised to get visa prior to arrival at Vietnam Embassy/Consulate.
• Multiple entry visa is highly recommended if you have travel back and forth Vietnam.
• Service fee is required to be paid in advance so that we can submit your documents to the Immigration Department.
• Each visa type has different documents and processing time
• Double check all the information in the approval letter to make sure your personal information is correct as well as visa validity.
Is Vietnamvisavoa authorized to give Vietnam visa?
Vietnamvisavoa is officially operated by Vietnam Impression Travel Company that is established according to the business registration No.0107016242.
We have a privilege to provide Vietnam visa on arrival service through our online commercial website
Vietnamvisavoa.com
. We have endless desire to assist all travelers to acquire Vietnam visa in fastest and simplest way.
Vietnam visa from the Vietnam Embassy in Jordan
Until now, there is no Vietnam Embassy in Jordan yet. Therefore, Jordanian citizens are recommended to prepare the documents and visit the Embassy at the nearest residential area.
Document required
The documents may change by the Embassies. Basically, here is the list of mandatory documents:
- Original passport
- Flight reservation and hotel booking
- Two passport photo sized (4*6cm)
- Visa fee
- Self-address if you want to have your passport delivered back to you
How to apply
Step 1: Submit your required documents including passport, recent photographs (and a self-addressed envelope to receive Vietnam visa).
Step 2: Filling the Vietnam visa application form
Step 3: Make a payment for visa fee (shipping and handling fee if yes) then wait for processing time regulated by Vietnam Embassy to get visa.
Visa cost
Please contact with the local Vietnam Embassy for more details.
Why I applied Vietnam visa on arrival over Vietnam Embassy?
• There are several reasons why visa on arrival is more frequently chosen over Vietnam Embassy:
• There is no Embassy in Jordan so you will have to travel to another country where Vietnam Embassy is established to complete the visa process.
• If you are on a short of time, visa on arrival is an excellent choice because you can get the visa process online.
• No original passport required to send off.
Vietnam tourist visa requirement and application process
If you are planning for a trip to Vietnam then tourist visa is definitely the right type of visa you should apply for.
Documents required
1) Your passport copy
2) Visa pages presenting visa sticker of your visited countries (if required)
3) Flight and hotel reservation
Process to apply for a tourist visa
• Step 1: You send us your passport copy via our mail address support@vietnamvisavoa.com along with your expected date entering Vietnam.
• Step 2: We guide you with payment method and have you pay for service fee. We then prepare all paper required and submit your documents to the Immigration.
• Step 3: After 2-3 working days, the approval letter is issued and send to you via your email address.
• Step 4: You then print the letter out and get ready to fly to Vietnam.
Frequently answered questions about Vietnam visa for Jordanian citizens
Do I need a visa for Vietnam?
The answer is yes. At the moment, all Jordanian are required to have Vietnam visa to enter Vietnam. This is the mandatory documents that allows you to enter and exit Vietnam legally.
How to apply Vietnam visa for Jordanian from Malaysia?
There are two possible way to obtain Vietnam visa if you are in Malaysia. You can either go straight to Vietnam Embassy or apply for visa on arrival.
Are Jordanian eligible for Vietnam E-visa?
The unfortunate news is up to present, Jordanian are not yet eligible for Vietnam E-visa. Hopefully in the near future, Jordan will be applicable for Jordan passport holders.
How can I apply Vietnam work visa?
The very first require for work visa is having a sponsoring company in Vietnam. That company will act as your sponsor and be responsible for your staying here.
Visa extension and renewal are available to Jordanian nationals?
Jordanian who wish to spend more time in Vietnam can absolutely apply for visa extension and renewal. However, the fee is fairly expensive, please contact us in advance so that we could give you proper advice on what you do.
Is the visa fee refundable?
Vietnam visa fee is refundable if we fail to delivery your request. If you cancel during your our processing your visa request, no refund will be made. For more details, please visit
our Terms and Conditions.