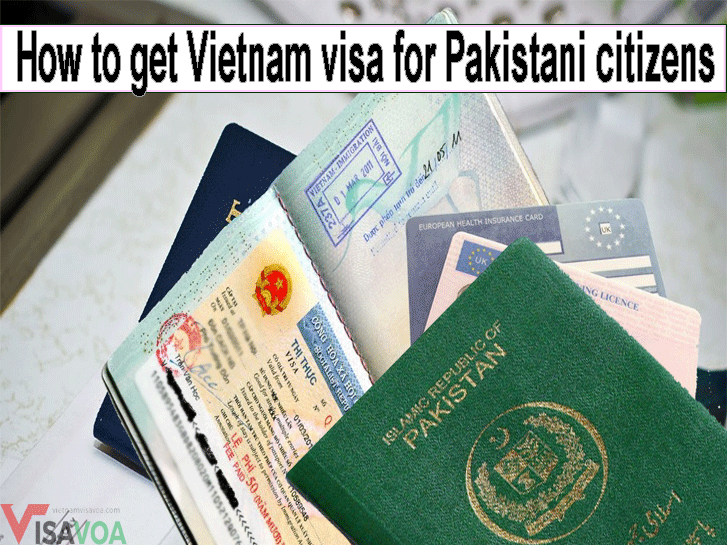 How to get Vietnam visa for Pakistani citizens
Pakistan is one of many countries whose citizens are required to get visa to visit Vietnam. As the result, there is a big question on which ways a Pakistani citizen can obtain Vietnam visa easily and legally. To answer such question and stop your worrying about it, this article will provide you with detailed guidance related to Vietnam visa as well as the two official ways to acquire it. 

Method 1: Applying Vietnam visa for Pakistani citizens by using visa on arrival
According to Vietnam visa policy, those who are holding Pakistani passport can obtain Vietnam visa on arrival, still you need to meet some requirements as bellows:
- Having a passport with 6 month validity before your travel date. A loose-leaf visa is granted to you just in case there is no blank page in your passport.
- Travelling to Vietnam by air. Entering by sea or road, you are advised to arrange your full visa in advance the Vietnam Embassy which you are staying close to.
Vietnam visa on arrival is classified into tourist visa and business visa. At the time of writing this article, the maximum validity of Vietnam visa for Pakistani citizens is 01 month for tourist and 03 months for business visa. Please be aware that a Vietnam business visa for Pakistani citizen requires sponsorships from a Vietnam based company to secure.
Your visa is valid from travel date put in an application form, not from the date of submitting the visa application. Therefore, it is advisable for you to apply for your Vietnam visa as soon as possible to avoid unexpected mistake at the last minute.
Vietnam visa on arrival process
Vietnam visa on arrival means that your visa sticker is issued on your passport when you are landing in Vietnam airport. For Pakistani passport holder, to apply for Vietnam visa on arrival, they MUST obtain a Vietnam visa approval letter issued by the Immigration Department of Vietnam before their departure. Without showing that letter at your airport, you are rejected to get on board by your airlines. Hence, it is very crucial to process the visa letter in advance prior to your date of travel.
How to apply for Vietnam visa approval letter?
Visa approval letter is officially issued by the Vietnam Immigration Department, but you have to look for a reliable visa agent who will deal with the Vietnam Immigration Department to obtain Vietnam visa approval letter on behalf of you. There are a load of visa agents you can search out online to process Vietnam visa and offer different visa price. But still some scams you need to aware of.
For Pakistani citizens, it normally takes 5-7 working days to get Vietnam visa approval letter via email. On urgent basis, a Vietnam visa approval letter could be issued within 3 working days. Then, you will print out visa letter for Vietnam/ Vietnam invitation letter and bring it with you before your trip to Vietnam.
What will do at the airport?
Upon on arrival at the Vietnam Airport, you just need to present the Vietnam visa approval letter, 02 passport sized photos, a completed Vietnamese visa application form, stamping fee (in cash USD) and your original passport at Visa desk. Then, wait for 20-25 minutes to collect your Vietnam visa sticker on your passport. It is very easy and straightforward procedure. Sometimes, you can wait in a queue around 1 hour or more depending on the number of passengers in Visa Section and the Immigration Officer's load of work.
What benefits do Pakistani get from Vietnam visa on arrival?
Vietnam visa on arrival brings Pakistani applicants a large number of benefits. The first advantage you can see clearly is that the visa application procedure is more simple and easy through just one click on https://vietnamvisavoa.com/en/apply-online to submit your visa application. You then receive the visa approval letter via email and get Vietnam visa stamp at the airport. Fast speed is another benefit, Pakistani citizens can get if you choose Vietnam visa on arrival. Finally, the reason makes Visa on arrival become the most favorable way to get Vietnam visa is its convenience. You do not need to go anywhere or pay a visit to any Embassy, just have a computer connected the Internet, and you can apply for Vietnam visa by yourself at any time.
Vietnam visa on arrival cost
Vietnam visa on arrival fees are included into two types: Visa service fee and stamping fee. Two fees are compulsory and paid separately.
Visa service fee – Refundable: is charged by Vietnamvisavoa.com to assist you to process Vietnam visa approval letter at Immigration Department of Vietnam. Service fee is offered with better rate when applying in group of applicants or as regular clients. We accept to pay with Credit Card, Bank ransfer or cash at your best convenience.
Stamping fee – Nonrefundable: is paid in cash at Vietnam airport, highly recommend paying in USD Dollars to avoid low exchange rate appointed by the Immigration Department. Stamping fee varies according to your duration of stay and there is no discount amount for stamping fee regardless of a number of groups.

* Vietnam visa fee for Pakistani citizens may vary depending on the regulation of the Immigration Department at each period.
Method 2: Applying Vietnam visa for Pakistani citizens at the Embassy
Pakistani passport holders can also visit to Vietnam Embassy to submit the visa request. Here is the information of Vietnam Embassy in Pakistan, you can refer to contact:
Address: House 117, Street No. 11, SectorE-7 , Islamabad, Pakistan
Telephone: 00 92 51 2655785/2655787
Fax: 00 92 51 2655783
Email: vnemb.pakistan@yahoo.com
Website: https://vnembassy-islamabad.mofa.gov.vn/en-us/Pages/default.aspx
In there, you may be required some documents:
The Vietnam visa code

Original Passport

One completed application form for a Vietnam visa

One passport size photo of 4×6 cm

Return flight ticket, hotel, and tour booking
To avoid any unexpected mistakes, you should make a phone call to the Embassy before visiting there.
IMPORTANT NOTICE FOR VIETNAM VISA APPLICANTS
Make sure that your surname, given names and entry/exit dates in your visa approval letter are correct.

You will not be allowed to enter Vietnam before the entry date shown.

The Vietnam visa approval letter is valid at any of the nine Vietnam international airports but cannot be used at any land border crossing.
Should you have any queries in respect of Vietnam visa for Pakistani, please do not hesitate to contact us. We are always willing to give you the best support. Thank you very much for visiting us.
Website: https://vietnamvisavoa.com
Phone: +84 969 255 515
Email: support@vietnamvisavoa.com