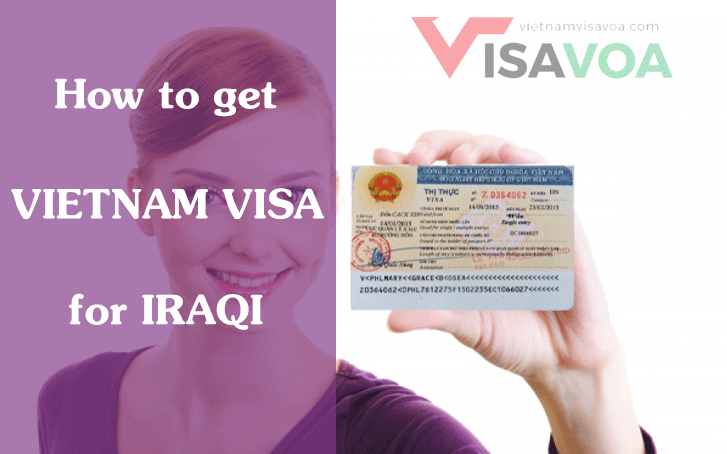 How to get Vietnam visa for Iraqi ?
Getting Vietnam visa for Iraqi in the most simple way with Vietnamvisavoa.com
Does Iraqi need visa for Vietnam ? How to get Vietnam visa for Iraqi ?
Being Iraqi passport holder, you are required to apply for Vietnam visa in order to travel to Vietnam for any purposes: vacation, business… In general, there are two ways of getting Vietnam visa for Iraqi:
Applying for Vietnam visa on arrival at Vietnamvisavoa.com to get stamped visa upon arrival
Getting Vietnam Visa done at Vietnam Embassy
Each way has its own benefits, let get more details as below:
1. Applying for Vietnam visa on arrival at Vietnamvisavoa.com
This visa on arrival is applied in case you are flying into Vietnam only. No matter fromwhere you are travelling to Vietnam, you just need to make sure that you are taking plane to Vietnam to get Vietnam visa upon arrival.
What do you need to present for getting Vietnam visa on arrival?
+ A copy of your passport
+ Your proposal entry – exit date
+ Your requested visa type
Above documents must be sent to our email: support@vietnamvisavoa.com. Our staff then will check your detail before sending you invoice to make payment for service fee.There are different ways of making payment for service fee. As soon as the payment is received, we will do necessary procedure to sumbit your visa request at Vietnam Immigration. Your visa approval letter will be issued by Vietnam Immigration Department after 5- 10 working days and it will be sent to your email once it is ready. Next step, you just need to print out the documents, take with you on the plane. Once you arrive in Vietnam Airport, you are going to give the documents includes: Your original passport, Vietnamese visa approval letter, Vietnam visa application form and then pay for stamping fee in cash. The Immigration officer will get visa stamped on your passport. You now can enter Vietnam country legally.
As can be seen that requirement for Vietnam visa on arrival for Iraq is just simple and processing time is fast, Vietnam visa on arrival is definitely highly recommended way for Iraqi passport holder to get Vietnam visa.
2. Applying for Vietnam visa at Vietnam Embassy in Iraq
Besides getting Vietnam visa online, Iraqi citizens still can get their Vietnam visa done at Vietnam Embassy/Consulate in any places which are convenient for them. Applying for Vietnam visa at Vietnam Embassy means that you will approach the Embassy of Vietnam in person and submit your Vietnam visa application directly at Vietnam Embassy.
You can contact Embassy officer who will instruct you through step by step on submission with required documents and payment for mandatory fees. This procedure will require you to submit your original passport, recent passport size photographs, return flight ticket, hotel booking and tour package. Along with these documents, you have to pay compulsory visa fees, which must be paid in cash at Vietnam Embassy. The Embassy will take about 7 working days to process your Vietnam visa request. You will have your Vietnam visa in your hand before you leave for Vietnam. Below are further information of Vietnam Embassy in Iraq:
Embassy of the Socialist Republic of Vietnam in Iraq
| | |
| --- | --- |
| Represented: | |
| Country Located in: | Iraq |
| City: | Baghdad |
| Address: | Hay Andalus, Mahalla 611, Zuqaq 34, House 71, P.O. Box 15054 Yarmuk, BAGHDAD, IRAQ |
| Phone: | |
| Fax: | (964-1) 541 3409; (964-1) 543 9919; (964-1) 543 4805 |
| Website: | |
| Email: | |
| Office hours: | Monday-Friday 8:30 a.m. to 5:30 p.m |
For any other supports, feel free to contact our support team at:
Website:Vietnamvisavoa.com
Hotline:+84969255515 (Whatsapp/Viber/Wechat)
Email: support@vietnamvisavoa.com
Please note that the requirement, processing time as well as service fee may change from time to time and it is highly recommended to submit the visa request in around 01 month before your departure to avoid any hassles.