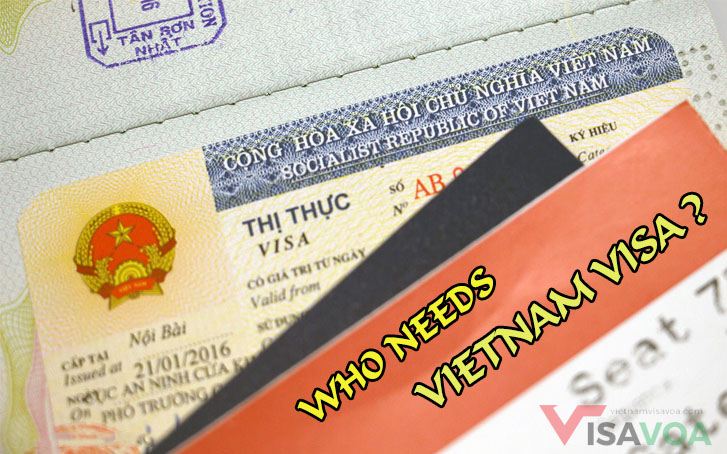 Who needs Vietnam visa ?
You are travelling to Vietnam soon ? Check if you need to apply for Vietnam visa or not. 
Vietnam visa is an essential governmental certification for foreigners to enter Vietnam. Vietnam visa is usually stamped on passport holders. Generally speaking, most of people need a Vietnam visa to enter the country except for some circumstances included in the Vietnam visa exemption list as below:
I. Vietnam visa exemption
1. Vietnam visa waiver program
Visa fee for 90 days: Chile
Visa fee for 30 days: Laos, Cambodia, Thailand, Malaysia, Indonesia, Singapore
Visa fee for 21 days: Philippines
Visa fee for 15 days: Japan, South Korea, Denmark, Russian, Sweden, Norway, Finland, UK, France, Germany, Italy, Spain
Visa fee for 14 days: Brunei, Myanmar
As you seen above, although these nationals are granted with visa –free to enter Vietnam, there is a difference on their certain staying period, which is based on the diplomatic relationship between Vietnam and these countries – Bilateral or Unilateral Visa Exemption
• Citizens with visa fee for 15 days are again entitled to enjoy Vietnam Visa Exemption Program when re-entering Vietnam providing that the gap between the last exit date and re-entry date has at least 30 days.
• Visa exemption is issued for tourist purpose only
• The passport of Vietnam visa-free citizens has at least 6 month validity from the entry date of Vietnam
2.Five-year visa exemption
For foreigner who has spouses or children of Vietnamese citizen, the Vietnam Government has authorized to grant visa exemption within 5 years. With this exemption certificate, you are allowed to stay in Vietnam in 180 days for each entry.
3.Visa exemption for diplomatic or offical passport holders
4.APEC card holder
The holder s of APEC Business Card (ABTC) are granted visa free to enter Vietnam and stay between 60 and 90 days without applying Vietnam visa.
5.Flying to Phu Quoc Island
Visa waiver in Phu Quoc Island
Visitors from all over the world who visit Phu Quoc Island are allowed to stay in this island without a visa for not more than 30 days
If anyone who does not belong to the above Vietnam visa exemption list, they are required to get Vietnam visa no matter how long they are staying in Vietnam and what are they doing in Vietnam.
II. Apply Vietnam visa -

Different ways of getting Vietnam visa
1. Apply in person at nearby Vietnam Embassy/Consulate:
It is recommended for those who live close to Vietnam Embassy/Consulate. Processing time would take around a week.
2. Apply Vietnam visa on arrival:
For this type of Vietnam visa, you just need to submit a visa application form online at
https://vietnamvisavoa.com/en/apply-online
, pay for service fee, get a Vietnam visa approval letter issued by Vietnam Immigration. You fly into Vietnam with this document and then collect stamped visa upon arrival. Processing time would take only 1- 2 days.
Requirements for Vietnam visa on arrival
Applicants who want to obtain Vietnam visa on arrival must comply with the following requirements:
♦ Applicants must present a passport with at least 6 months of validity. The passport must have at least two empty pages. In case you do your passport doesn't have any blank pages, a loose-leaf visa is also available.
♦ Photos for online application must be taken recently, within 6 months from the date of your submission.
♦
The valid period of stay will be counted from the proposed travel date in the application form, not the date of application.
♦
Vietnam visa on arrival only supports two types of visa, including tourist visa on arrival and business visa on arrival. Therefore, the purpose of visiting must be either sightseeing or business-related.
♦
Vietnam visa on arrival can only be obtained at four international airports in Vietnam.
How to apply for Vietnam visa on arrival ?
To apply for Vietnam visa on arrival, please follow the following simple steps:
Step 1: Fill out the online application on vietnamvisavoa.com with your full name, date of birth, nationality, passport number, date of arrival and type of visa. Then pay for service fee online is $25 via PayPal, Western Union, Bank transfer or with credit cards.
Step 2: After 2 (for tourist visa) to 5 working days (for business visa), you will get visa approval letter via email. All you need to do is to print out the visa letter and Vietnam visa application, prepare 2 passport-sized photos and bring them to the airport together with your original passport.
Step 3: Present your required documents above to immigration officials, pay for stamping fee and obtain your visa. The stamping fee varies depending on the types of visa and the length of your stay.
3. Apply Vietnam Evisa.
This visa type was launched in 2017 aims at easing Vietnam visa procedure in order to promote Vietnam tourism. However, till now, it is applicable for 40 countries only. Would like to know how to get Vietnam Evisa, find it here.
Hopefully the above article provide you with utmost basic detail about Vietnam visa exemption, Vietnam visa on arrival. If you do have any requests or questions related to Vietnam visa, we are here to support:
Website: Vietnamvisavoa.com
Email: support@vietnamvisavoa.com
Hotline: +84969255515